1 subdivision, 1,800 homes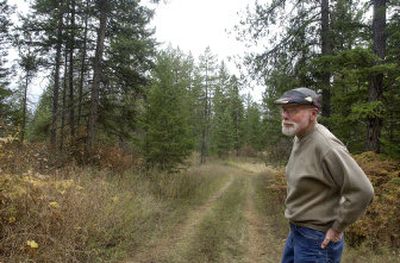 The people behind a massive new development on the drawing board for Hayden, Idaho, say it is being designed to restore some of the same small-town feel that's been erased as North Idaho balloons with new residents.
Nothing is approved yet, but the city is abuzz over the 1,800 houses proposed for 618 acres that's now covered mostly by forest. The project would expand the city's population by more than a third, a notion that's prompting grumbling about extra traffic on already congested roads, of further escalation in property taxes, of more wildlife habitat being chewed up by bulldozers.
But the developers of Hayden Canyon insist they are part of the solution, not the problem.
"This isn't just another development project," said Glen Lanker, a partner with the Spokane-based architectural firm Artios. The other development partners include Michael Harris and Ronald Hazard of the Stonehill Group and private investors Jeff and Lisa Kuntz, of Colbert, Wash.
There would be no gates in front of Hayden Canyon, Lanker said. At least a quarter of the houses would be multifamily units built with an eye toward affordability. Garages would be behind the houses and accessible through alleys. There would be front porches facing walking paths and grassy commons. There would be miles of hiking and horse trails – open to even those who don't live in Hayden Canyon.
More details from the Hayden Canyon plans:
"Strict setback requirements would protect the views and wildlife habitat in a narrow canyon that runs the length of the site.
"A natural amphitheater is proposed where there is now a gravel and sand quarry.
"A performing arts center and community center are planned. Fly-fishing lessons would be among the offerings at the community center.
"A pond and stream would be created and stocked with fish. The stream would feature five waterfalls, including a 120-foot-drop over the basalt canyon walls.
"Roughly 100,000 square-feet of business space would be set aside for a main street in the development. Above the businesses would be apartments and artist studios.
When all phases of development are finished – in about a decade, if the city of Hayden approves the project – Hayden Canyon would be a metropolitan destination, Lanker predicted.
"This approach goes back to how communities have been built for hundreds of years," Lanker said. "The whole idea is to create a genuine community. We're trying to make it a real neighborhood."
First, the city must annex the land and change the zoning to allow the development to connect with a municipal sewer system. The first step in the process takes place Monday with a public hearing. Additional hearings will occur before the City Council considers the proposal, said Lisa Key, Hayden's community planner.
Although Key said she was still analyzing the proposal, the project's emphasis on open space and mixed uses appears to mesh with the city's new development ordinance, which aims to combat urban sprawl and protect the same scenery that has drawn people to Hayden. Homes in Hayden Canyon would be clustered close together on small lots – many dwellings would be less than 15 feet apart. That leaves 262 acres of open space and wetlands.
"One of the ways you combat sprawl is densification," Key said.
City Councilwoman Nancy Taylor said she is also holding back her final judgment, but she likes the "smart growth" ideas of an open development that's pedestrian friendly and accessible to a variety of income and age levels.
"It's a great concept," Taylor said. "Whether it's right for the community or not – that needs to be decided through the public hearing process."
But many nearby homeowners are furious at the thought of 1,800 additional homes and at least as many vehicles flooding a fairly quiet corner of Hayden. Phil Clements lives in a neighborhood that borders the Hayden Canyon area. He said the project is putting too many houses too close together.
"We knew something was going to happen, but this is completely out of character with the neighborhood," said Clements, a retiree who moved to Hayden earlier this year from California. At least 40 neighbors gathered earlier this week to develop an opposition strategy, he said. "This isn't over by a long shot."
Lanker and Harris insist the project has no more houses than any other development on a comparable amount of land. The breakdown works out to about three houses per acre, Lanker said. The difference is most other developments have little open space. Or, if the space is left open, it's surrounded by fence and locked behind a gate. If approved, the development company would contribute $1 million to help fund road improvements, including a traffic interchange on nearby U.S. Highway 95.
The developers also believe they could find a faster return on their investment simply by breaking up the land and selling off larger lots. Their current plans could be more lucrative in the long-run. "It's not something that's offered in the marketplace here right now," Lanker said. "People will pay more to be in a genuine community."
The idea, known as new urbanism, has already caught on in many other parts of the country, including Portland, Seattle and Boulder, Colo. Several new developments in the Inland Northwest have borrowed concepts from the new urbanism movement – mainly the idea of front porches and boulevard sidewalks – but Lanker said none has embraced the idea in its entirety. "It's like baking a cake: Every ingredient is critical," he said.
Most new housing tracts consist of giant homes dominated by street-facing garages, Harris said. If families spend time outdoors, it's usually in the fenced privacy of a backyard with little contact between neighbors. Harris said he and his partners want to create an environment like Coeur d'Alene's Fort Sherman neighborhood, with some artist studios and small cafes and businesses mixed in.
"We want a real community," Harris said. "We haven't invented anything. This is the way it used to be done."
---