News > Idaho
Fernan teacher 'overwhelmed' by honor
Sat., Oct. 15, 2005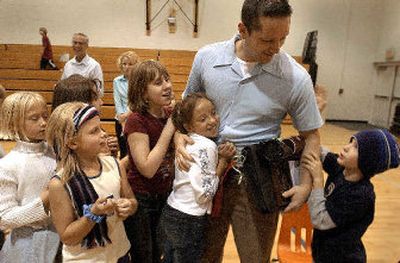 Fernan Elementary School third-grade teacher Tim Marks, was named September's Outstanding School Employee of the Month at a surprise assembly Oct. 4. He was nominated for the honor by former student, Logan "Mugsy" Bridgers, who is now a fourth-grader.
Logan's nomination said, "He is like a big kid but his brain knows a lot more." Indeed, Marks's wife, Cindy Marks, a third-grade teacher at Skyway Elementary, said that her husband is obsessed with Batman.
Marks chooses a nickname for all of his students, thus the "Mugsy" for Logan. Marks, who has taught school for a total of 12 years, moved with his wife to Coeur d'Alene from the Seattle area. Both attended Northwest University in Kirkland, Wash. Cindy Marks said her husband was "overwhelmed" with this honor.
Logan's essay also said of his third-grade teacher, "I think he should get this reward to remind him that us kids really like him and it could make him feel real good. I wish he could be my teacher every year, but so does everybody. I was really lucky to get to be in his class."
Marks, not big on speeches, did say that it was nice of Logan to take the time to think of him. He said he was "totally surprised."
Logan received $20 for his winning essay, which he said he planned to spend on "something." Marks received a plaque, with Logan's entire essay engraved on it, plus a gift bag. His name will be displayed on the Parker Toyota reader board throughout the month of October.
Horace Mann Insurance and Parker Toyota sponsor the "Outstanding School Employee of the Month" program. Students always seem to get a kick out of seeing Lucky, the friendly Labrador and TV star who attends the presentations. Both Marks and Logan received an 8-by-10-inch glossy photo of Lucky – autographed of course.
LCHS collecting Coats for Kids
Youth Volunteers in Action at Lake City High School is collecting coats for the Coats for Kids program. If you have coats to donate, there are boxes located in several locations throughout the school.
Dalton's 'School Champion'
Dalton Elementary School office manager Pam Nordby was named the "First Class School Champion" for the month of September, a new program sponsored by Numerica Credit Union.
Known to students as "Secretary Pam" or "Princess Pam," she has been at Dalton since 1998. Raised in Amarillo, Texas, Nordby was a professional jazz singer accompanied by her father on piano, then a travel agent before starting her career in education.
She began by volunteering with the PTO, then working with the after-school program at Borah Elementary. From 1994 to 1997 she worked as a teacher's aide with the Coeur d'Alene School District.
Nordby was nominated by third-grader Jodi Grantham. Jodi wrote that, "She helps everyone from the principal to the teachers to all the school workers, including the school nurse and all of the children."
Nordby received $100 to be used for her school, a $45 gift certificate to the Outback Steakhouse, a plaque and gift bag. Jodi received $25, two passes to Silverwood theme park, and a gift bag. She will also be entered into the drawing for an Apple iPod at the end of the school year, along with all of the other students who submit nominations for this program.
U.S. Senate page program
U.S. Senate page positions are open for the spring 2006 legislative year. The Senate page program provides an opportunity for young people to participate in the legislative branch of our federal government and play a role in operations of the Senate.
Students live away from home and attend school with students from across the country. Eligibility is limited to juniors in high school who will be 16 or 17 years old on or before the date of appointment. For more information visit http://craig.senate.gov.
National Lights On project
Thursday is National "Lights On Afterschool Day." A project of the Afterschool Alliance, a nonprofit organization, Lights On Afterschool is celebrated nationwide to call attention to the importance of after-school programs for students, families and communities.
After-school programs keep kids safe, help working parents and inspire learning. Lights On Afterschool was launched in 2000, with more than 7,500 schools participating last year. For more information visit www.afterschoolalliance.org.
Local journalism is essential.
Give directly to The Spokesman-Review's Northwest Passages community forums series -- which helps to offset the costs of several reporter and editor positions at the newspaper -- by using the easy options below. Gifts processed in this system are not tax deductible, but are predominately used to help meet the local financial requirements needed to receive national matching-grant funds.
Subscribe now to get breaking news alerts in your email inbox
Get breaking news delivered to your inbox as it happens.
---