News > Features
Bart has a prescription for evil as 'DH's' freaky pharmacist
Sun., Oct. 16, 2005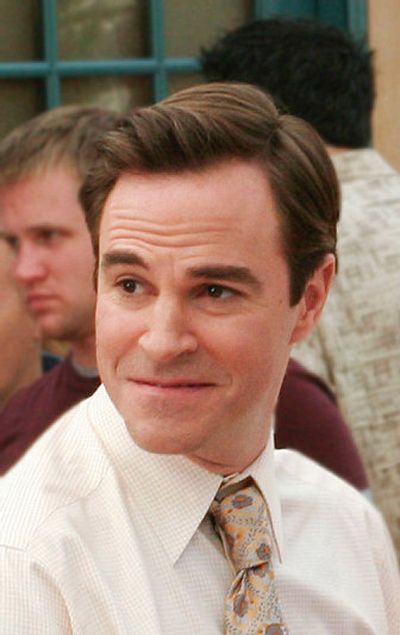 What began as a guest-starring role for three episodes on "Desperate Housewives" has turned into a regular gig for Roger Bart.
"All I can say is that I'm still here," muses Bart, who adds new meaning to the word "creepy" as the Cheshire Cat-grinning pharmacist George, who is so obsessed with Bree (Marcia Cross) that he causes the death of her husband, Rex, by tampering with his heart medicine.
The 43-year-old veteran stage actor nearly didn't get the job. Series creator Marc Cherry had seen him in his Tony Award-winning role as Snoopy in "You're a Good Man, Charlie Brown," as the snippy assistant Carmen Ghia in "The Producers" and as a gay "housewife" in the movie "The Stepford Wives."
"He said, 'I love Roger Bart, but I think he's going to be too big,' " Bart says. "The casting director, thank goodness, said, 'Take a look at the tape,' and Marc said OK. I was able to keep it small and real."
In December, he'll be seen opposite Nathan Lane and Matthew Broderick in the film version of "The Producers."
Q: I would imagine that as soon as you'd been on your first episode of "Desperate Housewives," people began recognizing you.
A: There was an exponential change. I think nobody is afraid of me because it's creepy George – fortunately that doesn't take place. … Marc Cherry has written and conceptualized a unique villain. He is definitely not your usual nasty bloke.
Q: But he is scary.
A: And sensitive. He is the guy who is just your neighborhood druggist who greets you with a smile, and little do you know underneath he's angry. I think he's been wounded over time and he's very, very angry. …
Since George probably hasn't made it in mainstream dating, he thinks Bree is old-fashioned and cares about the things he cares about. … He thinks, "Gosh, I love her and she's made me so mad at times, but I want to do everything I can to have her and protect her. But I expect more from Bree, considering how much I have put out."
Q: Since "Desperate Housewives" is set in its own universe, is it a challenge to get the tone right without being too over-the-top?
A: Working with Marcia Cross (helps). She is able to manage those things so beautifully, between making the absurd very truthful and funny, and at the same time she can be profoundly moving.
I had a great training ground in the theater because the shows I do, so many of them have been musicals, and it is important to make that segue into song almost imperceptible and graceful. …
And in musicals done and acted right, the feelings are just as honest as they are in any other medium. This world is similar in that way – you have to be completely honest.
The birthday bunch
Actress Angela Lansbury is 80. Actor Barry Corbin ("Northern Exposure") is 65. Actress Suzanne Somers is 59. Guitarist Bob Weir (Grateful Dead) is 58. Actor-director Tim Robbins is 47. Bassist Flea (Red Hot Chili Peppers) is 43. Singer Wendy Wilson (Wilson Phillips) is 36. Actress Terri J. Vaughn ("The Steve Harvey Show") is 36. Actress Kellie Martin is 30. Singer-songwriter John Mayer is 28. Actor Jeremy Jackson ("Baywatch") is 25.
Local journalism is essential.
Give directly to The Spokesman-Review's Northwest Passages community forums series -- which helps to offset the costs of several reporter and editor positions at the newspaper -- by using the easy options below. Gifts processed in this system are not tax deductible, but are predominately used to help meet the local financial requirements needed to receive national matching-grant funds.
Subscribe now to get breaking news alerts in your email inbox
Get breaking news delivered to your inbox as it happens.
---