Sports
Astros edge Cards, take 3-1 series lead
Mon., Oct. 17, 2005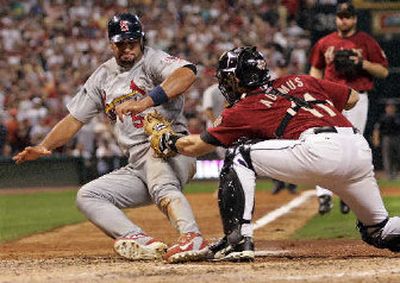 HOUSTON – First baseman Lance Berkman stretched as far as he could, squeezed the throw tight and hopped high in the air with glee.
One more win and the Astros will have the whole city of Houston jumping for joy.
Poised closer Brad Lidge pitched his way out of a major mess in the ninth inning, defensive replacement Eric Bruntlett started a game-ending double play and Houston scratched out a 2-1 victory over St. Louis on Sunday in Game 4 of the National League Championship Series to move within one win of its first World Series.
"I'm starting to believe," said 39-year-old Craig Biggio, on the cusp of a lifelong dream.
Now it's the steaming-mad Cardinals who are in a serious jam.
Lidge stranded the potential tying run at third base to earn his third save of the series, Jason Lane homered and Willy Taveras made a saving catch on the center-field hill. Houston took advantage of a critical error by pitcher Jason Marquis – plus the ejections of St. Louis manager Tony La Russa and star Jim Edmonds by plate umpire Phil Cuzzi – to build a commanding 3-1 lead in the best-of-7 series.
Any postseason ejection is rare, and the last time a team lost two members came in 1998 when Cleveland pitcher Dwight Gooden and manager Mike Hargrove were tossed.
The Astros can close it out at home tonight, with Andy Pettitte on the mound against Cardinals ace Chris Carpenter. Houston has come this far before – the Astros were one victory from the Fall Classic in 1980 and 2004, but are 0-4 overall with a chance to win the NLCS.
"For us, it's the best one out of three right now. It doesn't get any easier," manager Phil Garner said.
St. Louis has quite an uphill climb if it wants to win its second straight pennant. The Cardinals must face Pettitte, Roy Oswalt and Roger Clemens in the next three games – if they can push it that far.
There is some hope: St. Louis won three consecutive games started by Pettitte, Oswalt and Clemens from July 15-17 at Busch Stadium. And the Cardinals, who have lost three straight, did not have a four-game skid all season.
Once again in this postseason, the umpires were in the middle of all the action.
The Cardinals were angry about Cuzzi's liberal strike zone and La Russa and Edmonds were ejected in the late innings for arguing balls and strikes.
The Astros are 2 for 31 with runners in scoring position during the series, so it figures that they scored the go-ahead run without a hit.
After Morgan Ensberg's tiebreaking sacrifice fly in the seventh, Lidge entered with a 2-1 lead in the ninth.
Albert Pujols hit a leadoff single and went to third on a Larry Walker single.
Reggie Sanders hit a bouncer to third, and Ensberg made a nice play to cut down Pujols at the plate.
But with nobody covering, Walker alertly dashed to third, putting runners at the corners again, with one out.
No matter to Lidge.
He got John Mabry to ground to Bruntlett at second base for a game-ending double play.
With a runner on and two outs in the eighth, Cuzzi called Dan Wheeler's 3-1 pitch a strike to Edmonds, who walked over to Cuzzi, argued and was tossed.
John Rodriguez pinch-hit for Edmonds and sent a long drive to center, but the speedy Taveras raced back and up the Tal's Hill incline for an outstanding catch more than 400 feet from home plate.
Local journalism is essential.
Give directly to The Spokesman-Review's Northwest Passages community forums series -- which helps to offset the costs of several reporter and editor positions at the newspaper -- by using the easy options below. Gifts processed in this system are not tax deductible, but are predominately used to help meet the local financial requirements needed to receive national matching-grant funds.
Subscribe to the sports newsletter
Get the day's top sports headlines and breaking news delivered to your inbox by subscribing here.
---