News > Features
Boomer women have site on Web
Mon., Oct. 17, 2005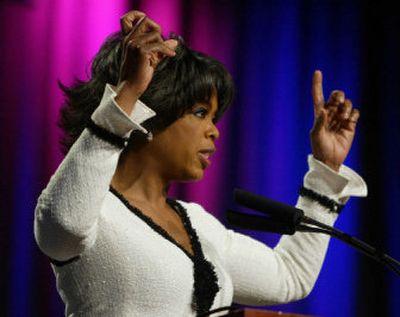 You could call Boomerwomenspeak.com a virtual girls' night out. The online forum for middle-aged women to gather, let their hair down, share feelings and exchange information was founded by Dotsie Bregel, who says the idea was hatched in an empty nest. Hers.
"My kids were growing up, and I was facing a different time of my life," Bregel said. "At first, I thought I'd set up a Web site to collect the stories of this unique and forceful segment of the female population for an anthology. Then I realized that not only did boomer women want to tell their stories, but they also wanted to share their feelings on the issues facing them now."
So she invested $30,000 from her savings, set up Boomerwomenspeak.com in 2002 and waited to see what would happen. Within a year, the site was averaging 100,000 hits a month. In 2004, monthly hits jumped to 300,000. This year, the site is averaging 850,000 hits each month. Bregel says visitors learn of the site's existence mostly by word of mouth.
"Friends tell friends about us," Bregel says. "We have visitors from around the globe. Some women come and go as situations change in their lives; others find us and keep coming back. They share their experiences and encourage, inform and inspire one another on a whole host of areas important to women, including parents, retirement, careers, health, sex, even cosmetic surgery and more."
Those issues and others are discussed in such Boomer Women Speak forums as "Fine Whine," and "Bragging Writes." In the "Our Voices" section, visitors are invited to share stories of their lives. The Web site also features a newsletter, a book club and suggested reads ("The Midlife Bible" by Michael P. Goodman and "Not Tonight Honey: Wait 'Til I'm a Size 6" by Susan Reinhardt are current favorites) as well as information on a range of topics and links to other Web sites of interest to women of a certain age.
This month's featured site, for example, is MinniePauz.com — and as that site's tagline reads, "If You Don't Get It, You Ain't There Yet."
"Boomer women began to come of age in the 1960s. They brought taboo topics out of the closet and into the public consciousness then, and they're continuing to do so now," Bregel said. "Our mothers and grandmothers talked to other women across the fence or over coffee. This generation is juggling jobs and parents and families, so for them, an online community of girlfriends works."
Born between 1946 and 1964, boomer women, a group of about 38 million, have more political power, spending clout and cultural impact than any other generation. They are the first women to have access to legal abortions and birth control and to have both careers and families. Involved in war protests, the civil rights movement, women's rights and Woodstock, they're more educated, wealthier and healthier than any generation of women to precede them, Bregel says.
They are outspoken, active and an influential force in every aspect of society and culture. Now they are aging. The last wave of boomers turns 41 this year. The oldest will turn 59.
"Boomers are going to redefine retirement and old age, just as they've redefined all the other milestones in their lives," Bregel says. "They're a revolutionary bunch. They're continuing to impact the economy, politics, culture, family and society as they enter their older years."
Just this month, Bregel launched a new project, the National Association of Baby Boomer Women ( www.nabbw.com). The organization offers opportunities to network with other boomer women, free legal and financial advice, savings on products and services and information from a panel of experts on everything from women's health and domestic violence to traveling and second careers.
"While growing up, our generation was told we could do anything," Bregel says. "We were the generation that could have it all, do it all and be it all. Education, Prince Charming, families, careers. From abortions to babies, staying home to climbing the corporate ladder, marrying to getting divorced, we've all chosen different paths to get to this point, and now we want to come together to share our experiences and support each other as we head on to the next phase of our lives."
Local journalism is essential.
Give directly to The Spokesman-Review's Northwest Passages community forums series -- which helps to offset the costs of several reporter and editor positions at the newspaper -- by using the easy options below. Gifts processed in this system are not tax deductible, but are predominately used to help meet the local financial requirements needed to receive national matching-grant funds.
Subscribe now to get breaking news alerts in your email inbox
Get breaking news delivered to your inbox as it happens.
---