News > Spokane
Bugs scuttle, skin crawls at fair
Mon., Oct. 17, 2005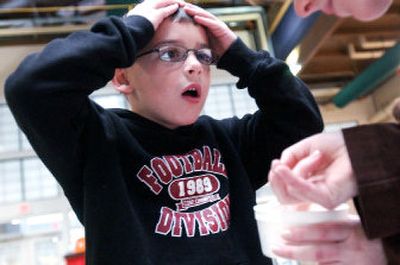 Folks went to the animal fair. The birds and the beasts were there.
And the Madagascar hissing cockroaches, a century-old African spur tortoise, scorpions, hermit crabs, chickens with wild 'dos and a two-headed corn snake named Bo and Luke.
The Susan Rae Animal Fair, which occupied the main building of the Spokane County Fair and Expo Center over the weekend, offered just about anything an owner might want for a pet, and about any kind of pet a potential owner might want.
Rae has held the fair the last three years and has seen interest from vendors and buyers grow each year. Just to goose this year's attendance a bit, the first 100 children through the door were offered a free Madagascar hissing cockroach to take home with them.
Parent willing, of course.
These bugs, which were bigger than most of their new owner's fingers, are somewhat famous from television shows like "Fear Factor," where contestants who can't eat unusual things get sent home. The cockroaches are sometimes the main course.
Brian Watkins and Adrienne Snow showed the cockroaches to children on their way into the fair, and gave those who got a nod from their parents a ticket to collect a bug in a plastic-foam container on the way out. While they auditioned the bugs for potential owners, Pumpkin, Watkins' young reticulated python, crawled out of his shirt pocket and up his shoulder, managing to send shivers through a few parents who had steeled themselves for an insect, but not a snake.
Cheryl Clark, who was shepherding a trio of 8-year-olds into the fair, said they could pick their bugs up later, provided they "do NOT let them loose in the house."
Her older son has had frogs, lizards and hermit crabs, so a cockroach didn't seem that far out of the ordinary, Clark said.
The cockroaches came courtesy of Mike Mertens of M and T Dragons, who had a booth at the fair for the first time. Mertens and his wife, Teri, work at a local hospital and raise reptiles as a hobby. They usually have about 40 snakes or lizards in their home, but it's been a good year for hatching eggs, so they have about 200 now and hope to sell down their stock at this show and one next week in Puyallup.
Among this year's crop of slithery young'uns is a two-headed corn-snake, born last July and named for the characters in the "Dukes of Hazzard" movie that was just hitting the theaters. The right head is slightly bigger, and dominant, but the snake can eat and drink out of both, Mertens said as he showed off Bo and Luke to fairgoers.
Mertens raises the cockroaches, which eat almost anything, to feed to his reptiles. So in a sense, the ones that got to go home with kids had a brighter outlook than the ones left behind. He started with about 250 cockroaches two years ago; now he estimates he has about 10,000.
Which brings up the question of whether some fairgoers might be calling in airstrikes from Orkin sometime soon, if a pair of cockroaches were to bug out on their new owners and get together in some dark corner of a basement.
Not to worry, said Rae. She didn't want a huge fumigation bill from the fairgrounds, either, in case some of the cockroaches didn't make it to the parking lot and scurried back into the building. Mertens made sure all of the giveaways are males.
Turns out telling he's and she's apart among Madagascar hissing cockroaches is not so difficult. Guys have two bumps on their heads; gals have smooth heads.
Rae, of Nine Mile Falls, said most Spokane residents would be surprised at the number of exotic animal farms and dealers that live in the area. The fair also draws dealers and breeders from Western Washington, Montana and Oregon. Some animal expos specialize in birds or reptiles or mammals, and in places like California can draw tens of thousands of attendees.
"Whatever you're interested in, there's an expo that showcases that product," she said.
The animal fair in Spokane is mainly for animals no larger than dogs and cats, although there were a few horses on display by equestrian groups and ponies available for children to ride. There was a pet costume contest, a race for dachshunds and an exhibition of performing pigs.
The booths were an eclectic blend of people who raise animals, people who train them, people who sell food or supplies, and people who take over animals that other people mistreat or abandon.
SpokAnimal C.A.R.E. adopted out all the dogs and cats it brought Saturday and brought a new group Sunday, Rae said.
"Last year we adopted out more than 100 animals in a two-day show," she said.
The Deer Park 4-H Club – nicknamed "Something to Crow About" – had a wide selection of chickens that Col. Sanders probably wouldn't recognize. Some were black as crows, others were gold with spots, and the Polish chickens sported head feathers that would put Don King to shame.
Inland Empire Reptile Rescue – motto "We save the cold blooded" – had an African tortoise more than 100 years old, whose shell was misshapen because he'd been fed the wrong food for part of his life. Traci Selle said they get reptiles from everything from drug busts to evictions to "people who give them up because they can't take care of them anymore."
Attendance and the number of booths at the Spokane fair have grown every year, Rae said. But she's still looking for more variety.
"I'd like some llamas. Or emus. Maybe some big cats. Or bigger birds," she said.
Local journalism is essential.
Give directly to The Spokesman-Review's Northwest Passages community forums series -- which helps to offset the costs of several reporter and editor positions at the newspaper -- by using the easy options below. Gifts processed in this system are not tax deductible, but are predominately used to help meet the local financial requirements needed to receive national matching-grant funds.
Subscribe now to get breaking news alerts in your email inbox
Get breaking news delivered to your inbox as it happens.
---