News > Spokane
Cougs have the recipe for community action
Mon., Oct. 17, 2005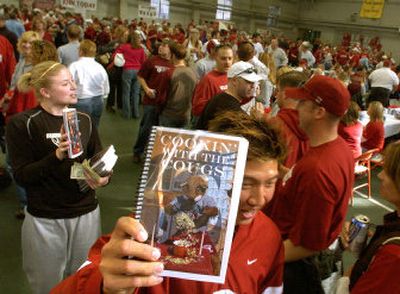 PULLMAN – Slurping protein shakes and scarfing PowerBars apparently isn't enough for athletes at Washington State University.
For a second year, the school's Student Athlete Advisory Committee has come out with a cookbook, "Cookin' with the Cougs."
"I enjoy cooking. Being in Pullman, you can only go out so many times to so many different places," said WSU soccer star Katie Hultin, host of the occasional spaghetti feed for teammates. "So I cook as much as I can. I like it."
The student-athletes are selling the cookbooks through the athletic department to raise money for a local community action center, which assists families in need on the Palouse. Hultin, who as a former chair of the Student Athlete Advisory Committee helped put together both editions of the book, chipped in two of her favorite recipes, Kickin' Artichoke Dip and Tuscan Chicken.
But while the senior goalie's contributions focus on mainstream dishes, the cookbook appears a little backloaded.
Looking at the voluminous dessert section it's clear that even if Cougar athletes are in good shape, it's not necessarily because they're staying away from the sweets.
"I love it to death. I make it whenever I can," basketball player Nikki Stratton said of her Texas Sheet Cake, a recipe handed down from her grandmother. Stratton sheepishly admitted that her culinary skills don't extend much further. "Desserts I'm pretty good with, but give me something else to do, and I can very well burn down a kitchen very easily."
Stratton's honesty gives another reason for concern. A trip to most collegiate apartment kitchens is more likely to reveal ramen noodles and cereal boxes than gourmet fare. So can it all be for real?
A perusal of the pages reveals recipes from an assortment of athletes in all sports, including one from Cougar backup quarterback Josh Swogger.
The junior's name is attached to a shrimp curry recipe – mighty strange considering Swogger is allergic to shrimp and an encounter earlier this season with the seafood delight landed him in the hospital.
"I've never had the shrimp. I don't know where they got it," Swogger confirmed. "My mom was laughing. She said, 'You're allergic to shrimp.' I said, 'Yeah, Mom, I know.' "
Presented with the evidence, Hultin admitted that some dramatic license was taken to make sure all sports were represented. (Apparently, football players who may eat the most don't necessarily cook the most.)
"We wanted to make it a little even, like give football a lot of recipes and give basketball some," she said. "It's going to be huge during basketball season, so we're going to make sure all the basketball players are represented."
And Hultin insisted that starting quarterback Alex Brink's contribution, another shrimp dish, is legit.
Just don't ask Swogger to try it the night before a game.
Katie Hultin's Kickin' Artichoke Dip
From "Cookin' with the Cougs"
1 15-ounce can artichoke hearts
¾ cup grated parmesan cheese
1 4 ½-ounce can chopped green chilies
½ cup mayonnaise
Drain artichokes and squeeze out remaining water. Mix ingredients and stir. Place in a 1-inch deep dish and bake at 350 degrees until bubbly. Serve with Triscuits.
Josh Swogger's Shrimp Curry
From "Cookin' with the Cougs"
1 can cream of mushroom soup
½ cup milk
3 tbs. sweetened flaked coconut
2 tbs. barbecue sauce
1 ½ tsp. curry powder
1 tsp. hot pepper sauce
1 cup frozen peas
½ pound peeled and deveined medium shrimp
Place the mushroom soup, milk, coconut, barbecue sauce, curry powder and hot pepper sauce in a two-quart saucepan over medium heat. Cook, stirring until sauce comes to a boil and is well combined. Add shrimp and peas and continue to cook for 4-5 minutes. Serve alone or with rice.
Local journalism is essential.
Give directly to The Spokesman-Review's Northwest Passages community forums series -- which helps to offset the costs of several reporter and editor positions at the newspaper -- by using the easy options below. Gifts processed in this system are not tax deductible, but are predominately used to help meet the local financial requirements needed to receive national matching-grant funds.
Subscribe now to get breaking news alerts in your email inbox
Get breaking news delivered to your inbox as it happens.
---