News > Features
Remember the name: It's 'Colbert,' as in 'hot air'
Mon., Oct. 17, 2005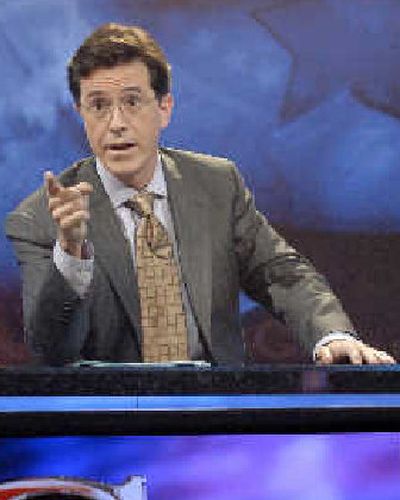 Stephen Colbert's right. He's always right – however much logic and common sense say otherwise. And those who disagree with him are wrong.
It's that simple, as viewers know from Colbert's hilarious commentaries since 1997 on Comedy Central's "The Daily Show with Jon Stewart."
Now his No-Fact Zone has expanded into a half-hour spinoff, "The Colbert Report." It will air Mondays through Thursdays at 11:30 p.m., right after "The Daily Show," starting tonight.
And not a moment too soon, he figures.
"My character is self-important, poorly informed, well-intentioned but an idiot," Colbert explains. "So we said, 'Let's give him a promotion.' "
The title of the new series is pronounced with a silent "t" in "report" as well as "Colbert" ("coal-bear ray-poor").
It carries on in the satiric tradition of "The Daily Show" by serving up a phony version of cable-news punditry such as MSNBC's "Scarborough Country," CNN Headline News' "Nancy Grace" and, of course, Fox News Channel's top-rated "The O'Reilly Factor."
"These shows are the demon children of the 24-hour cable-news cycle," he says.
"In order to maintain an untenable position, you have to be actively ignorant. One of our mottoes on the show is, 'Keep your facts – I'm going with the truth.'
"I'm going from the gut, not the brain," he continues. "That's what our show is like: From the gut. And other organs," he adds, helpfully tracing his abdomen.
Like "The Daily Show," "The Colbert Report" will be taped before a live audience. It will have a featured guest (tonight: NBC's Stone Phillips). Plus dispatches of some kind from the field. And lots of Colbert mouthing off.
"Lemme just talk to you for a second about something that I think is good for America: caramel apples," he says. "I had one last night. Delicious. Not talking about candy apples. I think candy apples are a danger! You crack 'em, they're very sharp. You candy apple crowd need to wake up!"
Colbert dissolves into laughter at his character's brass.
"He believes that everything he thinks of is worth saying! He has an opinion on everything, with every opinion given equal weight, whether it's caramel apples or the Supreme Court."
Slim and sharp-featured, the 41-year-old Colbert on-air bristles with a schoolmasterish hauteur.
The son of a doctor of immunology from Charleston, S.C., he became a member of Chicago's Second City improv troupe, and with Amy Sedaris and Paul Dinello created "Exit 57," a sketch-comedy series, and "Strangers With Candy," which spoofed after-school TV specials. This summer he was in the film "Bewitched."
But all of that was but a prelude to "The Colbert Report," whose mission, he pledges, is "to change the world. Not much. Just a little bit. Day by day."
With justice and caramel apples for all.
The birthday bunch
Actor Tom Poston is 84. Daredevil Evel Knievel is 67. Singer Jim Seals (Seals and Crofts) is 63. Singer Gary Puckett (Gary Puckett and the Union Gap) is 63. Actor Michael McKean ("This Is Spinal Tap") is 58. Actress Margot Kidder is 57. Actor George Wendt ("Cheers") is 57. Actor Sam Bottoms is 50. Country singer Alan Jackson is 47. Animator Mike Judge ("King of the Hill," "Beavis and Butt-Head") is 43. Comedian Norm Macdonald is 42. Reggae singer Ziggy Marley is 37. Rapper Eminem is 33. Singer Chris Kirkpatrick ('N Sync) is 34. Singer Wyclef Jean (the Fugees) is 33.
Local journalism is essential.
Give directly to The Spokesman-Review's Northwest Passages community forums series -- which helps to offset the costs of several reporter and editor positions at the newspaper -- by using the easy options below. Gifts processed in this system are not tax deductible, but are predominately used to help meet the local financial requirements needed to receive national matching-grant funds.
Subscribe now to get breaking news alerts in your email inbox
Get breaking news delivered to your inbox as it happens.
---