Sports
San Diego's Tomlinson ties Moore's touchdown streak
Mon., Oct. 17, 2005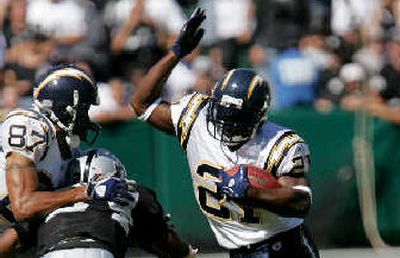 San Diego's LaDainian Tomlinson tied an NFL record Sunday by scoring a touchdown in his 18th straight game and then became the seventh player to run, pass and throw for a TD in the same game.
Tomlinson came out of the backfield to catch a pass from Drew Brees on the Chargers' second drive of the game against the Oakland Raiders. Tomlinson, who was not covered by any defenders, caught the ball around the 20 and jogged into the end zone.
He then took the ball to the sideline as a souvenir, tying the record set by Baltimore's Lenny Moore from 1963-65.
Tomlinson added a rushing touchdown later in the first quarter extending his record for consecutive games with a running touchdown to 18, five more than the mark previously held by John Riggins and George Rogers.
Late in the second quarter, Tomlinson took a handoff from Brees, ran to his right, stopped and threw to Justin Peelle for a 4-yard score and his second TD pass of the season.
Tomlinson joined David Patten (Oct. 21, 2001) as the only players to pull off that trifecta since Walter Payton did it on Oct. 21, 1979. The only other players to do it are Jay H. Johnson for Pittsburgh in 1960, Keith Lincoln for San Diego in 1965, Dan Reeves for Dallas in 1967, and Harmon Wages for Atlanta in 1969.
Bruschi cleared to return
New England Patriots linebacker Tedy Bruschi has been cleared by team doctors and could return to practice this week, eight months after suffering a mild stroke.
Bruschi, 32, originally planned to take a year off after the stroke in February and surgery to repair a small hole in his heart a month later. But as his health improved, Bruschi started traveling to see specialists and got favorable reports.
Bruschi was cleared Sunday to return to practice this week, though the Patriots said the timetable for his return will be left up him and his family.
"Physically, Tedy is completely back to normal, and is completely healthy," said Dr. David Greer, a specialist from Massachusetts General Hospital who has monitored Bruschi since his stroke.
"I have no doubt that he will be able to perform physically at a very high level. Tedy's safety, on and off the field, has always been our number one priority. At this time, I have advised him that, in my opinion, there are no medical reasons for him to delay his return to football."
Moss, Griese injured
Oakland receiver Randy Moss injured his groin in Sunday's game against San Diego when he crashed hard to the ground after trying to make a leaping catch in the first quarter.
After sitting out three plays, Moss returned to the field for LaMont Jordan's 4-yard touchdown run. He then sat out the rest of the game, while trainers worked on stretching his legs.
•Tampa Bay Buccaneers quarterback Brian Griese missed the second half of Sunday's victory over Miami with a sprained left knee.
Griese was injured with 3:43 remaining in the second quarter when Dolphins linebacker Zach Thomas rolled into the quarterback's knee as he was releasing a pass.
The team said Griese was taken to a hospital for tests during the game and would undergo further evaluation.
Associated Press
Local journalism is essential.
Give directly to The Spokesman-Review's Northwest Passages community forums series -- which helps to offset the costs of several reporter and editor positions at the newspaper -- by using the easy options below. Gifts processed in this system are not tax deductible, but are predominately used to help meet the local financial requirements needed to receive national matching-grant funds.
Subscribe to the sports newsletter
Get the day's top sports headlines and breaking news delivered to your inbox by subscribing here.
---