News > Spokane
Teens abusing prescription drugs
Mon., Oct. 17, 2005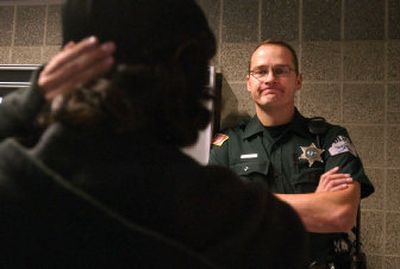 A University High School teen swiped her grandfather's prescription painkillers, and after the sales piled up, seven students faced felony drug charges, some for possession and some for delivery.
"Thirty (hydrocodone) pills were taken. The granddaughter sold 20 pills to one person," Spokane County sheriff's Deputy Jay Bailey said. "I had to do a flow chart to keep track of the rest of the distribution.
"Word spread around the school; cell phone numbers were handed out," Bailey said. "Kids would call the students … and deals went down in the parking lot. They had a network."
The disposition of the charges was not available because the juvenile records are not public.
High school students' abuse of prescription drugs such as hydrocodone, OxyContin, Valium and Vicodin is a top issue among school and law enforcement officials in Spokane County, said Deputy Damon Simmons, West Valley High School's resource officer. That abuse has put several kids in the hospital on life support, and one student in a psychiatric ward, said Francine Smith, an outpatient clinical supervisor for Valley Daybreak Youth Services.
In District 81, Jim Nicks, deputy chief for the Spokane Police Department, and Joe Madsen, director of safety and risk management for Spokane Public Schools, said they weren't aware of prescription drug abuse problems among high school students. The district no longer has resource officers in the schools due to police department budget cuts, and Spokane police don't disclose juvenile arrest data.
"It used to be marijuana or alcohol was all we dealt with. We have dealt with a couple of prescription drugs that were taken out of parents' medicine cabinets or from siblings," said Mead High School Principal Bruce Olgard. He attributed the increase in pills at school partially to availability. "Doctors are prescribing more painkillers," he said.
Central Valley High School's resource officer agreed accessibility has contributed to the problem.
"Almost every home has prescribed medications," Bailey said. Kids are taking the prescription drugs because "the pills get them high, and it's readily available."
The prescription medications are also "easy to conceal and hard to detect," Simmons said. The pills don't have an odor like marijuana or methamphetamine.
According to the federal Substance Abuse and Mental Health Services Administration, prescription medication has become the fastest-growing category of drugs being abused nationally, with the biggest growth of abuse among people age 12 to 24.
About 14 percent of high school seniors in the nation have used prescription drugs for nonmedical reasons at least once in their lifetime, according to a 2004 University of Michigan survey that tracks drug trends among middle and high school students.
"Meth and marijuana are still huge," said Smith of Valley Daybreak Youth Services. "But there's a huge increase in prescription drug use. It's frustrating because you can't stop the source of supply. I've had several adolescents who got them from adults you would never suspect," Smith said. "Then they sell the pills for $10 or $12 at school or other places."
"The biggest one that I'm seeing is hydrocodone," said James Paradis, 17, a West Valley High School senior. "It depends on who you talk to whether you get them or not. You see a lot of pills in the schools because it's easy to hide them; they're small and compact."
The varsity football player said pills are the most popular drug at school right now.
Abusers may experience a heightened sense of pleasure, euphoria, drowsiness, increased energy or other effects depending upon the drugs they take, according to the U.S. Department of Health and Human Services.
"There have been situations where kids have had pills (at high school), and they didn't even know what they were," Bailey said. "They were just taking the pill because they heard it would get them high."
Teenagers will also go to their friends' houses to hang out or for a party and go through medicine cabinets or kitchen cupboards looking for pills, the deputy added.
The U-Hi teen's access to the prescription pills and her classmates' eventual consumption could have resulted in something besides a buzz.
"We've had kids end up in hospital emergency rooms because they are taking large doses of them (hydrocodone and OxyContin)," Smith said. "I can think of four high school kids in the last few months off the top of my head. Some end up on full life support because their bodies just shut down. A boy ended up in a psychiatric ward when he overdosed on a combination of Oxys and hydros. It (ingesting the prescription painkillers) can have lasting effects on kids' physical and mental health. They aren't taking just one; they are taking several at a time."
Kolleen Seward, a supervisor for Northeast Washington Treatment Alternatives, said teenagers experiment with different drugs because they're bored. "They are adventurous at that age," she said. "Kids have magical thinking. They don't think it's going to hurt them. They don't think they will get addicted."
Seward, who works at a facility in downtown Spokane, told a story of a high school teen she dealt with who was chopping up and snorting OxyContin. The teen switched from heroin to the prescription drug because the teen thought it was a way to clean up the heroin habit.
"Often kids that are using the pills are not necessarily considered bad kids," Smith said. "We have had some student leaders, college-bound students and kids from good families."
What's the solution? A start, Simmons said, is for parents and grandparents to lock up their prescription drugs.
Watch out for changes in a child's behavior or changes in their peer groups, officials said. Isolation from family activities or dropping out of a club or sports can also be signs of drug abuse.
"Kids are kids," Olgard said. "Unfortunately what's happening is a reflection of our society, and we have to deal with it."
Local journalism is essential.
Give directly to The Spokesman-Review's Northwest Passages community forums series -- which helps to offset the costs of several reporter and editor positions at the newspaper -- by using the easy options below. Gifts processed in this system are not tax deductible, but are predominately used to help meet the local financial requirements needed to receive national matching-grant funds.
Subscribe now to get breaking news alerts in your email inbox
Get breaking news delivered to your inbox as it happens.
---