Sports
Wie's disqualification steals show from Sorenstam
Mon., Oct. 17, 2005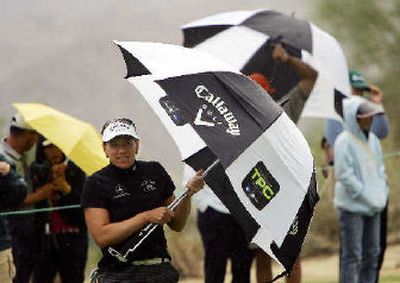 Michelle Wie's pro debut made her look like an amateur Sunday when she was disqualified for taking a bad drop from the bushes in the third round of the Samsung World Championship in Palm Desert, Calif.
Talk about a rude welcome less than two weeks after turning pro.
First, Annika Sorenstam blew away the field to win by eight shots, even with a double bogey on the last hole.
Then, the 16-year-old Wie no sooner had signed for a 74 to finish fourth – earning $53,126 – that LPGA Tour officials took her out to the seventh hole to discuss a drop she took the day before.
Nearly two hours later, she was disqualified for signing an incorrect scorecard. Because Wie dropped the ball closer to the hole – by 3 inches according to her, by about a foot according to the rules officials – she should have added two strokes to her third-round 71.
"I learned a great lesson," Wie said, her voice choking with emotion. "From now on, I'll call a rules official no matter where it is, whether its 3 inches or 100 yards. I respect that."
Wie hit a 5-wood into a Gold Lantana bush Saturday and was barely able to find it. She told her playing partner, Grace Park, she was taking an unplayable lie, dropped away from the bush, then chipped to 15 feet and made the par. It was a critical par save, and Wie steadied herself to get within five shots of the lead.
Michael Bamberger, a reporter for Sports Illustrated, told tour officials Sunday afternoon that he was concerned about the drop. Rules officials Jim Haley and Robert O. Smith reviewed tape from NBC Sports before taking Wie and caddie Greg Johnston to the seventh green after the tournament ended Sunday.
"If I had to make the ruling based on the videotape, to me it was inconclusive," Smith said.
He had Johnston and Wie show him where the ball was in the bushes, then where they dropped. They paced it off, then used string to measure the distance and determined it to be slightly closer.
"The Rules of Golf are based on facts," Smith said. "They had to tell us where it was. The fact was, the ball was closer to the hole by 12 to 15 inches."
"I don't feel like I cheated," Wie said. "I was honest out there. I did what I thought was right. I was pretty confident. If I did it again, I'd still do that. It looked right to me."
PGA Tour
Wes Short Jr. hit his bunker shot within a foot of the pin, then tapped in for a par on the second hole of a playoff with Jim Furyk to win the Michelin Championship in Las Vegas for his first PGA Tour title.
Short, who joined the tour last year as a 40-year-old rookie, raised both arms and beamed after the ball dropped into the cup. He forced the playoff by rolling in a 9-foot birdie putt on the final hole of regulation.
Furyk, trying for his fourth Las Vegas victory, three-putted No. 18 for a bogey in regulation, giving Short a chance to catch him.
Both parred the first extra hole, then Furyk, who has won only one of six playoffs in his tour career, pulled his tee shot on the par-3 17th and the ball plopped into the water.
Short hit into the bunker, but recovered to take the $720,000 winner's prize by nestling his shot out of the sand close to the pin.
Short closed with a 6-under 66 and Furyk had a 65 for 21-under 266 totals.
Champions Tour
Mark McNulty won his second Champions Tour title of the year, closing with a 6-under 66 for a one-stroke victory over Gil Morgan in the Administaff Small Business Classic in Spring, Texas.
McNulty, the longtime European tour player from Zimbabwe, had a 16-under 200 total on the Augusta Pines course. He birdied two of the last three holes and also had two eagles in the final round. McNulty earned $240,000 for his fifth victory in two seasons.
Morgan birdied the final hole for his third straight 67.
Local journalism is essential.
Give directly to The Spokesman-Review's Northwest Passages community forums series -- which helps to offset the costs of several reporter and editor positions at the newspaper -- by using the easy options below. Gifts processed in this system are not tax deductible, but are predominately used to help meet the local financial requirements needed to receive national matching-grant funds.
Subscribe to the sports newsletter
Get the day's top sports headlines and breaking news delivered to your inbox by subscribing here.
---