News > Spokane
Women find their own way to help
Mon., Oct. 17, 2005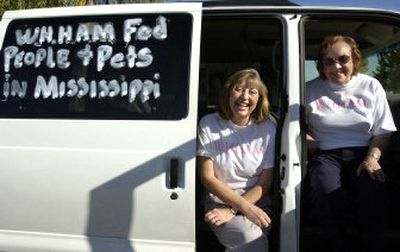 Everywhere the yellow Penske moving trucks went, the tired hungry masses asked the same question. "Who are you with? Where are you from?"
As the back door of the moving truck rolled up and the delivery ramp was pulled out, Mildred Staley would answer, "We're from Washington."
"Oh," the response would come, "Where the president lives."
"No," the Spokane Valley woman would say. "Not that Washington. We're from Spokane, Washington," which brought an awkward silence.
"Is that near New York?"
No one in Tylertown, Miss., believed anyone would travel 2,400 miles to bring them food and clothing, let alone a group of nine strangers, mostly seniors and mostly female, affiliated with no one. They solicited groceries from Tidyman's, pharmaceutical supplies from Walgreens, clothes from Kmart, pet food from PetSmart. They asked neighbors for cash donations and came up with enough resources to fill two 26-foot moving trucks. These strangers were from the "other" Washington.
It had been three weeks since Hurricane Katrina. Tylertown hadn't seen, since the storm hit, much more than a police officer – a neighbor in the same dire straits as the residents were. The Federal Emergency Management Agency promised help, but only to those who filled out aid applications just right. Many weren't literate enough to complete FEMA's paperwork.
So, who were the people in the yellow trucks? Staley and the other women from Eastern Washington came up with a response. "We're WHHAM, Women Helping Hattiesburg and Mississippi." And they gave the same answer from Hattiesburg to Gulfport as they distributed more than 20,000 pounds of food and medical supplies collected in Spokane by ordinary people. And when the trucks were finally empty, they drove 161 miles up to Meridian, Miss., and spent whatever donations they had left on more supplies. The only other question waiting to be answered was, "Why?"
It started with Staley's friend, Laura Sinnard-Swenson, who watched the images of suffering hurricane victims on television and couldn't help but compare them with her own surroundings, which were average, but ample in contrast. The mother of four shared her concerns with Ramona DiBiasi, her hairdresser.
"Do it," DiBiasi said, which really lighted a match under Sinnard-Swenson.
Sinnard-Swenson called around to a few charities, but quickly concluded she could have a bigger impact if she organized her own relief trip. On a hunch, she called the Mississippi State Patrol. The patrol suggested she call the Hattiesburg, Miss., police, though surely the lines would be busy.
All day long at the Hattiesburg Police Department, Juanita Wilson had been answering the phone, dealing mostly with strangers calling about loved ones presumed lost or dead. Hattiesburg is 45 minutes inland from Gulfport, Miss., which had been stomped into the sand by Katrina.
The population of Hattiesburg had doubled with refugees from the Mississippi Sound, though the town of 47,000 had its own flattened buildings and damaged lives to deal with. Wilson spiraled into despair as missing-person calls inundated the police department. Outside, people lined up 3 ½ miles for water and ice. One woman, police said, was shot to death by her brother over a bag of ice.
Somehow, Sinnard-Swenson, made it through to the Police Department on the first try.
"I was getting depressed listening to people looking for loved ones. Laura called and said I was 'her angel' for answering," Wilson recalled last week. "I said, 'No ma'am, you are mine because you called me when I needed to hear something."
Wilson told Sinnard-Swenson to bring the basics: water, rice, beans, bread and dog food, and directed her to rural communities like Tylertown, where the very old and very young were mostly what remained.
Mildred Staley had never been any farther east than Yellowstone National Park. None of the nine volunteers had ever been that far south. They got lost on the way down and wound up driving through Nebraska and picking up one more state postcard than they really needed.
But when the volunteers got to Mississippi, none questioned whether they should be there. They had no idea where they were going, but no matter where they were, a police officer would appear and tell them where to go, a sure sign of spiritual guidance, Sinnard-Swenson said.
One of the churches they arrived at had just run out of donated food a half hour before WHHAM arrived.
"We went to one church where the pastor was 98 and his wife was 102. They had not had any food or anything sent to them," Staley said. "FEMA was sending trucks to Hattiesburg, but when (Tropical Storm) Ophelia threatened the coast they sent them there. When that turned out to be nothing, (Hurricane) Rita came and they sent them to Texas."
WHHAM left something in every rural town they could all the way to Gulfport, Miss. And then they promised to come back.
Nearly a month had gone by since the volunteers returned home. Sinnard-Swenson said the group is trying to raise enough supplies to fill a semi trailer, which is what they now need; a semi, a trailer and driver to get them back to Mississippi for round two.
Juanita Wilson is waiting. She's told the women in her office about WHHAM. This time everyone knows which Washington the volunteers are from.
"Every time Laura calls it's like, I don't know how to explain it," Wilson said. "There's just this energy level."
Local journalism is essential.
Give directly to The Spokesman-Review's Northwest Passages community forums series -- which helps to offset the costs of several reporter and editor positions at the newspaper -- by using the easy options below. Gifts processed in this system are not tax deductible, but are predominately used to help meet the local financial requirements needed to receive national matching-grant funds.
Subscribe now to get breaking news alerts in your email inbox
Get breaking news delivered to your inbox as it happens.
---