News > Spokane
Police use seized weapons to talk about gang dangers
Tue., Oct. 18, 2005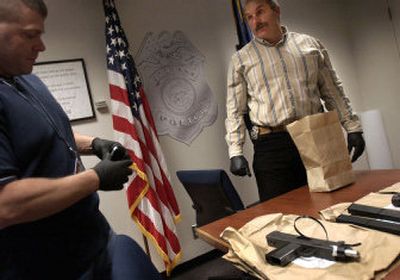 An assault weapon seized during a road rage confrontation, in which a motorist said another driver threatened him and his 3-year-old son with a pistol, was used by police Monday to illustrate the danger posed by armed gang members in Spokane.
Eugene A. Brown, a 20-year-old convicted felon and confirmed gang member, according to police, remains in custody on two counts of unlawful possession of a firearm and a single charge of first-degree assault in connection with the confrontation Friday night with a motorist and his son at Washington Street and Riverside Avenue.
"This is what the community is facing in the realm of firepower that these gang members carry," Officer Larry Saunders said as he sat in front of the seized Cobra "Mac 11" 9 mm semiautomatic gun at the Public Safety Building. "They are for nothing other than killing. That's all that is designed for.
"It's not a target shooting weapon. It's extremely unreliable when it comes to accuracy," Saunders said. With "that particular weapon, the firepower is so awesome and indiscriminate that invariably somebody else is going to get hit as well."
The confrontation began at about 7:10 p.m. when Brown and the motorist had some sort of argument over Brown's aggressive driving, according to court records. Brown told the other driver something similar to "I got a 9 mm for you" before displaying a shiny handgun.
The motorist saw the license plate on the 1979 Chevrolet Caprice and notified police. Three hours later, Officer Michael Russo saw the Caprice driving east on North Foothills Drive from Ruby Street, and he made a traffic stop when the car pulled into a nearby parking lot.
Russo and Officer Anthony Meyer handcuffed the driver and identified him as Eugene Brown. He refused to allow the officers to search the car. But they contacted Department of Corrections Officer Matt Thompson, who arrived on scene and was able to search the car without permission because Brown was under DOC supervision, Saunders said.
Inside the car, Thompson found a loaded, nickel-plated Lorcin 9 mm handgun. And in the trunk, Thompson found the Cobra "Mac 11" with two loaded 30-round clips. Another officer drove the motorist to the scene, and he identified the Lorcin handgun and Brown as the suspect, court records state.
Investigators continue to search for at least two other residents who called police and reported having someone point a weapon at them from a car with a similar description as the Caprice, police spokesman Dick Cottam said.
"When you see weapons like this, all it takes is one guy wired on something … and you could get people injured or killed very fast," Cottam said.
Brown appeared in court Monday and asked Court Commissioner Brad Chinn for a public defender and to lower his bond from the previously set amount of $250,000.
The $250,000 bond is "reasonable under these facts and your history," Chinn told Brown.
Along with the Spokane police investigation, the federal Bureau of Alcohol, Tobacco, Firearms and Explosives has begun its own probe, which could lead to a range of 10 to 20 years in prison if Brown is convicted on federal weapons charges, Saunders said.
"Any person carrying a firearm who is a convicted felon and has a disposition to display those weapons and point them at the citizens of Spokane, especially when you have a 3-year-old child in the car, is extremely concerning to the police department and should be to the community at large," Saunders said.
Local journalism is essential.
Give directly to The Spokesman-Review's Northwest Passages community forums series -- which helps to offset the costs of several reporter and editor positions at the newspaper -- by using the easy options below. Gifts processed in this system are not tax deductible, but are predominately used to help meet the local financial requirements needed to receive national matching-grant funds.
Subscribe now to get breaking news alerts in your email inbox
Get breaking news delivered to your inbox as it happens.
---