Sports
Vandals stuck with reruns
Sun., Oct. 23, 2005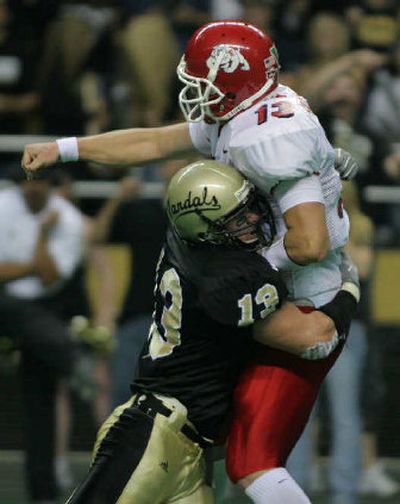 MOSCOW, Idaho – It's not intentional, but Idaho linebacker Cole Snyder and quarterback Steve Wichman are starting to sound like a broken record.
Snyder, who had another steady performance with 14 tackles, is still waiting for the Vandals to put together a complete, 60-minute team effort. Wichman is growing tired of seeing the offense sputter, leaving the defense to contend with poor field position and high-octane Western Athletic Conference offenses.
Both of those shortcomings were evident Saturday as the Vandals wasted a solid first half in a 40-10 setback to No. 24 Fresno State at the Kibbie Dome. Idaho held Fresno State to 133 yards in the first half, but the Bulldogs came up with two special teams touchdowns to grab a 16-10 lead.
"The defense came out and shut them down and we were feeling really confident in how we played," Snyder said. "It's just sometimes we kind of fell apart. We haven't really put a whole game together with special teams, offense and defense. We're waiting. We're hoping we can put it all together for the remaining four games."
The closest Idaho has come to a complete game was its 27-13 victory over Utah State.
The Vandals' run defense was solid, but Bulldogs quarterback Paul Pinegar found open receivers in the second half en route to 150 of his 228 passing yards.
Idaho's offense has been misfiring since a 34-31 loss to UNLV on Sept. 10. Against Fresno State, the Vandals had a decent rushing attack, but the passing game produced few big plays. Wichman's longest completion was for 19 yards. Idaho had one possession of more than six plays.
"Like I've said in the past, it's hard to put that much pressure on the defense to play the way they were when we're not giving them any momentum," Wichman said.
Early on, Idaho used more three- and four-receiver sets and was successful with quick passes.
"That was our plan to work the middle of field and swing passes because they like to blitz off the edge," Wichman said.
Foot fault
Head coach Nick Holt blamed himself for Idaho's special teams meltdowns, which resulted in 21 Bulldogs points.
"I was trying to be too cute with some things and having some young guys in against a good punt return," Holt said. "On the first one (Joe Fernandez's 72-yard return), we missed a bunch of tackles. We had great coverage."
On a designed roll-out punt by Mike Barrow that was blocked in the third quarter, Holt said, "Mike's really good at it and it allows us to pin guys down with not a lot of field to work with. His first one was really good, but we didn't get the blocking right on the next one."
The result: a blocked punt that led to another Fresno State touchdown.
Another lineman down
It wouldn't be an Idaho game without an injury on the offensive front. Guard Kris Anderson, one of only two linemen to start every game this season, left with a sprained knee with 4:24 remaining. Holt wasn't sure of the severity, but was thankful that Anderson was wearing a knee brace.
The Vandals are already playing short-handed up front. Starting guard Jade Tadvick, who was just returning from an appendectomy, was suspended for his involvement in a fracas at a UI fraternity last weekend. Holt wants to learn more details about the incident before determining the length of Tadvick's suspension.
Notes
Backup quarterback Michael Harrington handled Idaho's last two series. Harrington, who started the season opener, was 5 of 8 for 37 yards. … Mike Barrow booted a 77-yard punt, 5 yards short of the school record held by "Flip" Kleffner. … Of Idaho's 18 receptions, 11 were made by freshmen (Tracy Ford, Lee Smith, Wes Williams, Jason Brown and Eddie Williams).
Local journalism is essential.
Give directly to The Spokesman-Review's Northwest Passages community forums series -- which helps to offset the costs of several reporter and editor positions at the newspaper -- by using the easy options below. Gifts processed in this system are not tax deductible, but are predominately used to help meet the local financial requirements needed to receive national matching-grant funds.
Subscribe to the sports newsletter
Get the day's top sports headlines and breaking news delivered to your inbox by subscribing here.
---