News > Idaho
New ride offers lesson in gravity
Wed., Oct. 26, 2005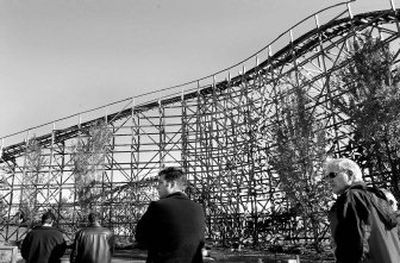 Silverwood Theme Park's new $1 million ride will be like "stepping in an elevator and having the cable break," said owner Gary Norton.
Sound fun?
Norton thinks it will attract more people than ever to the constantly growing theme park, which already boasts being the largest in the Northwest.
"We were looking for something that would be an additional adrenaline rush," Norton said at a press conference Tuesday in the park's High Moon Saloon, which serves root beer.
The attraction is a "tower ride" that hauls 12 people at a time 120 feet up a 140-foot flagpole in outward-facing seats.
Then, "when you least expect it," Norton said, the carriage releases and drops in a free-fall-like plunge, but stops before smashing into terra firma.
The ride is manufactured by Larson International, Inc., of Plainview, Texas. Norton said such rides are growing in popularity at other amusement parks. He expects park attendance to break the 500,000 mark next summer.
"We want to keep expanding," he said. "If you don't put new attractions in from time to time, interest starts to drop off."
The ride plunges at a rate of 47 mph and can cycle through 360 passengers an hour. The 140-foot tower should be in place by February and will be topped with a flag featuring Silverwood's mascot, the cartoon character Garfield.
On Tuesday, Norton joined three of his sons to break ground with gold-painted shovels at the site of the new ride, which is still in the permitting phase.
While Norton is often off traveling, his four sons keep Silverwood running; David Norton is the general manager, Michael Norton is director of food and beverages, Paul Norton is the operations director, and the youngest, Nick Norton, is a magician and in charge of entertainment.
The ride has yet to be named, so the park staff is soliciting suggestions with a contest. The first person to submit the winning name will get a free season pass to Silverwood and will join Norton on the first trip up – and quickly down – the tower.
While Silverwood's management wanted to add another thrill ride, the park wasn't ready to build another wooden roller coaster. Its Timber Terror and Tremors roller coasters, built in 1996 and 1999 respectively, are responsible for attracting a growing number of visitors from the Seattle area, Norton said. Such roller coasters are costly and require a lot of planning.
A new roller coaster will be added in the future, he said, but first, the park must expand Boulder Beach, the popular water park that opened in 2003 and was expanded in 2004 with the 60-foot slides called Velocity Peak.
Boulder Beach needs a new wave pool, said Silverwood marketing director Nancy DiGiammarco, and another wading area for small children. While the water park is the biggest around, the roller coasters still attract more tourists from outside the area.
But once the visitors see the water park, she said, they tend to stay longer.
"In the last two years, the two-day ticket sales have just skyrocketed," she said.
Silverwood is closed for the winter and is scheduled to reopen on May 6, 2006.
Local journalism is essential.
Give directly to The Spokesman-Review's Northwest Passages community forums series -- which helps to offset the costs of several reporter and editor positions at the newspaper -- by using the easy options below. Gifts processed in this system are not tax deductible, but are predominately used to help meet the local financial requirements needed to receive national matching-grant funds.
Subscribe now to get breaking news alerts in your email inbox
Get breaking news delivered to your inbox as it happens.
---