News > Business
Sustainable success
Wed., Oct. 26, 2005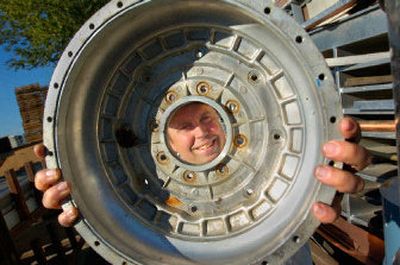 When Jon Snyder was renovating his historic home near downtown Spokane four years ago, he found himself continually heading to Seattle to find environmentally friendly building materials, such as bamboo flooring and paint that doesn't emit toxic fumes.
"That's changed. Places like Eco Depot are around now, so you can get those sorts of things," said Snyder, publisher of Out There Monthly, a Spokane newspaper focusing on the outdoors. "We wanted people to know you could get those kinds of things in town."
So, as part of Out There's first anniversary celebration, Snyder plans to launch a phone directory devoted to businesses that promote environmentally friendly practices. The first 300 businesses listed include everything from car dealerships that sell hybrid vehicles to local organic farmers to recycling yards.
Snyder said Out There was more successful than he expected in its first year. The newspaper tripled its circulation from 6,000 to 18,000, expanded into North Idaho and increased its advertising ten-fold, he said.
The Go Green Directory will come out in December as a 24-page insert in Out There, Snyder said. The venture is a partnership between Out There and CARE Publishing, which puts out the annual Directory for Seniors and their Families.
"There are tremendous resources in our community, but it takes a lot of time and energy to find out who does what," said Bill Bloom, president of CARE Publishing.
The directory will have categories including green building materials, alternative energy and natural health. The free publication also will be distributed through participating local businesses. Basic line listings in Go Green will be free, but businesses can expand their listings for a fee. The directory is being sponsored by Avista Corp. and Washington State University.
Snyder hopes Go Green eventually will graduate to being a more substantial, stand-alone publication, like a regular phone book. He'd like it to become similar to Portland's ReDirect Guide, which lists "ecologically wise, socially responsible and health-oriented businesses," according to its Web site.
Snyder anticipates printing at least 22,000 copies of the Go Green Directory. In addition, he added, he may publish an addendum at some point during the year because he ran out of space to include all the businesses that wanted to be included.
"We're out to show that a commercial venture can turn a profit and promote sustainable things," Snyder said. "We're ready for it here in Spokane."
Local journalism is essential.
Give directly to The Spokesman-Review's Northwest Passages community forums series -- which helps to offset the costs of several reporter and editor positions at the newspaper -- by using the easy options below. Gifts processed in this system are not tax deductible, but are predominately used to help meet the local financial requirements needed to receive national matching-grant funds.
Subscribe now to get breaking news alerts in your email inbox
Get breaking news delivered to your inbox as it happens.
---