News > Nation/World
Wilma is Florida's worst storm of '05
Wed., Oct. 26, 2005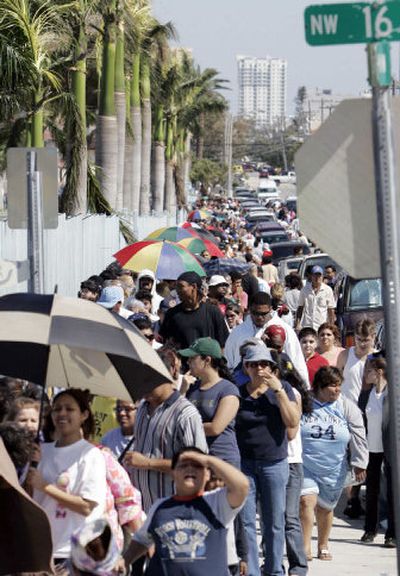 MIAMI – The day after Hurricane Wilma whipped South Florida, millions of residents began an all-too-familiar ritual of recovery on a scale not seen during the past two brutal storm seasons.
From Key West to North Palm Beach, thousands of people waited in lines for hours Tuesday to collect jugs of water and ice and fill up on gas. Some home-supply stores sold out of generators, chain saws, water and propane fuel.
Millions had no electricity, and the wait for it to be restored could stretch to four weeks, officials warned. Mile after mile of the region's precious tree canopy was frayed or destroyed.
Wilma also caused at least seven deaths, including that of a 1-year-old Miami-Dade boy fatally injured Monday when a utility pole fell on the car he was riding in.
The storm caused billions of dollars in damage after coming ashore south of Naples on Monday morning as a Category 3 hurricane. Wilma lost little intensity as it cut a wide, destructive swath through South Florida.
The scope of damage was stunning.
Preliminary estimates, based on a series of computer models, put it at $6 billion to $10 billion, said Sam Miller of the Florida Insurance Council.
That makes Wilma the most damaging storm of the four that hit Florida this year.
It knocked out power to about 6 million people in 18 Florida counties, according to Florida Power & Light. On the East Coast, the blackout extended from Key West to parts of Brevard County, east of Orlando – a distance of roughly 400 miles.
In Miami-Dade, just 18 of the county's 2,600 traffic lights were working Tuesday morning, county Mayor Carlos Alvarez said. In Broward, all 1,500 traffic lights were out.
Emergency officials in both counties warned residents to stay off the roads.
The power loss provoked water-service problems in Broward and Palm Beach counties, and boil-water notices were posted in many municipalities. Water began flowing again to homes in Fort Lauderdale on Tuesday afternoon.
West of Delray Beach, water pressure was so low that fire-rescue officials had trouble containing a massive blaze that torched a 9,000-square-foot mansion.
Schools are expected to remain closed the rest of the week in Miami-Dade, Broward and Monroe counties, said State Education Commissioner John Winn.
Local journalism is essential.
Give directly to The Spokesman-Review's Northwest Passages community forums series -- which helps to offset the costs of several reporter and editor positions at the newspaper -- by using the easy options below. Gifts processed in this system are not tax deductible, but are predominately used to help meet the local financial requirements needed to receive national matching-grant funds.
Subscribe now to get breaking news alerts in your email inbox
Get breaking news delivered to your inbox as it happens.
---