News > Nation/World
Woman who sat on bus lives among young
Wed., Oct. 26, 2005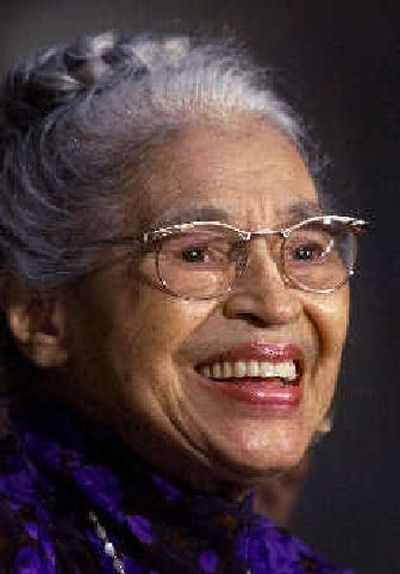 ATLANTA – Rosa Parks is known to generations of Americans simply as the woman who sat on the bus.
For half a century, young people have written to Parks asking what drove her to defy what was then one of the most prominent social mores of the South. And for just as long she has tried to answer them, even when she developed dementia and was no longer able to verbally communicate.
Though she and her husband, Raymond, never had children, she embraced the world's youth, her friends said Tuesday, and devoted her life to teaching by example.
As civil rights leaders have struggled in recent years to ignite interest in the movement among young African-Americans, Parks has been a steady, iconic figure in that cause who, except for the Rev. Martin Luther King Jr., was perhaps most recognized by its younger supporters.
A day after her death in Detroit of natural causes, busloads of visitors, many of them young people, visited The Henry Ford Museum in suburban Detroit, where they boarded the bus that Parks made history on in Montgomery, Ala., in 1955. The museum acquired the bus, which had been sitting in a field for more than 30 years, from a Chicago auction house in 2001.
Her death, activists said, leaves a historical void at a time when many surviving civil rights leaders of the 1950s and 1960s are aging and becoming more distant in the minds of young people.
"She triggered a revolution, and what was so amazing about it is that Rosa Parks was such a gentle spirit. It was nothing less than miraculous that she became such a powerful force against racial injustice," said the Rev. Joseph Lowery, a friend and former president of the Southern Christian Leadership Conference.
Parks' books, including a compilation of letters from children – and her answers to their questions – published in 1996, remain popular. While many aspects of the civil rights movement are barely mentioned in school text books, children as young as kindergarten often learn the name Rosa Parks.
Though she has been in poor heath for years, Parks received 300 to 400 letters a month from children all over the world seeking her advice and wanting to know what inspired her, said Gregory J. Reed, Parks' longtime attorney who helped her compile the book, "Dear Mrs. Parks."
"She recognized how important young people were. They had been very instrumental in the civil rights movement and she was very committed to them," said Reed.
Her legacy has remained intact over the years, he said, because she advocated living up to one's full potential. And her life was no exception. At age 83, Reed said, Parks was taking swimming lessons. A few years later, he said, she was learning to use a computer.
Last year, representatives for Parks settled a lawsuit over the use of her name in the title of a song, "Rosa Parks," by the rap group OutKast. As part of the settlement, the group and its label are to produce a tribute CD about Parks.
Reed, who filed the lawsuit, said Parks, who had volunteered as an adviser to the NAACP youth council, never wanted her name to be associated with a song that was disrespectful to women.
Those who knew Parks said that she had not intended to become a martyr when she refused to give up her seat on a Montgomery City bus to a white man – a practice that was expected in the Jim Crow South. And in her autobiography, "I Am Rosa Parks," she sought to set the record straight.
"Some people think I kept my seat because I'd had a hard day, but that is not true," she wrote in 1997. "I was just tired of giving in."
A 15-year-old student had been arrested months before Parks for refusing to give up her seat. The case was not pursued by the NAACP because the charges against her included assault. Parks, a 42-year-old seamstress with a humble demeanor, however, was the perfect catalyst.
Her actions became the impetus for the Montgomery bus boycott, which not only forced the nation to take a critical look at how it treated African-Americans but also changed the way African-Americans viewed themselves.
"There was already dissatisfaction and discomfort in the black community about the buses and other political abuses. So this was the spark it needed to (set off the) boycott," said Lowery.
"It introduced a new era in the black struggle, the era of self determination. Before that, we were depending on courts and legislation to pass laws. Blacks said, `We are taking our destiny in our own hands and we are not going to the back of the bus anymore.' It gave them a new sense of pride and self respect, a new sense of ownership of their destiny."
Among those inspired by Parks were black students in Little Rock who became the first to desegregate Little Rock Central High School in 1957.
"She really was a heroine to us," said Minnijean Brown Trickey, one of the so-called Little Rock Nine. "She was an ordinary woman and we were ordinary kids, and it seems we had a relationship. … For me, it opened up the possibility and also instructed me that it wouldn't be easy, but it would be worth it in the end."
Local journalism is essential.
Give directly to The Spokesman-Review's Northwest Passages community forums series -- which helps to offset the costs of several reporter and editor positions at the newspaper -- by using the easy options below. Gifts processed in this system are not tax deductible, but are predominately used to help meet the local financial requirements needed to receive national matching-grant funds.
Subscribe now to get breaking news alerts in your email inbox
Get breaking news delivered to your inbox as it happens.
---