News > Nation/World
Worried GOP pushes oil industry on prices
Wed., Oct. 26, 2005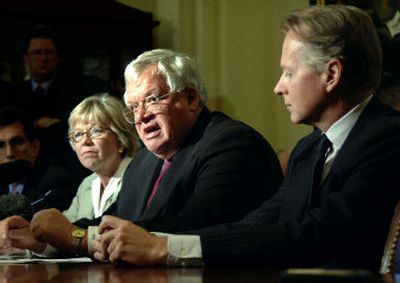 WASHINGTON – Political anxiety over high gasoline prices reached a new level in Congress on Tuesday as House Republican leaders took aim at the oil industry, traditionally a GOP ally.
With oil companies expected to announce record profits today, House Speaker Dennis Hastert, R-Ill., pressed the industry to explain what it is doing to boost fuel supplies and lower costs for consumers.
"House Republicans have acted," he said, citing the chamber's passage earlier this month of a bill aimed at spurring refinery construction. "Now the oil companies need to do their part."
Hastert called on oil companies to use some of their profits to build and expand refineries and construct a pipeline that would bring natural gas from Alaska to the lower 48 states.
He stopped short of calling for more drastic measures advocated by Democrats and some of his Republican colleagues, such as temporarily suspending the federal gasoline tax or imposing a windfall profits tax.
But the unusually pointed remarks from the House's top Republican to an industry that has been a valuable source of GOP campaign cash was the latest sign of Republican nervousness over low public approval ratings for Congress and public anger over high fuel costs.
While gasoline prices have eased from their record highs in the aftermath of Hurricane Katrina, lawmakers from both parties say they continue to hear an earful from constituents about fuel costs.
Democrats have sought to highlight energy prices as a campaign issue. The Democratic Congressional Campaign Committee mocked Hastert's Tuesday remarks.
House Minority Leader Nancy Pelosi, D-Calif., suggested Tuesday that the Republican-controlled Congress repeal the tax breaks and subsidies provided to oil and gas companies in a sweeping energy bill President Bush signed into law earlier this year.
Hastert, flanked by other Republican leaders at a Capitol Hill news conference, said the oil industry has a right to make money. "That is fine," he said. "This is America."
However, he warned that any companies engaged in price gouging should expect to be prosecuted. And, with his remarks, he hoped to pressure the industry to demonstrate it would use its profits to bring down the price of oil and natural gas.
"These companies need to invest in America's energy infrastructure and resources," he said.
Local journalism is essential.
Give directly to The Spokesman-Review's Northwest Passages community forums series -- which helps to offset the costs of several reporter and editor positions at the newspaper -- by using the easy options below. Gifts processed in this system are not tax deductible, but are predominately used to help meet the local financial requirements needed to receive national matching-grant funds.
Subscribe now to get breaking news alerts in your email inbox
Get breaking news delivered to your inbox as it happens.
---