News > Idaho
Teacher given prestigious award
Thu., Oct. 27, 2005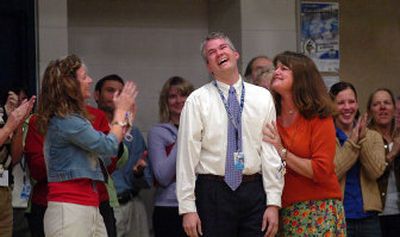 Mike Nelson's students know he is the best teacher around.
Now a national committee has confirmed that appraisal.
In a surprise announcement at Coeur d'Alene High School on Wednesday, Nelson was honored with the prestigious Milken Family Foundation educator award, which carries with it $25,000 and an all-expenses paid trip to Washington, D.C. The foundation chooses about two educators from each state from a pool of applicants compiled by departments of education.
After the assembly, Nelson sat in his Spanish language classroom, still shaking his head in amazement.
"There's no way I deserve that," Nelson said, prompting protests from surrounding students.
They spoke about his constant availability – after class in the afternoons, on instant messaging in the evenings, at his house on weekends.
They spoke about his engaging teaching methods – using games, interactive technologies and real-life situations to apply their language skills.
They spoke about his personality – the fact that he supports students who are having personal problems; that he's willing to help anyone who asks, teachers and students alike; and that he's involved in various aspects of the school, notably as the announcer at sporting events.
"He's one of those people, if he wasn't teaching, kids wouldn't want to come to school," said sophomore Patricia Barnes, who was in Nelson's class last year. "He really deserves it."
Nick Kettle, also a sophomore who took his class last year, said Nelson taught him much more than Spanish. "I learned what kind of person I want to be," Kettle said. Nelson once stayed at school until 7 p.m. explaining material to him, Kettle added. "He's just so dedicated."
"It tells you something when the whole school is screaming like that," said Hilary Dovey, a junior in Nelson's class, referring to the reaction when Nelson's name was read from a card taken from an envelope, Oscars-style.
That imitation was deliberate, said Marilyn Howard, Idaho State Superintendent of Public Instruction.
The Milken award, she said, aims to be for educators what the Oscars are for actors, the Olympics for athletes, the Nobel for scientists and the Pulitzer for journalists.
Announcements are made in front of students partly to encourage them to consider careers in teaching, Howard added.
Idaho hasn't given students much reason to be in the profession, she said.
In fact, the award money is only a thousand or so less than what a first-year Idaho teacher would make in an entire year.
But Howard and others hope that students will be heartened that Nelson, 32, and himself a graduate of Coeur d'Alene High School, received such recognition.
Back in Nelson's classroom, his students urged him to call his wife, Deb Caires, and offered their cell phones so the conversation could be on speakerphone.
Her reaction: "Are you kidding?"
Caires then apologized and said she was caught off guard.
Nelson answered, "You're not the only one, sweetheart."
Local journalism is essential.
Give directly to The Spokesman-Review's Northwest Passages community forums series -- which helps to offset the costs of several reporter and editor positions at the newspaper -- by using the easy options below. Gifts processed in this system are not tax deductible, but are predominately used to help meet the local financial requirements needed to receive national matching-grant funds.
Subscribe now to get breaking news alerts in your email inbox
Get breaking news delivered to your inbox as it happens.
---