News > Spokane
Biker club leader arrested by ATF
Fri., Oct. 28, 2005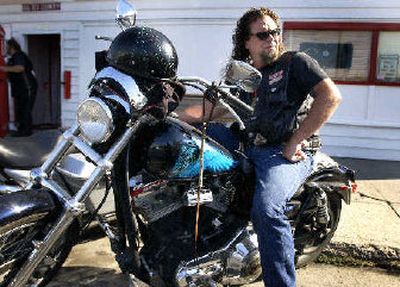 The president of the Washington chapter of the Hells Angels, based in Spokane, faces federal racketeering charges associated with a bloody 2002 shootout in a Nevada casino between rival outlaw biker gangs.
Richard "Smilin' Rick" Fabel was arrested without incident by agents of the Bureau of Alcohol, Tobacco, Firearms & Explosives on Tuesday evening at his home in northwest Spokane, authorities confirmed Thursday.
Fabel is charged with 19 counts of violence in aid of racketeering and 13 counts of using and carrying a firearm during and in relation to a crime of violence, said Natalie Collins, a spokeswoman for the U.S. Attorney's Office in Las Vegas.
In a related indictment returned in 2003, it was alleged that the violent casino brawl was carried out by prospective Hells Angels members – so-called "prospects" – eager to earn their Hells Angels patch.
The new charges against Fabel seem to suggest federal authorities are now targeting him as one of the alleged masterminds behind the casino fight. Caught on video surveillance cameras, the fight involved guns, knives, hammers and wrenches. It left two Hells Angels and one Mongol dead. After the melee, a third Hells Angel was shot to death riding his motorcycle 115 miles west of Laughlin.
Further details of the charges Fabel faces are expected to be made public today when a federal judge unseals the secret indictment returned by a grand jury.
"I can tell you these charges all stem from the violent confrontation in 2002 between members of Hells Angels and Mongols in Harrah's Hotel and Casino in Laughlin," Collins said.
The racketeering charges were brought under the federal Violent Crime in Aid of Racketeering (VCAR) law, Collins said, declining to provide additional details.
Some of the violence in aid of racketeering charges are related to attempted murders. Upon conviction, those charges carry terms "up to life in prison."
Other aid-of-racketeering charges are related to assaults. If convicted of those crimes, the maximum sentence is up to 20 years in prison.
At a brief appearance before U.S. Magistrate Cynthia Imbrogno, Fabel waived his right to a detention hearing and agreed to be transferred to Las Vegas.
Details of the charges against the 48-year-old Hells Angels officer were not disclosed at his brief appearance in U.S. District Court in Spokane.
Besides running Hells Angels operations in Washington, Fabel has risen within the ranks of the worldwide organization, recently serving as the sergeant-at-arms for the West Coast chapters of the organization.
Fabel was responsible for organizing the Hells Angels 2000 "national run" in Missoula that attracted several hundred members and their associates with their roaring Harleys.
Fabel spent time there with Sonny Barger, the legendary founder of the Hells Angels, an author and businessman who now lives in Arizona.
In December 2003, federal agents in five states arrested 42 members of various West Coast chapters of the Hells Angels.
Those arrested included six Hells Angels living in Washington: Brian L. Wolff of Spokane; Ron Arnone of Tacoma; Steven Pearce of Silverdale; Michael Keith Mills of Wenatchee; Jeff Carney of Kirkland; and Ricky Jenks, who was an inmate at Airway Heights Corrections Center.
After the arrest of those members two years ago, Fabel brushed off the impact on the local Hells Angels chapter.
"It's kind of like all the past deals they've pulled on us," Fabel said during an interview with The Spokesman-Review at the group's "clubhouse" at 1308 E. Sprague, which was searched.
A sign in the window of the red-and-white Hells Angels clubhouse says, "Honesty Matters."
Fabel said the only thing taken by federal agents from the Spokane clubhouse were snapshots of club members.
The deadly fight between the Hells Angels and the Mongols occurred during the annual "Laughlin Spring Run" that attracted 100,000 motorcycle enthusiasts, including outlaw biker gangs, who call themselves "1 percenters" – referring to a statement by the American Motorcycle Association that 99 percent of motorcyclists are law-abiding citizens.
Laughlin is located 90 miles south of Las Vegas, along the Colorado River, where the borders of Nevada, Arizona and California meet.
Local journalism is essential.
Give directly to The Spokesman-Review's Northwest Passages community forums series -- which helps to offset the costs of several reporter and editor positions at the newspaper -- by using the easy options below. Gifts processed in this system are not tax deductible, but are predominately used to help meet the local financial requirements needed to receive national matching-grant funds.
Subscribe now to get breaking news alerts in your email inbox
Get breaking news delivered to your inbox as it happens.
---