News > Spokane
GU students in step with kids
Sat., Oct. 29, 2005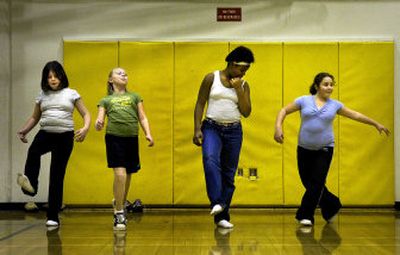 Fifth-grader Jordyn Utter struggled at first with the hop and shuffle dance steps.
Then she got it and received such a burst of energy that she raced in front of the other half-dozen girls in the Regal Elementary gym Thursday.
Utter never had a formal dance lesson until this fall, when Gonzaga University found a way to educate its dance students and give a little back to the community.
Seven Gonzaga students working on the newly offered dance minor are in the community giving lessons to students who might not otherwise get that kind of opportunity.
Utter's mother, Edde Peery, a single parent, just finished a medical office specialist degree at Spokane Community College. Now she's looking for a job. In her spare time, she has looked for dance lessons for her daughter.
"I haven't found any that are relatively affordable," Peery said.
The free after-school program that's normally offered at Shaw Middle School – but was displaced Thursday to Regal because of scheduling conflicts – makes all the difference for her daughter, Peery said.
"She loves to dance," Peery said. "When she's done, she's so much happier."
Sara Simmons, 21, a Gonzaga senior, teaches a dance class at Shaw twice a week with two other university students. She's been in dance classes since she was 4. They get up to 15 middle school and grade school students after school.
"A couple of them have danced for years. A majority have never danced before," Simmons said.
On Thursday night, Simmons turned on a CD that blasted a ballad with a strong beat. She clapped the bass line while asking students to walk to the beat. Then she clapped a triple-time beat, and demonstrated other beats as they walked, hopped, skipped or galloped.
"It's amazing how quickly they catch on," Simmons said after the class.
Those who struggled found Briana Ramirez next to them, showing how the steps went in time to the music. Back and forth in the gym, they mastered the steps.
"There is such a huge need of children, especially in Spokane, for attention and for love and for kind of a respite from all the things they have to deal with," said Ramirez, a philosophy major who hopes to become a grade-school teacher.
Many students come from difficult family situations.
"Dance is one way to boost self-confidence, and it's kind of transformative," Ramirez said.
To wrap up the lesson, students break into groups to come up with their own routines.
Simmons tries to give them enough independence so they have a sense of accomplishment.
Utter took the lead in her group of five. In five minutes, there were two rows of girls doing dance step shuffles, hip swings and arm waves that were nearly in sync.
Suzanne Ostersmith, who teaches dance at Gonzaga and Whitworth College, set up the program that led to this class. She said each fall her students will be out in the community, and there's potential for the program to grow.
Local journalism is essential.
Give directly to The Spokesman-Review's Northwest Passages community forums series -- which helps to offset the costs of several reporter and editor positions at the newspaper -- by using the easy options below. Gifts processed in this system are not tax deductible, but are predominately used to help meet the local financial requirements needed to receive national matching-grant funds.
Subscribe now to get breaking news alerts in your email inbox
Get breaking news delivered to your inbox as it happens.
---