News > Spokane
Mom has hauntrepreneurial spirit
Mon., Oct. 31, 2005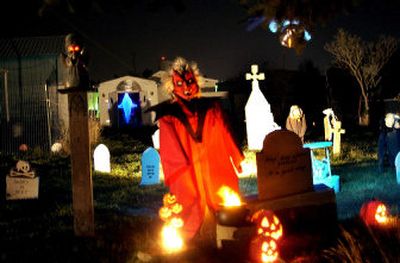 She's into blood and making children scream, floating corpses and the moldered gray tinge of adipocere.
Judith Wilson could scare the black off a cat.
"Halloween is my thing," said the mother of two. Wilson is a haunter, the kind of person who toils 364 days a year cranking out Halloween ghouls like kindly old grandfathers turn out plywood reindeer. Her tool shed is a mausoleum. Tombstones protrude from her backyard. In Wilson's garage, a skeleton plays a trick-or-treat dirge on an organ – a keyboard organ, not the other kind.
Wilson's yard has that hauntrepreneurial je ne sais quoi. Tonight, the creator of this supernatural playground will stand with a coven of latex witches on the front lawn of her home at 11508 E. Carlisle Ave., stirring a bubbling cauldron. If this night is anything like the last five Halloweens, close to 200 children will brave the site Wilson calls "Ghoul Manor" for a handful of candy and all the fright they can handle.
This is what Halloween has become: a $3.12 billion a year event that ranks second only to Christmas in spending and decorating, according to the National Retail Foundation. Simply put, we want the chance to be something else and we want the bejesus scared out of us while we're doing it.
Some open their wallets wide for the experience. Some, like Wilson, resurrect fright from the shelves of Goodwill and the front lawns of summer garage sales, a skeleton here, a disembodied mannequin there. Wilson spends hours animating and ghouling up her finds, much of it with fellow haunter Russ Peterson, who made a 20-foot animated spider for his Airway Heights home at 742 W. Horton.
A clutch of local high school kids help with the haunting around Wilson's mobile home, provided they have at least C averages.
"For me, this is kind of like reliving my childhood," said Wilson, who grew up on Spokane's North Side.
"We had a neighbor who would have a big pumpkin carving (party) when I was a girl, but I still had my tonsils and I was always sick," Wilson said.
"My mom did let me dress up and answer the door."
In Spokane Valley, it doesn't get much scarier than Ghoul Manor.
Here, haunted houses are hard to find. It is not a community of Amityville horrors, Boo Radleys, or Bates Motels. Suburbs seldom are.
The Valley is too young. Most of the homes are less than 50 years old. There's no such thing as a haunted rancher, or demonized duplex.
There's no ghost of Jan Brady, at least not yet. Last week, The Spokesman-Review sent out more than 300 e-mails soliciting Valley ghost stories.
We got a few nibbles, mostly about ghosts in different towns, older towns, towns old enough to have swallowed untold tragedies deep into their bones, like trees swallow old nails.
There were some paranormal offerings.
The stylists at Darrel's Barbershop, in the days leading up to Halloween, suggested the ghost of Sprague Avenue—a funk more than a fog, really, that lives at U-city Mall and scares away business along the retail strip.
And off Sprague, in the Valley's public schools, there are ghouls, as well as goulash, to be found in the cafeteria.
According to an online list of Washington ghosts published at www.theshadowlands.net/places /washington.htm, a dead janitor is said to haunt the cafeteria of West Valley High School.
There, by crossing the stage with two walkie-talkies, people can hear the voice of a custodian who fell to his death years ago from the catwalk of the school's old theater.
And at Centennial Middle School it's said a woman with no legs floats around the side of the old library, located in a wing of the building that used to be Park Junior High School.
Theshadowlands also mentions resident spooks at the Mirabeau Park Hotel on Sullivan Avenue, where last week the kitchen staff recounted run-ins with a ghostly woman and two children said to occupy the A-wing of the sprawling inn.
"Well, you hear things," said Dennis Manley, Mirabeau's catering director.
"I know from time to time we get room service calls from a woman and there are children in the background, but then there's no one in the room."
The guest ghost has a taste for tournedos of beef, Manley said. Her kids prefer bowls of macaroni and cheese.
No word yet on whether the National Retail Foundation includes spooky room service in its $3.12 billion accounting.
Local journalism is essential.
Give directly to The Spokesman-Review's Northwest Passages community forums series -- which helps to offset the costs of several reporter and editor positions at the newspaper -- by using the easy options below. Gifts processed in this system are not tax deductible, but are predominately used to help meet the local financial requirements needed to receive national matching-grant funds.
Subscribe now to get breaking news alerts in your email inbox
Get breaking news delivered to your inbox as it happens.
---