Sports
Blocked punt vaults Lake City past U-Hi
Thu., Sept. 1, 2005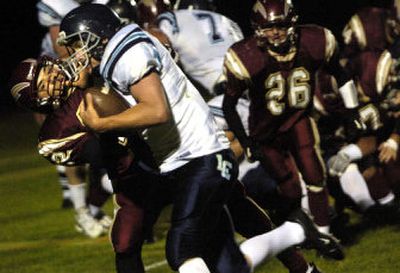 The Lake City Timberwolves parlayed a stifling run defense and a fourth-quarter blocked punt into a 29-9 season-opening, non-league football win over host University on Wednesday night.
"We played well, but there were a few key plays where we let down and they took advantage," U-Hi coach Mike Ganey said. "It was close up until that punt block. Up until then, I thought it could go either way."
It could have until, with 6 minutes, 14 seconds left, sophomore defensive tackle Bryon Hout broke through the middle to smother a Ken Wood punt in U-Hi territory. Steve Novotny scooped up the ball at the 26, returned it 11 yards and Lake City, leading 14-9, was 15 yards away from the end zone.
Three plays later, quarterback Garren Hammons scored from the 1 and Lake City had ensured a win over the Titans for the second consecutive year.
Up until then, the Timberwolves had moved the ball well, but three turnovers and one inadvertent whistle by a line judge had helped keep it close. The turnovers included two fumbles (they also recovered two of their own) and an interception by U-Hi's Mike Conrad.
The interception was about the only mistake Hammons committed in his first varsity start, as he hit 10 of 13 passes for 113 yards, including a 20-yard scoring strike to Chris Delport.
The inadvertent whistle took away what should have been a 33-yard TD run by Hammons. His fake to Brandon Hanna fooled the U-Hi defense – and everyone else. Despite the miscue, Hammons finished with 59 yards on the ground, most on option keeps.
Hanna, meanwhile, pounded in for two scores, teaming with Kyle Ferebee to spark an LC ground attack that netted 185 yards on 45 carries.
The Titans had less than half of those carries and only 28 total rushing yards. Tailback Billy Sweetser found little running room against the LC front seven, and was caught behind the line of scrimmage five times.
Without a running attack, sophomore quarterback Danny Jordan, also making his first appearance at the varsity level, was forced to move the ball through the air.
Jordan started hot, hitting his first eight throws, but only for 43 yards. At the end of three quarters he was 9 of 13 for 46 yards.
But on the second play of the final quarter, Jordan more than doubled that total, teaming with Conrad on a 54-yard touchdown strike on a trick play.
Jordan handed the ball to Sweetser, who tossed it back as LC's defense swarmed. Jordan fired the ball down the middle for Conrad who had enough separation to gather the ball in on the run and score easily.
"For the first time on a varsity field, he did well," Ganey said of his quarterback who was 13 of 24 passing or 104 yards. "He'll keep improving, I'm sure."
The Titans' running game will need to improve – sophomore Tom Peterson led the way with 41 yards on four carries – as will the pass protection – Jordan was sacked four times.
But Ganey saw positives in the August opener on a warm night.
"This will benefit us," he said. "They are a good team and they have some really quick guys. We'll take a lot out of this."
Local journalism is essential.
Give directly to The Spokesman-Review's Northwest Passages community forums series -- which helps to offset the costs of several reporter and editor positions at the newspaper -- by using the easy options below. Gifts processed in this system are not tax deductible, but are predominately used to help meet the local financial requirements needed to receive national matching-grant funds.
Subscribe to the sports newsletter
Get the day's top sports headlines and breaking news delivered to your inbox by subscribing here.
---