News > Home
Catch up on garden chores
Thu., Sept. 1, 2005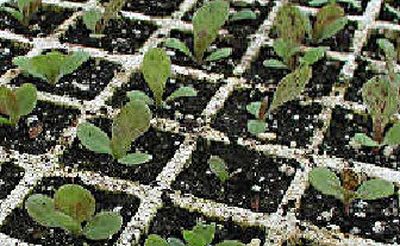 Our gardens are breathing a sigh of relief as the heat of summer fades into the cooler days of September. With any luck, the frost will hold off for a few more weeks and give us a second gardening season.
September is a great month to catch up on garden chores, add plants to the garden and move some perennials around. The days are cooler, the soil is still warm, moisture levels are rising as a few more rains come our way and, best of all, local nurseries have their stock on sale.
Let's talk about those bargains. Because the plants in the nurseries have had their roots in containers or burlap balls all through the growing season, it is easy to plant them now with little ill-effect. You aren't tearing the roots up like you would if you were transplanting an established plant. With the warm soil, containerized plants will have at least six weeks to set out new roots.
By planting now, you can gain almost a year in the planting cycle because the plants will be ready to grow in the spring.
At the nursery, look for plants that have some healthy leaves still growing. Pale yellow leaves probably mean the plant is root bound or hasn't seen a dose of fertilizer in a while. This late in the season, many plants will be spindly and floppy simply because they have outgrown their space. None of these conditions are fatal, but you will need to plant them right away to give them a chance to recover. Choose plants with leaves and no flowers because flowers suck energy a growing plant.
Many plants that have been in the nursery a while are likely to be root-bound. Pots that seem hard or stiff are a good indication of this. If you are really concerned about this, ask the nursery staff to gently remove the pot so you can see the roots. As long as there are plenty of white roots, the plant just needs a chance to spread out and grow. If you find brown or black roots, leave the plant right where you found it.
The plants should be well-watered. This is easy to check by lifting a pot. If it seems too light for its size, it needs water. While there are always a few dry pots in any nursery, the vast majority should be damp. If it's a warm day, nursery personnel should be out watering.
Be wary of shrubs and trees that have too few leaves and/or a lot of crispy leaf margins especially at the growing tips. Again, use the heft test to check for water.
For large shrubs and trees in pots, insert your fingers as far down into the soil or wood chips as you can to see if it's damp. If the plant is sitting in a wood chip bed, move some of the chips aside and feel for dampness. Be sure to replace the mulch when you finish.
Always ask about any guarantees on the plants. This varies greatly from nursery to nursery and may not apply to sale items at all. If there is a guarantee, be sure to save your receipts and plant labels for future reference.
Plant your bargains as soon as possible to take advantage of the warmest fall weather. If a potted plant is root-bound, gently pull some of the roots loose or cut the bottom inch or two off the root ball on one-gallon sized plants. Skip any fertilizer or root stimulator products this time of year.
Water plants well and then plan on watering them regularly until it really gets cold in early November. Don't count on your sprinkler system to do it for you. The majority of plant deaths over the last two winters were caused by plants going into winter too dry, not the effects of cold.
Protect newly-planted plants with a layer of mulch for the winter. With a limited root system, the plants are prone to frost heaving that can literally pop them right out of the ground. The mulch helps keep the ground frozen and the plant in place.
Local journalism is essential.
Give directly to The Spokesman-Review's Northwest Passages community forums series -- which helps to offset the costs of several reporter and editor positions at the newspaper -- by using the easy options below. Gifts processed in this system are not tax deductible, but are predominately used to help meet the local financial requirements needed to receive national matching-grant funds.
Subscribe to the Coronavirus newsletter
Get the day's latest Coronavirus news delivered to your inbox by subscribing to our newsletter.
---