News > Voices
Condos proposed at 20th, Grand
Thu., Sept. 1, 2005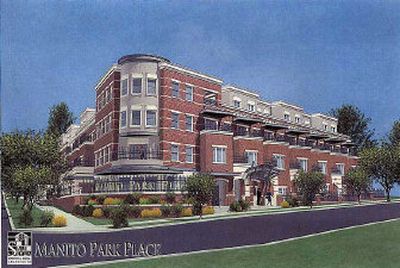 Developer Rob Brewster said he wants neighbors to form opinions on a proposed development at 20th and Grand Boulevard based on the facts.
At today's 7 p.m. Rockwood Neighborhood Council meeting, he will present information regarding plans for a 27-unit, four-story condominium with retail space on the ground floor and parking for 54 cars.
The meeting will be held in the Guild Room of the Jewett House at St. John's Episcopal Cathedral, 127 E. 12th Ave.
"We hope that the neighbors will work with us to try to create a better project. That would be our goal," said Brewster.
"We'll be moving forward to get it permitted in the not too distant future. We're allowed up to 20 units. We're going to do 20 units of something, regardless," Brewster said.
Lena Simon Lopez said that the mission of a group called Keep Grand Grand is to stop the project and a proposed medical office complex with 32 parking units at the intersection.
"We are a neighborhood group with the current goal to have Grand Boulevard, between 18th and 24th Avenue, to be zoned R-1 as an amendment to the Grand District Land Use Plan," Lopez wrote in an e-mail.
The group believes that development will harm the historic park neighborhood.
A secondary issue is the increased traffic these proposed projects would generate.
In its petition to the City Council, the group states that "Grand Boulevard, between 17th and 21st Avenues is a 20 mph zone, with each intersection a designated crosswalk used by schoolchildren, families, runners, walkers and cyclists.
"The even numbered street intersections are also STA bus stops and therefore in high use in the rush hour traffic times. It is already difficult and dangerous for these pedestrians to cross Grand, as lighting is often low, the street is at an incline, in winter the intersections can be very icy, plus pedestrian right of way is frequently unrecognized.
"The traffic studies, done for proposals, do not represent the additional hazards posed by the increase in traffic."
Meetings
•The West Hills Neighborhood Council will meet at 6:30 p.m. Wednesday at the Days Inn on the Sunset Hill. Call Neighborhood Services at 625-6730 for more information as to the location.
•The Browne's Addition Neighborhood Council will meet at 7 p.m. Wednesday at the Northwest Museum of Arts and Culture, in Gilkey Community Room, 2316 W. First Ave.
Local journalism is essential.
Give directly to The Spokesman-Review's Northwest Passages community forums series -- which helps to offset the costs of several reporter and editor positions at the newspaper -- by using the easy options below. Gifts processed in this system are not tax deductible, but are predominately used to help meet the local financial requirements needed to receive national matching-grant funds.
Subscribe to the Coronavirus newsletter
Get the day's latest Coronavirus news delivered to your inbox by subscribing to our newsletter.
---