Sports
Don't count out the Grizzlies just yet
Thu., Sept. 1, 2005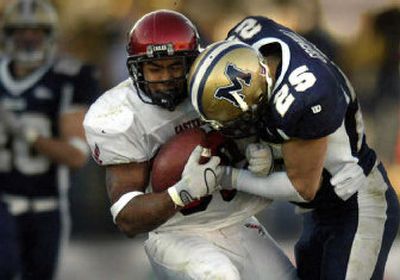 For seven seasons the Montana Grizzlies were picked to win the Big Sky Conference football championship and for seven seasons they delivered.
At times a team or two team tied the Griz, but no one ever supplanted them as they ran their streak of appearing in the I-AA playoffs to 12 straight years.
This year is different.
For the first time since 1997 – when Eastern Washington won the title – the Grizzlies aren't predicted to win the Sky.
With 13 starters back from a team that shared the BSC title with UM and made the second round of the players, Big Sky coaches and media made the Eagles the preseason favorite.
But, Montana coach Bobby Hauck warned, don't sell the Grizzlies short.
"Eastern got my vote," the third-year coach said. "I think everybody is picking them right now. They have the best chance to win the league of anybody. They're a really good football team. That being said, we haven't gone away. We're still a game people are going to point to. If you look at the national rankings, we're in the top five."
Though there are some major question marks, the truth is the Grizzlies have a lot of good players returning, a huge home field advantage, a favorable schedule and the confidence that comes from 19 consecutive winning seasons.
In other words, for Eastern Washington to knock UM off its perch, the Eagles are going to have to live up to – and even exceed – the expectations that have them ranked as high as second in some preseason polls.
In truth, the support for Eastern wasn't overwhelming. Montana was one point back in the writers' poll, five back in the coaches'.
Why?
Remember last season. Eastern tied Montana for the league title but lost to the Grizzlies at home 27-24 when they couldn't execute a short field goal attempt in the final minute. The Eagles let a big lead evaporate in the fourth quarter to lose to Sam Houston State 35-34 on the last play of the quarterfinal playoff game and sat at home watching as the Grizzlies destroyed the Bearkats 36-13 in the semifinals. That was UM's sixth straight dominant win, though the Griz lost to James Madison 31-21 in the title game.
Eastern is certainly capable of matching its 1997 league championship, but until proven otherwise, Montana is the team to beat.
"It's all on paper, it's last year's team," senior linebacker and captain Joey Cwik said of the preseason spotlight on the Eagles. "It's not even that big of deal because we haven't shown anything yet. I think that's how the whole team is taking it."
Before sharing last season's title with EWU, the Griz split the previous two with Montana State and Idaho State or Northern Arizona. The Bobcats are again expected to be contender with Portland State the other favorite to finish in the upper half.
But every year there are surprise teams and disappointing teams, nationally and in the Big Sky.
"(Rankings are) something the coaches have done a good job of not letting us dwell on it," senior center Kraig Sigler said. "There are people in that top 20 that will be back at 40 or 50 and people that are 40 and 50 that will be up in the top."
Eastern won't surprise anyone this year, unless the Eagles are a disappointment. Still, they have to earn their respect on the field, as Montana (76-13 in league games the last 12 seasons) has done, which is reflected in the predicted order of finish.
"I think it's going to be a challenge for a team to go undefeated in this league but if they do they will have had a great year," Eastern coach Paul Wulff said. "I don't say it every year but I believe it's the best league in years. Every team has good football players. The teams predicted to finish seventh and eighth in the polls have (more than 15) starters returning. Teams with that many returning starters usually have pretty good years."
Montana Grizzlies
Coach: Bobby Hauck, 3rd season, 21-7
2004 record: 12-3, 6-1
Starters returning: 6 offense, 7 defense
When they play the Eagles: Oct. 15 at Montana
Outlook: The offense is a question mark with neither Bowling Green transfer Jason Washington or redshirt freshman Cole Bermquist distinguishing themselves in spring ball as the replacement for Craig Oches (3,807 yards, 33 touchdowns). Also, after Jon Talmage the receiving corps is green, although Oklahoma State transfer Eric Allen should help. But Lex Hilliard is a stud running back who had a school record 17-rushing TDs despite not starting every game, and the O-line is traditionally strong no matter how many starters are new. Also, the defense, though still somewhat young, has a lot of experience, led by ball-hawking cornerback Kevin Edwards (six interceptions) and sack-master defensive end Mike Murphy (12). With six of the first eight games at home, Montana has a chance to get rolling before playing the last three games on the road. The Griz also have a solid kicking game, one of Eastern's biggest weaknesses. Though Montana finishes on the road, Eastern (Oct. 15) and Portland State (Oct. 29) have to play at Washington-Grizzly Stadium, where the Griz are 120-16 (including 10-0 last year).
Eastern Washington Eagles
Coach: Paul Wulff, 6th season, 34-23
2004 record: 9-4, 6-1
Starters returning: 7 offense, 6 defense
Outlook: The offense has been high octane for years, but the final season for the E2 passing combination of Erik Meyer (3,707 yards, 31 TDs) to Eric Kimble (83 receptions, 1,453 yards, 19 TDs) could be the best ever. In their careers, Meyer and Kimble have hooked up 114 times for 1,750 yards and 23 TDs. Veteran receivers and a sound running game with Oregon State transfer Ryan Cole, experienced underclassmen Desmon Cole and Toke Kefu, and promising rookies Dale Morris and Reggie Ford should keep teams from focusing on the superstars. Two new starters are needed on the O-line, but again, that is a traditionally solid unit. The key is how smoothly Rocky Hanni, an All-American guard as a freshman, moves to left tackle.
Defensively the Eagles should be strong with tackles Harrison Nikolao and Garrett Quinn, linebacker Joey Cwik and a host of athletes in the secondary, led by cornerback Isaiah Trufant and safety Brandon Keller. The kicking game was an Achilles' heel last year and could be again. A three-game stretch in October could decide the season with a home game against PSU followed by trips to NAU and Montana.
Montana State
Coach: Mike Kramer, 6th season, 24-34, 11th season overall, 62-66
2004 record: 6-5, 4-3
Starters returning: 9 offense, 7 defense
When they play the Eagles: Nov. 12 in Cheney
Outlook: The Bobcats, after sharing two titles with the Griz, struggled on offense early and then faded on defense. The offense could again struggle but not because of the quarterback. If it weren't for Meyer, Travis Lulay would be considered the brightest star in the Sky. Not only is the senior a good thrower (3,485 yards – second highest in school history, 15 TD), he can run (8 rushing TD) and he's the punter. His receivers are deep with two returnees, Rick Gatewood (995 yards, 8 TD) and Chaz Guinn (591 yards) and two Washington State transfers (Jevon Miller, Tramaine Murray). More importantly to Kramer is the hoped-for improvement in the running game with back Michael Bass coming from Hawaii to join Justin Domineck (736 yards, 9 TDs), running behind a veteran line that includes East Valley grad Joe Hirst. The Cats had more than 400 yards of offense their last four games while the D has allowed 400 seven times in 28 games. The defense lost a few key players in the front seven but the secondary should be solid. However, it all hinges on a the Bobcats' progress through a difficult early schedule with road games at Oklahoma State and Cal Poly and home visits from Stephen F. Austin and North Dakota State.
Portland State
Coach: Tim Walsh, 13th season 77-59, 17th overall 104-73.
2004 record: 7-4, 4-3
Starters returning: 6 offense, 5 defense
When they play the Eagles: Oct. 1 in Cheney
Outlook: The Vikings have talent but have enough question marks and a brutal schedule that could torpedo their chances. In addition to finding a quarterback and two defensive tackles, PSU has a pair of D-I road games, Oregon State and Boise State, and faces Montana and Eastern on the road. PSU could have easily been 9-2 last year and finished with a four-game win streak. Walsh is confident quarterback Sawyer Smith can do the job and there is a capable replacement for Eagle nemesis Ryan Fuqua at running back in Joe Rubin (825 yards, including career-high 167 against EWU). The line is anchored by center Antonio Narcisse and both guards return. Replacing Chris Berg and Chuck Jones at DT, who made the Vikings the toughest team to run against, is a concern, but linebacker Joey King (63 tackles, 11 career sacks), a Ferris grad, is one of the best and the secondary has experience.
Northern Arizona Lumberjacks
Coach: Jerome Souers, 8th season, 40-41
2004 record: 4-7, 3-4
Starters returning: 8 offense, 5 defense
When they play the Eagles: Oct. 8 at Northern Arizona
Outlook: After a surprising 2003 season that included a first-round playoff win on the road, the Lumberjacks fell apart last year. Sophomore quarterback Jason Murrietta couldn't follow up on a sensational season as a true freshman, mainly because of wholesale losses on the line and at wide receiver. This offense returns eight starters but must find a capable running back to replace Roger Robinson (907 yards). Murrietta (2,496 yards, 16 TDs) has two solid receivers in Kory Mahr (513 yards) and Simirone Wade (456) and three starters return on the line. The big concern is the front seven on defense, which suffered significant losses. Getting linebacker Bruce Branch back from injury is a good start. He was first-team all-league in '03 but was injured in the second game of '04, when he had 13 tackles as was Player of the Week. All-American punter Paul Ernster will also be tough to replace because he also doubled as a kicker. NAU takes on the four teams predicted to finish higher on consecutive weeks, starting with a visit from Eastern on Oct. 8.
Sacramento State Hornets
Coach: Steve Mooshagian, 3rd season 5-17
2004 record: 3-8, 2-5
Starters returning: 8 offense, 7 defense
When they play the Eagles: Oct. 29 at Sacramento State
Outlook: Only three starters need to be replaced on offense, but two leave tough shoes to fill. Quarterback Ryan Leadingham and wide receiver Fred Amey (more than 6,000 all-purpose yards) were record-breaking four-year starters. But a solid offensive line and running back Ryan Mole (858 yards, 5 TDs) should make the transition easier. Mole averaged 166 yards when he had at least 16 carries. Transfers Tim Bessolo (Long Beach City College) and Chris Cavendar (Mendocino College) are challenging Brad Treadway at quarterback and former WSU Cougar Chris Hurd has shown up to join the mix. The defense allowed more than 37 points a game, so the returnees will have to be vastly improved. Linebacker Matt Logue had 89 tackles, with five sacks and defensive end Jacob Houston had 10 sacks. Linebacker Steve Lynn, a transfer from Oregon, and Brandon Povio, a transfer from Cal, should help. Speaking of Cal, the Hornets open against the Golden Bears, then face Cal Poly, Portland State and UC Davis, a run that could sap the team of confidence.
Idaho State Bengals
Coach: Larry Lewis, 7th season, 34-33
2004 record: 3-8, 2-5
Starters returning: 6 offense, 7 defense
When they play the Eagles: Sept. 24 at Idaho State
Outlook: Though half the starters are back, the Bengals are missing the quarterback and best wide receiver from an offense that threw 533 times and rushed just 322. Three of the other departed starters were the tackles and center, so it could be a tough road. Akilah Lacey (56 receptions, 803 yards, 7 TDs) and Shedrack Okoebor (52, 605) are good wide receivers but only if Luke Sniewski, a transfer from Louisiana-Lafayette or sophomore Matt Hagler can get them the ball. Sophomore running back Josh Barnett had 480 yards last year in seven games. The defense is anchored by linebackers Pago Togafau (122 tackles), Kris Krosch (91) and Anthony Henderson (61, 12 for loss) and safeties Marcell Lagrone (91 tackles) and Quinton Freeman (four interceptions). Also, Chaz Brewer and Michael Harris return at cornerback after season-ending injuries. For the first time in Lewis' tenure, ISU gets to open at home, but the first visitor is EWU, followed by a trip to MSU and a home game with Montana. The Bengals are 14-3 at home the last three seasons.
Weber State Wildcats
Coach: Ron McBride, 1st season, 88-63 in 13 years at Utah
2004 record: 1-10, 1-6
Starters returning: 8 offense, 7 defense
When they play the Eagles: Oct. 22 in Cheney
Outlook: Ron McBride said he replaced former EWU assistant Jerry Greybeal because he knows the area for recruiting and enjoys rebuilding projects. He certainly has a rebuilding project with the Wildcats coming off their worst season in school history. There are some pieces in place, notably defensive end Brady Fosmark, one of the best in the league. He had 18.5 tackles behind the line last year and combined with Shane Barkdull for 15 sacks. The secondary is also solid with safeties Dallas Dreckel and John McBride and cornerback Dewey Crayton back. Junior Ian Pizarro finished the season as the starting quarterback, but T.J. Canales and JC transfer Dustin Long will challenge. Replacing running back Nick Chournos (school record 3,593 career yards) will be difficult to replace with Texas Tech transfer Sione Havili heading the candidates. Twins Paul and Pat McQuistan anchor one side of the offensive line. Western State should be an easy enough opener, but the Wildcats go to Fresno State in week two and their three road games in league are Montana, EWU and PSU.
Local journalism is essential.
Give directly to The Spokesman-Review's Northwest Passages community forums series -- which helps to offset the costs of several reporter and editor positions at the newspaper -- by using the easy options below. Gifts processed in this system are not tax deductible, but are predominately used to help meet the local financial requirements needed to receive national matching-grant funds.
Subscribe to the sports newsletter
Get the day's top sports headlines and breaking news delivered to your inbox by subscribing here.
---