News > Business
Gas prices soar across nation
Thu., Sept. 1, 2005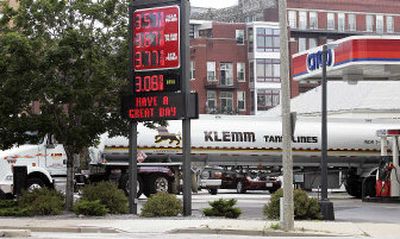 Gasoline prices surged above $3 a gallon in many parts of the country Wednesday and shortages cropped up in some areas as supply disruptions from Hurricane Katrina widened and lines of motorists scurrying to top off their tanks overwhelmed some gas stations.
Gas prices jumped by more than 50 cents a gallon overnight in Ohio, 40 cents in Georgia and 30 cents in Maine. The increases followed price spikes on wholesale and futures markets after the hurricane knocked off-line refineries and pipeline links along the Gulf Coast that provide about a third of the country's gasoline supplies.
Concerns are now mounting over limited supplies of gasoline, including the possible return of long lines and gas rationing reminiscent of the 1970s gas crisis.
"There is a possibility that we will see some form of rationing with the conditions being as bad or worse than many people thought," said Fred Allvine, an oil industry expert with the Georgia Institute of Technology.
This week's increase come atop a 40 percent price rise in the last year that pushed up the average retail price of unleaded regular to $2.61 a gallon nationwide last week, Energy Department figures show.
Analysts said the squeeze should ease once electricity is restored to Gulf Coast pipelines and refineries. But it will be days before a full assessment of wind and flood damage can be done, and at least that long before pipelines and refineries return to service.
In Georgia, a few gas stations were charging as much as $6 per gallon after other retailers had run out of gas and long lines running into nearby streets were reported across the state. In response, Gov. Sonny Perdue signed an executive order authorizing state sanctions against gas retailers who gouge consumers.
"I'm frankly embarrassed for our state and some of our businesses that we have to do this," said Perdue, after pleading with Georgians to remain calm.
In New Jersey, acting Gov. Richard J. Codey ordered increased state inspections at gas stations for possible price gouging.
The market did receive some help Wednesday when the federal government said it would loan oil from the Strategic Petroleum Reserve to refiners facing shortfalls. And the Environmental Protection Agency said it would temporarily allow gasoline retailers nationwide to sell fuel that does not meet stringent summer air-quality standards.
"The EPA waiver was a big move," said John Kilduff, an analyst at Fimat USA in New York.
Owner Mike Brown looked outside the office of his Chevron gas station in the Atlanta suburb of Chamblee, Ga., on Wednesday and saw something he hadn't seen in years — a customer topping off the tanks of not one, but three cars, and then filling up a handful of gas cans. "So the hoarding begins. I topped off my truck today," said Brown.
In Arizona, Circle K Stores Inc., one of the Phoenix area's largest gas-station operators, reported outages at 10 to 15 percent of its 256 service stations in Maricopa County, although state officials said the gasoline supply problems were not widespread.
Several gas stations in the Milwaukee area ran out of gas for several hours at the time, having to post "Out of Gas" signs at their pumps. The outages were blamed more on logistical problems on the supply end than any increase in demand.
"Everybody is really trying hard. But it has been very, very difficult to get enough gasoline," said Jim Fiene, senior vice president of the Open Pantry convenience store-gasoline station chain in southeast Wisconsin.
The problems soon could extend far beyond motorists' wallets. Energy experts say they are concerned about how hurricane damage to Gulf Coast natural gas and heating oil facilities will affect heating bills this winter.
In Georgia and North Carolina, state officials asked residents to conserve gas and government workers were ordered to limit nonessential travel. A suburban Atlanta vanpooling program also reported a 50 percent jump in participants since Hurricane Katrina slammed into the Gulf Coast on Monday.
"I never rode the bus before but I'm definitely considering it now," said Tammy Nelson, 29, of Decatur, Ga., who was topping off her gas tank at an Atlanta gas station.
Local journalism is essential.
Give directly to The Spokesman-Review's Northwest Passages community forums series -- which helps to offset the costs of several reporter and editor positions at the newspaper -- by using the easy options below. Gifts processed in this system are not tax deductible, but are predominately used to help meet the local financial requirements needed to receive national matching-grant funds.
Subscribe to the Coronavirus newsletter
Get the day's latest Coronavirus news delivered to your inbox by subscribing to our newsletter.
---