News > Spokane
Gig Harbor marina engulfed in flames
Thu., Sept. 1, 2005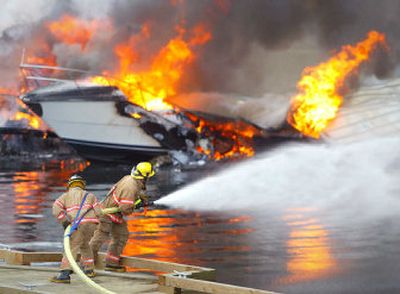 GIG HARBOR, Wash. – Hours after an early morning fire destroyed about 50 boats at a marina, firefighters and cleanup crews worked late into the night Wednesday to put out hotspots and corral pollutants.
At least one person living aboard a boat had to flee the flames as they raced along the covered Harborview Marina, but Gig Harbor Fire Department spokeswoman Penny Hulse said no major injuries were reported.
Hulse said the call came in about 7:30 a.m. as a report of a fire in a single boat. By 8:30 a.m., the marina was an inferno.
"Fuel and fiberglass burn very quickly," she said. "When we arrived, the flames were 30 feet high."
A fire boat was sent from nearby Tacoma to help 40 local firefighters.
The cause of the fire was not immediately determined.
Damage was expected to run into the millions of dollars. A fire investigator was on the scene, Hulse said.
Fire crews monitored the smoldering wreckage Wednesday night, dousing occasional small flareups. Crews had deployed booms to contain fuel and other contaminants and debris from the boats, which ranged in length from about 20 feet to 60 feet.
The state Department of Ecology also was called in.
The Coast Guard sent a cutter from Everett, a helicopter from Port Angeles and another boat to enforce a safety zone around the fire and assess damage and environmental risk.
Gig Harbor is on the Key Peninsula, on the west side of Puget Sound opposite Tacoma.
"The whole roof is down at the dock level right now, just a rumpled pile of blackened aluminum," said teacher Ross Pomerenk, who has a boat at a nearby marina. "It's really depressing. I feel sorry for those poor people."
Nearby resident Dave Olson reported hearing a loud boom.
"I looked out the window and saw a huge plume of smoke," he said. "I came down here and saw the entire marina engulfed in flames."
Local journalism is essential.
Give directly to The Spokesman-Review's Northwest Passages community forums series -- which helps to offset the costs of several reporter and editor positions at the newspaper -- by using the easy options below. Gifts processed in this system are not tax deductible, but are predominately used to help meet the local financial requirements needed to receive national matching-grant funds.
Subscribe to the Coronavirus newsletter
Get the day's latest Coronavirus news delivered to your inbox by subscribing to our newsletter.
---