News > Nation/World
'I just want to get out of here'
Thu., Sept. 1, 2005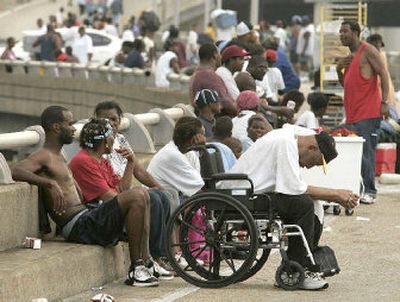 HATTIESBURG, Miss. – The refugees of Hurricane Katrina, scattered in every kind of motel from tawdry to Best Western, just want to go home.
But they are stranded in this swamp-hot purgatory of Southern Mississippi, where nothing runs. Not the tap water, not the toilets, not the ATM machines, not phones of any kind – and most definitely, not the air conditioning.
"I don't know what's going on," said Linda Rowe, a poker dealer who does know her Biloxi casino was blown across U.S. Highway 90 – she saw it on a generator-run television propped on the back of a pickup truck in the motel parking lot.
"I just want to get out of here," she said. "It's just awful."
None of the evacuees know what is left of their homes, or when they'll be allowed to get even close to them.
Except the folks from New Orleans. They know that they'll be away even longer.
"Nuthin', nuthin', nuthin'," groaned Craig "Poncho" Thompson. "We got nuthin'."
He and his fiancée, Gabriella Frank, left their New Orleans home on Lake Pontchartrain at noon Sunday. "My fiancée waited 'til the last minute. I'm a man, I was ready to go."
Getting out the door proved the easiest task. It took them 10 hours to make Meridian, Miss., a drive that normally takes three.
After one night, they moved south to devastated Hattiesburg, where there were motel rooms, but little else.
Thousands of others were engaged in this same, storm-induced migration, setting out for safety in all directions, bunking with friends or family or settling down at any hostelry or shelter that would have them.
Kenny Graves, 55, is staying at the Central Elementary School shelter in Gulfport, Miss. He waited in a long line at a pharmacy for water.
"They don't have no food, no water. It's about 300 people over there," Graves said. "Last night we built a wood fire, and this lady went to her house and got a bunch of hot dogs and we cooked them on the wood fire for the kids. The adults had crackers."
Memphis officials estimated that the influx of refugees had swelled their Tennessee city's population by more than 10,000, and they set up a committee to help find temporary housing. Schools there announced they would take in kids who had left their usual classes far behind.
"Even if this causes some discomfort to some degree, it's all about the kids," said spokesman Vince McCaskill. "The key for us now is just to get those kids in school."
In Hattiesburg, a city of 45,000 that is home to the University of Southern Mississippi, an unknown number of refugees were all in the same boat, or wishing they had one.
U.S. Highway 49, which leads south into Gulfport, is closed. Tall pines, uprooted or snapped at their base, blocked parts of the road. Downed power lines twisted like yarn through trees at half mast, and traffic snarled both sides of the four-lane highway that cuts through this city.
Everyone was searching for the same thing: gas.
Gas and rumors of gas prompted evacuees to drive aimlessly for miles, wasting precious fuel. Stranded vehicles with empty tanks have been abandoned along the clogged road, forcing some to take drastic measures.
A smiling middle-aged woman in tight leopard-print pants, who looked as if she had dressed for the occasion, strode into the middle of Highway 49 and stuck out her thumb.
When that didn't work, she lost her smile, and started screaming. No one stopped.
With no way to talk to the outside world and little chance to see it, stories spread like bad rumors. The next town over had electricity (it didn't). The National Guard was bringing in gas tankers (not yet). Electricity wouldn't be restored for two months (who knows).
Rowe is pretty sure her home is gone. She lived in the back bay of Biloxi, near Highway 90, which was covered with water, debris and the hurricane-thrown remnants of the gulf's massive barge casinos.
"I have no job, and I probably have no house," she said, smiling bravely. "My husband has to see it before he believes it's gone. I just want to go West for a couple of weeks and regroup."
What will they do next?
"What can I do?" she asked. "I try to live in the present. What's gone – that's just material stuff."
Despite her words of optimism, Rowe's eyes filled with tears.
"It's a lot to take in," she said, and looked away. "It's really just overpowering."
Local journalism is essential.
Give directly to The Spokesman-Review's Northwest Passages community forums series -- which helps to offset the costs of several reporter and editor positions at the newspaper -- by using the easy options below. Gifts processed in this system are not tax deductible, but are predominately used to help meet the local financial requirements needed to receive national matching-grant funds.
Subscribe to the Coronavirus newsletter
Get the day's latest Coronavirus news delivered to your inbox by subscribing to our newsletter.
---