News > Voices
Jewelry store offers own sparkle
Thu., Sept. 1, 2005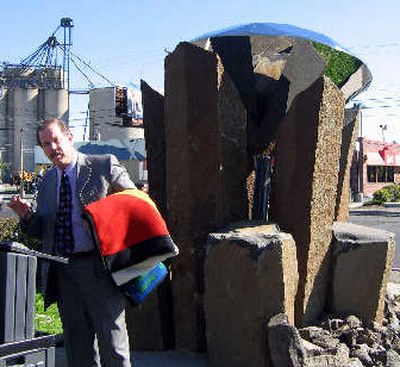 What better way to judge a jewelry store than by using the four elements used to measure diamond quality?
For Jewelry Design Center, which held a ribbon cutting and monument unveiling ceremony at its new location at 821 N. Division St. on Tuesday, "color, carat, clarity and cut" amounted to perfection.
• Color: Owners Doug Toone and son Brian Toone went with soothing shades of green, soft burgundy and neutral tones, reflective of the Northwest.
• Carat: The store is as oversized as a starlet's borrowed diamond necklace on Oscar night. It's 12,800 square feet, spread over a main floor and a mezzanine.
The vaulted ceiling is 29 feet at its highest point. An additional 3,500 square foot space, divided into two units, on the south end of the structure is available for lease.
• Clarity: Customers won't have any problem examining the jewels. Modern-designed track lights hang above the custom-built showcases, and natural light streams in from the windows and sky roof.
Using natural light, Brian Toone pointed out, shows complete confidence in the quality of the gemstones.
• Cut: The open beams and pillars and the spiral stairway are carved from pine and white pine logs from Bonners Ferry, Idaho, giving the place an inviting outdoorsy Northwest feel.
"We didn't want it to be a normal, conventional jewelry store," Brian Toone said. "We looked at hundreds and hundreds of different jewelry stores and went to a lot of trade shows."
There is nothing typical about the family-owned store, beginning with the river rock exterior that stands out from the blur of commercial stores on Division Street. However, it's an outdoor sculpture that has drivers slowing down to take a look.
The 14-foot monument is a 58-facet highly polished stainless steel diamond set around sculpted column rock. The diamond is 6 feet wide.
Doug Toone designed the piece, and his brother Dan Toone and John Marjamaa, owner of the Tumble Stone of Hayden, Idaho, did the work. Baker Construction of Spokane built the store.
Inside the business, customers have the opportunity to watch goldsmiths at work. Their shop, which is a full manufacturing center, is behind picture windows.
Jewelry Design Center opened its first store 28 years ago with one small display case in a tiny corner of a NorthTown office building at 4407 N. Division St.
The family closed South Hill and Spokane Valley stores in 1999. But after five expansions at the North Side store, the Toones moved to the high-traffic location on the west side of Division, north of the Holiday Inn Express.
The company purchased a 73,000-square foot-lot at a recorded sale price of $1.8 million, according to First American Title Co. Ground was broken in March 2005.
It was Brian Toone who came up with the idea of relocating into a state-of-the-art store.
"This is a three-year dream," Doug Toone told a crowd at the ribbon cutting. "This is a celebration of a vision."
Local journalism is essential.
Give directly to The Spokesman-Review's Northwest Passages community forums series -- which helps to offset the costs of several reporter and editor positions at the newspaper -- by using the easy options below. Gifts processed in this system are not tax deductible, but are predominately used to help meet the local financial requirements needed to receive national matching-grant funds.
Subscribe to the Coronavirus newsletter
Get the day's latest Coronavirus news delivered to your inbox by subscribing to our newsletter.
---