Sports
Lake City stumbles out of blocks until block
Thu., Sept. 1, 2005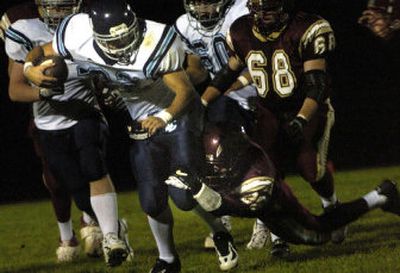 After running up and down the field with little to show for it, the Lake City High football team used a blocked punt to secure a win Wednesday night in a game ripe with season-opening mistakes by both teams and the referees.
Sophomore defensive lineman Byron Hout blocked a Ken Wood punt and LC's Steve Novotny recovered, setting up the visiting Timberwolves' crucial touchdown in a 29-9 non-league win over host University.
Three plays after taking over at the Titans' 15-yard line, LC junior quarterback Garren Hammons snuck in from a yard out with 5 minutes, 3 seconds remaining.
LC added a late touchdown to pad the final margin.
The Timberwolves had two touchdowns taken away – one by the referees in the first half and the other occurring when LC apparently fumbled the ball out of the end zone when wide receiver Tyler Sanders dove to try to break the plain of the end zone midway in the third quarter.
"It's too bad we had to play against 12 or 13 guys, but I was really happy with the way our kids played," said LC coach Van Troxel, alluding to some questionable calls. "They had a lot of things taken away from them, but they never quit. We made some mistakes, but we'll definitely get better."
U-Hi couldn't slow down LC's offense enough while the Timberwolves defense, which allowed just one big play, did plenty to impede the Titans.
It appeared even the referees were in season-opening mode. LC had a touchdown called back on an inadvertent whistle after Hammons executed a fake-dive handoff perfectly before keeping the ball and sprinting 33 yards untouched into the end zone. But a referee blew a whistle early, so the TD was nullified and the Timberwolves were given a first down at the Titans' 13-yard line.
U-Hi's defense stiffened at that point, forcing LC to attempt a 27-yard field goal. But the kick by Jim Valiquette was blocked by a tall Titans player at the line of scrimmage just seconds into the second quarter.
LC's defense stopped the Titans on the next series. After a circuitous punt return by Chris Delport from the LC 6, the Timberwolves began what would be the first scoring drive from their 14. Ten plays later, Hammons rolled right out of the shot gun and found Delport in the end zone on a fourth-and-9 at the U-Hi 20. Delport made a sliding comeback catch for the score 3:28 before halftime.
U-Hi followed with its best drive of the opening half, moving from its 22 to LC's 21 before Wood booted a 38-yard field goal at the 1:12 mark.
LC appeared as if it would add one more score, using good clock management and a 45-yard connection between Delport and Hammons to move to U-Hi's 8. But on second-and-4, Delport fumbled a lateral and U-Hi defensive back Mike Conrad alertly recovered at the 9 with 46 seconds remaining in the period.
After LC running back Brandon Hanna scored on a 3-yard plunge to put the visitors ahead 14-3 early in the third quarter, U-Hi tightened up.
Sopohomore quarterback Danny Jordan hit Mike Conrad on a deep post on a 54-yard TD connection. But a bad snap caused Wood to kick the point-after try wide, leaving U-Hi trailing 14-9 with 10:35 to play.
Troxel praised his team's defense, which held U-Hi to 28 yards rushing.
"They did an excellent job playing hard and getting after people," Troxel said.
Local journalism is essential.
Give directly to The Spokesman-Review's Northwest Passages community forums series -- which helps to offset the costs of several reporter and editor positions at the newspaper -- by using the easy options below. Gifts processed in this system are not tax deductible, but are predominately used to help meet the local financial requirements needed to receive national matching-grant funds.
Subscribe to the sports newsletter
Get the day's top sports headlines and breaking news delivered to your inbox by subscribing here.
---