Sports
Nadal sidesteps Jenkins
Thu., Sept. 1, 2005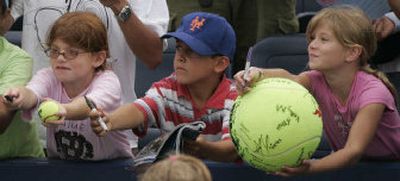 NEW YORK – Remember the name – Scoville Jenkins – and file away his game as one to watch in the future.
He's fast, he's flamboyant and he gave French Open champion Rafael Nadal fits in a compelling duel between 19-year-olds before fading to a 6-4, 7-5, 6-4 defeat Wednesday night in the second round of the U.S. Open.
Jenkins, from Atlanta, came into the Open courtesy of a wild card and won his first Grand Slam match in the first round after four hours and five sets against qualifier George Bastl. With his dreadlocks flapping as he dashed around the court in a swirling wind against Nadal, Jenkins showed he can be dangerous even when he faces the top players on the tour.
Nadal needed all his speed to catch up to Jenkins' drop volleys and baseline shots. The slim difference between them in each of the three sets was attributable to the Spaniard's greater consistency and the price Jenkins paid for his daring. Jenkins hit nearly twice as many winners – 45 to Nadal's 23 – but had far more unforced errors – 49-13.
One call in the second set made a huge difference. Jenkins was serving at 5-5, 30-love, when a forehand pass by Nadal was called good. Jenkins, standing near the ball, argued that it was wide, and the fans booing the call agreed with him. Replays appeared to show that the ball was, indeed, wide. But the call stood and the rattled Jenkins double-faulted on the next point, then lost two more for the crucial break that gave Nadal a 6-5 lead he didn't waste.
Wispy Maria Sharapova was one strong gust away from getting knocked over, though not out, at the U.S. Open.
"I'm really glad I had a piece of chocolate cake last night," she joked, "otherwise I would have been blown away. It made me heavier."
Nearly as thin as her racket, the top-seeded Sharapova had more trouble with gales up to 36 mph playing tricks with the balls than she did with any of the shots by Dally Randriantefy in a 6-1, 6-0 rout that took all of 49 minutes.
"The first few games I was serving 69 miles per hour," Sharapova said. "It's pretty funny. I think it's even funnier from TV because they can't see the wind. These people probably think we look like beginners. That's the sad part."
A trailing front from remnants of Hurricane Katrina blew through the Open, the sun played peekaboo all day, dark clouds came and went after morning rain, and the lingering heat and humidity continued to test the mettle of players.
Not surprisingly, the top players handled the shifting conditions better. A day after former champion Andy Roddick fell in the first round, there were no major upsets.
No. 4 Kim Clijsters, bidding for her first major title, won again in straight sets, as did two-time former champion, No. 8 Serena Williams and No. 10 seed Venus Williams.
In men's day matches, former champ and No. 3 seed Lleyton Hewitt won in straight sets, and No. 15 Dominik Hrbaty, No. 17 David Ferrer and No. 25 Taylor Dent all advanced.
Local journalism is essential.
Give directly to The Spokesman-Review's Northwest Passages community forums series -- which helps to offset the costs of several reporter and editor positions at the newspaper -- by using the easy options below. Gifts processed in this system are not tax deductible, but are predominately used to help meet the local financial requirements needed to receive national matching-grant funds.
Subscribe to the sports newsletter
Get the day's top sports headlines and breaking news delivered to your inbox by subscribing here.
---