News > Idaho
New restaurant will serve up barbecue, beer and beyond
Thu., Sept. 1, 2005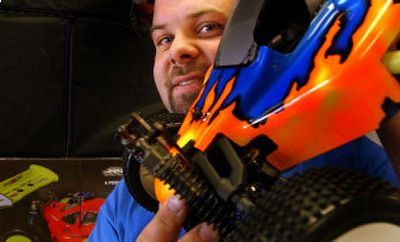 Rumors keep flying about businesses that are coming into the Riverstone development on Northwest Boulevard in Coeur d'Alene. This one is real.
Joey's Smokin' B-B-Q will combine "hip" with a taste of country fair, according to Randy Folk, who will own the restaurant with his wife, Akiko. Slated for a Nov. 1 opening, Joey's will be located in 1,400 square feet between Regal Cinemas and Starbucks.
Going beyond traditional barbecue items, the menu will include smoking Cobb salad, Kobe beef ribs from Japan, barbecue brisket sandwiches (beef, pork and chicken) and pulled pork sandwiches with a sweet plum sauce.
Serving beer and wine, Joey's will have 10 to 12 employees, table seating for 42 people, a nine-seat bar and take-out and catering. Hours will be 10 a.m. to 9 p.m. daily.
Originally from Coeur d'Alene, Randy Folk lived for more than 20 years in San Diego, where he enjoyed a Joey's in his neighborhood. Planning to return to the Inland Northwest, he introduced Riverstone folks to Joey's, and it progressed from there. Two other Joey's restaurants will be opening in the San Diego area. Akiko is originally from Los Angeles.
'Commandable toys' at new store
They float, they fly, they race on the ground. They're amazingly fast, and they react to "commands" instantly. They're also beautiful and intriguing at the same time.They're airplanes, boats and wheeled vehicles that are operated by radio control, and they're the specialty of Performance R/C Hobbies. The new store opens today at 2908 Government Way (between Motion Sports and Best Tire) in Coeur d'Alene. These rigs are more of an activity than they are toys, costing from $99 to $500. The 2,000-square-foot shop also sells accessories and fuel, usually batteries or gas.
Shop owner Matt Afana has been "playing" with radio-control toys for about 20 years and working with them in stores for four years. Originally from Huntington Beach, Calif., he came to North Idaho in 1988 after visiting relatives here.
Performance R/C Hobbies is open 10 a.m. to 7 p.m. weekdays and 10 to 5 Saturdays. The grand opening will be Sept. 9. Phone 676-9616.
New Coffeeville choices
The businesses comprising the Coffeeville complex on Fourth Street in Coeur d'Alene are expanding and diversifying.
Starting today, the coffee house is adding food to its inventory. New owner David Lombard is adding panini sandwiches and other items to offer customers a "healthier fare in a comfortable atmosphere." He will have eight to 15 employees, and beer and wine will be included.
By next month he will move his Studio 120 beauty salon to Coffeeville and rename it Lather because of the new options, including facial and massage specialists. He'll have 12 employees in the 2,500-square-foot facility.
Originally from Buffalo, N.Y., Lombard "tasted the nation" as a young man and landed in Southern California. He became a motion picture set decorator and was hired for the short-lived "Amazing Grace" TV series that actress Patty Duke brought to Coeur d'Alene in 1996. That included Lombard; he never left.
Another suite at Coffeeville will become Shutter Works Photography. Black and white landscapes and fine art will be the specialties of Michael Notar, who is completing advertising and high-speed photography school at Brooks Institute in Santa Barbara, Calif. He will offer commercial and architecture photography and portraits.
Originally from Orange County, Calif., Notar came to Idaho with his family in 1987. He graduated from St. George's Academy in Spokane. Shutter Works will be in 1,200 square feet.
This week's tidbit gallery
"The wood, tile and stone workmanship was awesome at the annual Parade of Homes. The problem was that the house builders obviously were attempting to attract only the high-end buyers. Joe Average just got ideas and dreams. With that in mind, the negative part of many houses was wasted space. Several long "bonus" rooms above three or four garage bays were mostly good as bowling alleys. And who would actually use the overstuffed-chair sitting areas on stair landings or in master bedrooms?
"Places with outdoor seating (restaurants, coffee houses, taverns) pay annual $30 encroachment fees and $19.28 sewer-cap fees (per seat) in Coeur d'Alene. They must allow a 42.5-inch pedestrian passageway. If a business wants a planter or other structure on the sidewalk, it must apply to the City Council and also pay the encroachment fee.
"Starting in Coeur d'Alene in 1992, Northwest Mortgage is expanding to its fifth location. Next week it opens a Missoula office. Others are in Sandpoint, Lewiston and Kalispell. Company vice president Chuck Anderson recently was reappointed to the Governor's Advisory Board of the Idaho Department of Finance.
Local journalism is essential.
Give directly to The Spokesman-Review's Northwest Passages community forums series -- which helps to offset the costs of several reporter and editor positions at the newspaper -- by using the easy options below. Gifts processed in this system are not tax deductible, but are predominately used to help meet the local financial requirements needed to receive national matching-grant funds.
Subscribe to the Coronavirus newsletter
Get the day's latest Coronavirus news delivered to your inbox by subscribing to our newsletter.
---