News > Voices
Opsals recover, celebrate after kidney transplant
Thu., Sept. 1, 2005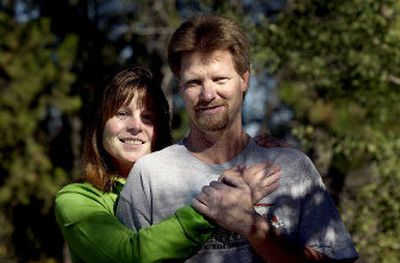 As Chip and Cheri Opsal celebrated their 16-year wedding anniversary recently, her gift to him proved hard to top.
Cheri gave one of her kidneys to her husband, and both underwent surgery Aug. 9 at Sacred Heart Medical Center. Released four days later, the Deer Park couple spent several days, including their Aug. 19 anniversary, recuperating together.
Chip started having kidney failure about nine months ago from a condition called Berger's disease. He had to undergo dialysis four times a week. After the transplant, Chip said, he instantly felt better.
"I can't think of anyone else better to be recuperating with," said Chip. Referring to their anniversary, he added, "You could say she already got me something. I have to find something for her now. I don't what we're going to do."
To which, Cheri chimed in. "We're going relax in our recliners with a good video."
The couple gives credit to the Sacred Heart Kidney Transplant Program for guiding them through the process. Cheri was determined to help after discovering she was a compatible donor.
"I have siblings, but because of different illnesses, they weren't good candidates," said Chip. "My wife was very persistent about getting herself checked and – lo and behold – was compatible. I decided, yes, I would go ahead and let her give me another kidney to lead a normal life again."
Added Cheri, "If you could see the difference between Chip now and before, what I went through is nothing."
She said kidney transplant program professionals thoroughly checked her health. "They make sure you're healthy before they let you do this. The living donor program is a marvelous thing."
Those with the program try to answer any psychological or financial questions, Cheri added. "They put you at ease."
The transplant program also supported her donor medical costs, she said.
"My whole surgery, my physicals, all of that was covered through their program."
Getting a donated kidney within nine months is fast, Chip added.
"Most people on kidney transplant list have been on for a year or more waiting for blood type match. This is the best I've felt for a long time.
"I was told that as soon as they put the kidney in, it started right away, and boy, does it ever work," he added, with a laugh.
Both Chip, 45, and Cheri, 42, said they feel overwhelmed by support from family, friends and the Deer Park community. The couple have three children.
Cheri's friend and Yoke's co-worker, Shawn Albright, organized an Aug. 13 fund-raiser barbecue. Albright also will hold a Sept. 10 community raffle for the couple with prizes donated by businesses and the community.
Although Chip has medical coverage for his surgery, costs have mounted, and the couple had to take time off from work. Chip works with Appleway Automotive Group.
"Our family is helping, and our kids," said Chip. "The support we're getting is overwhelming at times."
"It's truly amazing to me how the community has come through. We're not going to be able to personally thank everyone, but we're sure going to try."
Cheri will lose about six weeks of work under a medical leave of absence, allowing about 50 percent of her pay. Chip will be out of work eight to 10 weeks.
They encouraged others interested in information on kidney donations to call the Sacred Heart Kidney Transplant Program at 474-4500 or (800) 667-0502. Anyone can apply to be a donor, they added.
"Not only is it helping someone to have a more normal life, but possibly it's saving a life," Chip said. "It's a great gift."
Local journalism is essential.
Give directly to The Spokesman-Review's Northwest Passages community forums series -- which helps to offset the costs of several reporter and editor positions at the newspaper -- by using the easy options below. Gifts processed in this system are not tax deductible, but are predominately used to help meet the local financial requirements needed to receive national matching-grant funds.
Subscribe to the Coronavirus newsletter
Get the day's latest Coronavirus news delivered to your inbox by subscribing to our newsletter.
---