News > Business
Rebuilding will put city to the test
Thu., Sept. 1, 2005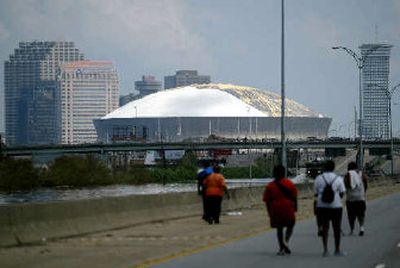 The floodwaters swamping New Orleans will ultimately recede, but Hurricane Katrina's destructive legacy is certain to be felt for years to come as the city contemplates rebuilding after one of the worst natural disasters in the nation's history.
Not only does New Orleans face massive reconstruction likely costing tens of billions of dollars, but it must rebuild a tourist industry that is New Orleans' lifeblood and an economy that was stagnant even before the storm plunged 80 percent of the city under water.
"Will New Orleans ever be the same?" said Bernard L. Weinstein, a professor of applied economics at the University of North Texas in Denton. "You're talking about a major city that has been made uninhabitable and large parts of it have been destroyed. What do you compare it to? Dresden? Berlin? Those cities came back, but it took a long time. It took years, and that was with a lot of American aid."
Louisiana Gov. Kathleen Blanco has left no doubt that the 287-year-old city beloved for its quirkiness and old world charm plans a comeback. She vowed: "We will recover. We are a strong people."
That fortitude will be put to the test as soon as the U.S. Army Corps of Engineers figures out how to get rid of the water.
One expert on rebuilding after disasters estimates it would likely take five years before the region attains a semblance of normalcy.
"All the past (major U.S.) disasters, they have hit suburban areas, not the central urban areas of major cities," said Mary Comerio, author of "Disaster Hits Home," a book on post-disaster reconstruction. "Here we have a significant hit on the entire urban area — not just the core, but everything. It is going to be an incredibly complex staging operation."
Comerio compares it to the 1995 earthquake that struck Kobe, Japan, killing 6,000 people and running up more than $150 billion in reconstruction costs. More than 100,000 buildings were destroyed and 300,000 people left homeless.
While smaller than Kobe, New Orleans has a different set of problems — it is isolated, meaning that it will be hard to house people nearby. Some will leave the area permanently, she said.
Housing will be a long-term problem — especially for New Orleans' sizable low-income population, which will find it harder to secure resources to rebuild. Apartments are always the last to be rebuilt, Comerio said, and low-income housing lags behind that.
"In Japan people lived in temporary housing for eight years. They finally closed the last of the temporary housing sites before the 10th anniversary," she said.
In New Orleans, whole neighborhoods submerged to their rooftops may have to be rebuilt from the ground up. If some floodwaters prove to be a polluted "toxic stew" that some fear, those areas will likely be rendered uninhabitable.
"The thing about water is, even if the frame of your house looks OK, corrosion and the smell could make it a total loss," said Larry Griffis, president of structural engineering at Walter P. Moore & Assoc. in Houston. "Sometimes, you just have to start all over again."
Fortunately, New Orleans has learned from its flood-prone past. Many homes are built on pilings sunk deep into the ground, protecting foundations. Most of the office buildings in the city's financial center also were built to withstand severe flooding.
An immediate challenge will be a shortage of contractors, some of whom fled the city along with much of the rest of the population.
Once the city is dried out and infrastructure rebuilding begins, officials will have a better idea of the magnitude of the job ahead. Louisiana's importance as a national energy supplier and commercial hub will put the pressure on for a quick recovery for certain sectors.
Oil refineries could be up in a week, industry experts said, followed by the resumption of oil and gas drilling operations in the Gulf of Mexico.
There will be similar pressure to restore New Orleans as a critical junction for the nation's commerce. The Port of South Louisiana is the busiest in the nation. Commodities such as crude oil, rubber, metals, coffee and lumber come in for shipment up the Mississippi River, while grains and petroleum products go out to the world.
The region's ports will be out of commission longer than oil and gas production, but eventually should return to pre-hurricane levels of economic activity, Weinstein said.
"Because of the railroads and the pipelines that converge in and around New Orleans, I can't believe they're going to suffer any long-term business loss," he said.
Tourism is another matter. Conventions are often arranged years in advance, so many planners may decide to skip New Orleans, which is among the top four U.S. convention destinations. A plunge in visitors would send a shudder through the local economy, hurting businesses such as restaurants, bars and the city's many tourist attractions.
What makes New Orleans such a desirable locale is its ambiance, more reminiscent of Europe than the American South.
One potentially bright spot is that the aesthetic heart of New Orleans, the French Quarter, may have escaped severe damage because of its elevation — three feet above sea level.
Local journalism is essential.
Give directly to The Spokesman-Review's Northwest Passages community forums series -- which helps to offset the costs of several reporter and editor positions at the newspaper -- by using the easy options below. Gifts processed in this system are not tax deductible, but are predominately used to help meet the local financial requirements needed to receive national matching-grant funds.
Subscribe to the Coronavirus newsletter
Get the day's latest Coronavirus news delivered to your inbox by subscribing to our newsletter.
---