News > Features
Save room for Friday's Art Walk
Thu., Sept. 1, 2005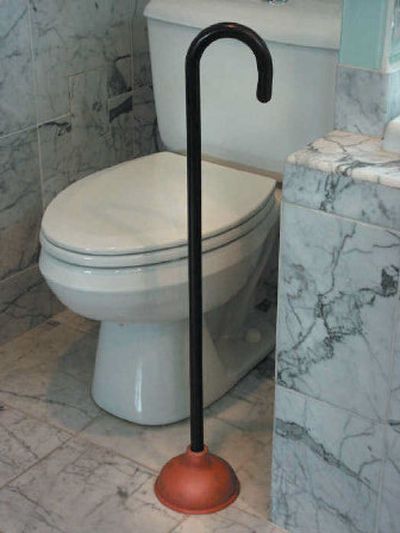 One good way to burn up a few of those extra calories packed on at Pig Out in the Park is to stroll through downtown Spokane taking in the First Friday Art Walk.
The self-paced downtown art walk includes many new shows and dozens of open artists' receptions including "Taking the Plunge" at the Kolva Sullivan Gallery, 115 S. Adams St.
The off-the-wall show includes zany mixed-media pieces, paintings and music videos created by the versatile, and sometimes weird, Charlie Schmidt.
"This show includes unusual juxtapositions of objects that might make people stop and wonder," says Schmidt. "There is everything from plumbing supplies to religious icons to images of mobile homes – all of them used in ways they probably shouldn't be used."
Other First Friday openings
All of the free receptions are from 5 to 8 p.m., unless otherwise noted:
" 123 Wireless Sprint Store, 172 S. Division St. – Detailed glass tattooing/sketching by Paul Bellmer.
" Artist's Tree Gallery, 828 W. Sprague Ave., reception 6 to 9 p.m. – Featuring Piper Gunderson's "One for All" exotic oil paintings on canvas.
" Avenue West Gallery, 1021 W. First Ave., reception 5 to 9 p.m. – Jason Sheldon's wood and metal sculptures alongside the paintings of Olivia Waterman.
" CenterStage, 1017 W. First Ave., tours available 5 to 9 p.m. – Brett Bellinger's artwork on the second floor. No cover charge for First Fridays.
" Chase Gallery, lower level, City Hall, 808 W. Spokane Falls Blvd. – Group show of works by Patty Haag, Shelly Murney and Julia N. Haack.
" Empyrean, 154 S. Madison Ave., reception 5 to 10 p.m. – Stained glass by Michelle LeVar, and oils by Sarah Edwards and Angelica Di Chiara-Hardin.
" Flour Mill Gallery, 621 W. Mallon Ave. – "East Meets West" display of pottery by Kristy McCoy and paintings in various media by Marsha Marcuson, Shirley Hackett, Emma Randolph, Dennis Smith and Susie Snider.
" Fox Theater, Monroe and Sprague – "Earthly Pursuits" combines two local artists who use pure earth materials: Sheila M. Evans incorporates soft pastels of pure pigment to depict glowing nature and landscapes, while Erin Jo Solberg forms clay pieces by hand, fired and hardened with earth elements.
" Galleria De Felice, 10 S. Post St. in the Davenport Hotel, reception 6 to 9 p.m. – "Floral, Still Life and Seascape" oil paintings from California artist Elio Camacho.
" GoodWorks Gallery, 1019 W. First Ave., reception 5 to 9 p.m. – Watercolor paintings by California artist Dimitri Pavloff from his "Inland Passage" series.
" Interplayers Gellhorn Gallery, 174 S. Howard St., reception 5 to 7 p.m. – Photographer Amy Sinisterra's deconstructed portraits and Rick Garcia's abstract paintings with a primitive edge.
" Kress Gallery, 808 W. Main Ave., River Park Square, third level – Special reception for the "Bear Necessities" public art project artists. Plus "Rivers of Lewis and Clark: Contemporary Artists Journey the Columbia Watershed Route," presented by the Northwest Museum of Arts and Culture, featuring six regional artists: John Clement, Melissa Cole, Charlie Gurche, Pauline Haas, Janette Hopper and Jan Cook Mack.
" Lorinda Knight Gallery, 523 W. Sprague Ave. – "The Streets of Verona," paintings on panel by Doug Turman, containing colors, shapes and hints of architectural elements retained from the artist's recent travels in Italy.
" New Dawn Books and Shanti Gallery, 509 W. Sprague Ave., reception 5 to 9 p.m. – Peggy Winkel's "Mystic Expressionism and Emotional Impressionism" watercolors, acrylics, papier-mache, ink and cut paper.
" On Sacred Grounds: Coffee, Tea and Specialty Shoppe, Steam Plant Square, 163 S. Lincoln St., reception 5 to 7 p.m. – Pencil and color drawings, and wood carvings by Bassam al Hayek.
" Pottery Place Plus Gallery, in the Flour Mill, 621 W. Mallon Ave. – Denny Young presents "Abstract Expressionist Pottery and Whimsy" using three-dimensional pottery as a canvas.
" Rainbow Regional Community Center, 508 W. Second Ave., reception 5 to 9 p.m. – Local artist Richard Craven's "expressions of the creative playground of imagination, myth and belief."
" Spokane Art School, Huneke Gallery, 920 N. Howard St., reception 5 to 7 p.m. – "Spokane Art School Faculty Show," with photography, paintings, drawings, jewelry, mixed media sculpture, ceramics and glass.
" Stone Crazy, Liberty Building, 203 N. Washington St. – Local artists.
Other First Night activities
" "Bear Necessities," downtown streets – Dozens of artistically adorned life-size fiberglass bears. Fund-raiser for Ronald McDonald House of Spokane.
" Comedy Sports, 227 W. Riverside Ave. – Free tickets to Friday's 8 p.m. performance to the first 15 people to stop by and sign up between 5 and 6 p.m. Improvisational comedy played like a sport. Suitable for all ages.
" Far West Billiards, 1001 W. First Ave. – Emerging artists Dean Reiner, Phil Bailey and Troy Webber.
" Global Credit Union, 726 W. Riverside Ave. – Oil paintings by Carl Funseth on display through windows.
" Montvale Hotel, 1005 W. First Ave. – Work by Seattle artist Cathy Tousley, formerly from Spokane.
" Mootsy's N. 9 Pizza, 9 N. Washington St. – Works by local artists.
" Northwest Museum of Arts and Culture, 2316 W. First Ave. – First Friday admission by donation between 5 and 9 p.m. Exhibitions include the "Taos Society of Artists and Ancient Cultures."
" Rock Coffee, 920 W. First Ave. – Paintings by emerging artists including Jacob Wellman, J.K. Porter and Keena Amia. Live acoustic music.
" Spokane Transit Authority Plaza, upper level rotunda, 701 W. Riverside Ave. – STA and the MAC present "Seeing Spokane," century-old photographs of familiar downtown corners, capturing Spokane's rich transportation history.
American Indian art auction
More than 60 items created by American Indian artists will be up for auction Saturday between 5 and 7 p.m. during the 84th annual Spokane Indian Days Powwow in Wellpinit, Wash.
Well-known artists contributing auction items include George Flett (Spokane), Ric Gendron (Colville), Jim Yellow Hawk (Sioux), Rance Hood (Comanche), Randell Blaze (Sioux) and Kevin Red Star (Crow). There will be drawings, paintings, sculpture, pottery, bead work, corn husk weavings and jewelry.
The powwow runs from 5 p.m. Friday through Monday, "pretty much nonstop," says Flett. During the powwow award-winning Northwest artists will be showing and selling their work.
The Spokane Indian Reservation is about 50 miles northwest of Spokane. RV parking is available.
Entrée Gallery
"Found in the Forest: Threads of Nature" opens today at the Entrée Gallery in Priest Lake, Idaho.
The collection includes quilted art forms by Melissa Stevens-Quilter, Leila Hickman and the Kalispell Bay Quilters. An artists' reception is Sunday from 2 to 4 p.m.
Jan Wilhelmi will be demonstrating her oil painting techniques on Saturday from noon to 3 p.m.
The gallery, open daily, is on Reeder Bay Road, two miles east of Nordman near Elkins Resort.
Local journalism is essential.
Give directly to The Spokesman-Review's Northwest Passages community forums series -- which helps to offset the costs of several reporter and editor positions at the newspaper -- by using the easy options below. Gifts processed in this system are not tax deductible, but are predominately used to help meet the local financial requirements needed to receive national matching-grant funds.
Subscribe to the Coronavirus newsletter
Get the day's latest Coronavirus news delivered to your inbox by subscribing to our newsletter.
---