News > Spokane
SCAPCA meets today to hear asbestos issue
Thu., Sept. 1, 2005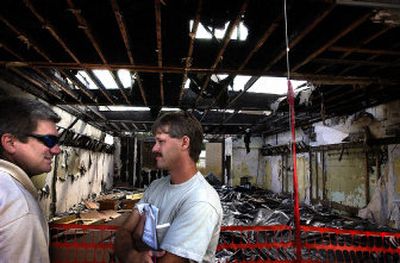 A small burned-out building on East Sprague is causing a big ruckus for the Spokane County Air Pollution Control Authority.
The former tattoo parlor in the city of Spokane Valley is at the center of an intense debate over SCAPCA's enforcement of asbestos cleanups. The SCAPCA board has provided a sympathetic forum to two contractors and other businesses who say the agency's staff has abused its power. At a meeting today, the board is expected to take further action on the asbestos controversy.
Doug Gore and Michael Lee, partners for two years in Northwest Renovators Inc., bought the rubble-strewn property at 8207 E. Sprague, just west of DéjÀ Vu Showgirls, at a county foreclosure auction in January for $23,000. Their goal was to demolish the building and clear the property for future development.
The young contractors say they've been whiplashed since then by contradictory SCAPCA directives. They complain that SCAPCA's regulatory hammer – including an unprecedented 30-day cleanup order on July 6 threatening large fines – is falling hard on them when the building has sat vacant since it burned in 2001.
They say the asbestos residue inside was minimal and has been cleared away. SCAPCA says the property still requires tests and possible treatment as hazardous material – greatly escalating cleanup costs.
"It's important for public health that asbestos is handled properly. It causes cancer in humans. Our goal is to keep as much asbestos out of the air as possible," said SCAPCA Director Eric Skelton.
"If it's such a toxic site, why has it sat here for four years?" countered Lee.
Skelton acknowledges his agency didn't pay much attention to the building until it changed hands this year. It was declared a dangerous building by Spokane County on Sept. 6, 2002. It became a city of Spokane Valley problem after the new city incorporated. SCAPCA notified the previous owners in 2004 that the entire building might have to be treated as asbestos-filled due to its burned condition, but took no further action. When the county auctioned the parcel this year to reclaim back taxes, the extent of cleanup costs was not disclosed.
"It had dropped off our radar screen until (Gore and Lee) bought it," Skelton said.
Shortly after they purchased the building, the new owners hired Affordable Asbestos, a local contractor, to remove cement asbestos board. The company removed less than 40 square feet of the board on Jan. 11.
However, a site inspection conducted for SCAPCA on Jan. 31 showed asbestos present in cement asbestos board and roofing material, according to a Feb. 1 letter from Mountain Laboratories to the agency.
"We accepted that," Gore said. "Affordable Asbestos came back out. They'd missed it due to snow on the ground," he said.
All the parties, including an official from Spokane Valley, met April 14 to discuss the cleanup.
Afterward, SCAPCA thought it had an agreement with Northwest Renovators to do a "rubble survey" to sample for additional asbestos, a common practice in burned buildings, Skelton said. "We usually get a proposed cleanup plan. They didn't submit one," Skelton said.
The contractors say they tried to move forward on a plan to survey the site but got conflicting signals from SCAPCA about whether it would have to all be treated as an asbestos hazard and would be considered "nonsurveillable" because of the burned debris.
"We got a 'yes, but no' answer from them," Mike Lee said. "That's when we became frustrated."
With the cleanup at an impasse, Skelton said, he took an unprecedented step. In July, he issued an order to Gore and Lee to wet and cover the building within three days and take it down within a month. The order threatened possible criminal misdemeanor sanctions and fines of up to $10,000 a day if the agency proceeded to formal enforcement action.
The partners complied with the wet-and-cover order, but said they couldn't demolish the building in a month.
"That was an abuse of power," Gore said. "This site had been sitting open for four years."
Skelton said he was trying to break the impasse.
"I felt he (Gore) was just going to let it sit indefinitely," Skelton said. After the contractors said the timeline was unrealistic, Skelton said he agreed to a delay of final cleanup until Oct. 15.
"Our standard practice is to work with people if we feel they are moving forward," he added.
Gore and Lee went on the offensive. They complained to County Commissioner Todd Mielke, a SCAPCA board member, and other members of the board. Gore also called 28 other businesses regulated by SCAPCA; he says 18 of the 28 had complaints but declined to be identified publicly.
"They said they are afraid of SCAPCA," Gore added.
After obtaining SCAPCA records on the asbestos flap, Gore accused agency staff of falsifying chain-of-custody documents to bolster their position that the site was still an asbestos hazard. Skelton denies the charge."Gore said we whited it out, changed it and faxed it back to ourselves to make it look authentic. That's not true," Skelton said.
At a special meeting Aug. 18, the SCAPCA board heard complaints from Northwest Renovators, plus others unhappy with SCAPCA's enforcement. At the meeting, Spokane County Commissioner Phil Harris, a SCAPCA board member, said he'd take Gore's criminal fraud allegation to county prosecutors.
The SCAPCA board also suspended Skelton's cleanup order and told agency staff to come up with a cleanup plan for Northwest Renovators. It's the first time the board has ordered staff to do that, Skelton said.
The ultimate cost of demolishing the building will depend on further sampling results, Skelton said. "If the tests say there's no asbestos, we'll say clean it up as non-asbestos waste. If there is asbestos, it will have to be treated as asbestos waste," he said.
That cleanup alternative is far more costly because it involves sealing the rubble in plastic, using certified asbestos workers and hauling the waste to a special landfill at Graham Road.
Gore and Lee say they don't want to take shortcuts that could endanger the public and are willing to pay a higher demolition bill if necessary. But they want proof that there's still asbestos in their building.
"I don't want to release anything harmful. But just let us get the science to decide," Gore said.
Local journalism is essential.
Give directly to The Spokesman-Review's Northwest Passages community forums series -- which helps to offset the costs of several reporter and editor positions at the newspaper -- by using the easy options below. Gifts processed in this system are not tax deductible, but are predominately used to help meet the local financial requirements needed to receive national matching-grant funds.
Subscribe to the Coronavirus newsletter
Get the day's latest Coronavirus news delivered to your inbox by subscribing to our newsletter.
---