News > Spokane
Shelter finds a new home
Thu., Sept. 1, 2005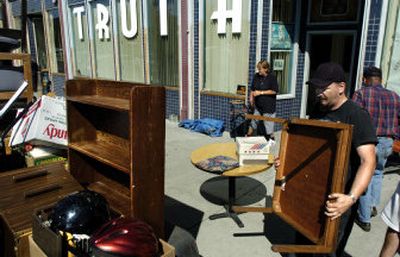 Small miracles happen every day at the Truth Ministries homeless shelter in downtown Spokane. On Wednesday, there were two miracles.
On the day the city's last refuge for the down and out was forced to move from 238 W. Sprague, the shelter's directors struck a deal with a new landlord to move into an empty East Sprague building.
It was a day of celebration for the shelter's inhabitants and volunteers, but Truth Ministries' troubles are not over. The Fire Department will not let them occupy the new facility at 1910 E. Sprague until a sprinkler system is installed at an estimated cost of at least $15,000.
As of Wednesday afternoon, the shelter's directors, Marty and Julie McKinney, did not know where nearly 50 of Spokane's most destitute citizens – some of whom have been kicked out of other shelters because of behavioral problems – would spend the night.
"I don't know what we're going to do with people," Marty McKinney said. "We got to believe God is going to do something."
God, and perhaps Jim West.
"We met with the mayor," McKinney said. "I think he cares, but I know he has a lot on his plate."
West said he contacted Catholic Charities to see if it could open the House of Charity, which does not open its dormitories in the summer. He was told that could not be done because of financial reasons.
The mayor said he would appeal to the community to step forward to offer a solution.
Fire marshals turned down the McKinneys' request for a 30-day grace period during which they promised to install sprinklers. At the time, though, Marty McKinney had no idea how he could afford it. The McKinneys, who have seen their annual income decline from $38,000 to $9,000 since they devoted themselves to caring for the homeless a year and a half ago, run the shelter on donations and the $1 a night they receive from guests who have it to spare.
But on Wednesday, the prayers of the devoutly Christian couple appeared to have been answered a second time by at least two local sprinkler companies offering to donate materials and design to the shelter.
"It's a compelling story," said Don Petit, district manager for Simplex Grinnel Fire Protection, which offered sprinkler heads and other materials to the shelter. "To have those people not have a place to stay because of circumstances is tough."
Scott Creighton of Creighton Engineering Inc., a local consulting service, said his company would assist the shelter with design and permit approval, among other issues.
The McKinneys also consider the new building on East Sprague something of a godsend.
Truth Ministries, an outreach of the Mending Fences Fellowship, was told last month that it had to move out of its old quarters because the landlord, who had been allowing the ministry to occupy his West Sprague building rent-free, was selling it.
Marty McKinney said then that "God has not led us this far only to let us down now."
Whether an act of God or merely a sound business decision, the deal Truth Ministries cut with East Sprague property owner Tom Micks was too good to pass up. The shelter will share the 14,000-foot-building, formerly an IGA store and the Antique Emporium, with Mending Fences on a $1,000-month-lease with an option to buy.
"I'm giving them a good deal, but they're putting a lot of sweat equity into it too," Micks said. "I was impressed with what they did downtown, and I'm hoping they'll help clean up the area."
It was an unusual statement about a homeless shelter, typically shunned by surrounding businesses because of "the element they bring in," as Micks put it. But then, the McKinneys came armed with a stack of references from downtown charities, businesses and Police Chief Roger Bragdon, detailing the positive effect Truth Ministries has had on downtown Spokane.
Micks said he hopes the new residents will improve the East Sprague neighborhood that "has been ignored for so long."
"It's one of the reasons, businesses moved out," Micks said of the neighborhood plagued by prostitution and drugs. "Police presence has been minimal at best. I wish something could have been done earlier when the area was still viable."
In this context, it is perhaps fitting that the East Sprague neighborhood's newest residents are in the business of redemption.
The McKinneys claim to have turned around the lives of at least 50 homeless people who now have jobs and places of their own. Unlike other Spokane shelters, Truth Ministries admits the homeless whether they are drunk or sober, but alcohol, drugs and weapons are not permitted.
"If they screw up here, we boot them out. They know we are the last straw," McKinney said last December when the House of Charity, a shelter run by Catholic Charities, asked him to take a problem drunk off its hands.
That night, McKinney brought the 62-year-old homeless man named "Pops" into the shelter, gave him a bath and put him to bed. The majority of people who come through the shelter are just down on their luck and need help until they can get back on their feet, McKinney said then. Some, like Pops, will never get off the streets, he said.
But Pops proved McKinney wrong. He read the lay minister's words in The Spokesman-Review and was crushed by them. He knew he had hit rock bottom if a man like McKinney, who has sacrificed everything to help the homeless, had given up on him.
"It hurt to read the article," said the alcoholic, who declined to give his real name when interviewed this week at the shelter. "It said, 'People like Pops won't ever change.' "
So Pops cut his alcohol consumption down from a half-gallon of blended whisky a day, "not counting beer," and started living at the shelter. He found a family in the McKinneys and other volunteers at Truth Ministries.
"One day I said 'that was it.' " He stopped drinking for four months. He started doing laundry at the shelter and McKinney put Pops' picture on a plaque on the wall dedicated to honoring volunteers.
But then Pops fell off the wagon and disappeared for a week.
"I came back and felt about this big," said Pops, indicating a place a couple of feet above the gutter outside the shelter. When he returned, his plaque had been removed from the wall. "I let Marty and Julie down."
The man with the graying ponytail and a face like a road map to a life lived in prison, hard labor or on the street has not had a drink in three months.
"I don't forget where I came from," Pops said. "But just because you're an alcoholic, it don't make you bad. I wish I could go back and make amends for all the stuff that I've done."
When Truth Ministries opens its doors again, Pops will move back in. With his Social Security disability income, he could find a place of his own, but "I feel safer here." He said he's done drinking.
"I want to enjoy what life is left, and it's nice to know that people care."
On Wednesday afternoon, West called the McKinneys to say there was nothing he could do for them immediately. It was too short notice to find Truth Ministries' residents an emergency shelter and he would not override the fire marshal's decision.
"It's too great a risk," West told The Spokesman-Review. "All you would need is for one person to fall asleep with a cigarette," and we would have a disaster on our hands.
"So we're on the street tonight," McKinney said.
That's OK with Pops.
"I'll sleep out if I have to," he said. "I made my bed a long time ago, and I'll sleep in it."
Local journalism is essential.
Give directly to The Spokesman-Review's Northwest Passages community forums series -- which helps to offset the costs of several reporter and editor positions at the newspaper -- by using the easy options below. Gifts processed in this system are not tax deductible, but are predominately used to help meet the local financial requirements needed to receive national matching-grant funds.
Subscribe to the Coronavirus newsletter
Get the day's latest Coronavirus news delivered to your inbox by subscribing to our newsletter.
---