Sports
Sports keep newlyweds on opposite coasts
Thu., Sept. 1, 2005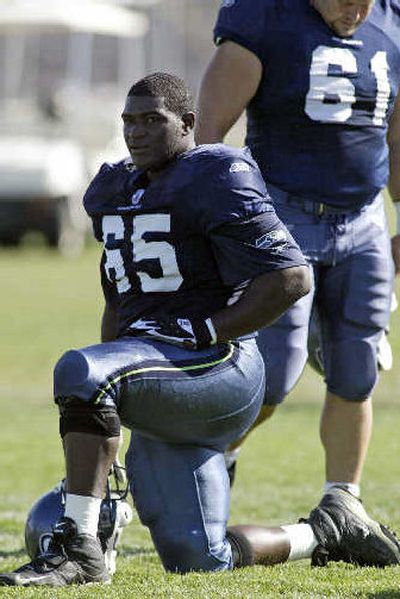 Katherine Jensen knows what Seattle Seahawks center Chris Spencer is going through.
And Spencer knows what Coastal Carolina volleyball player Jensen is going through.
The two were married July 2 and they were able to spend a few days at their new home in the Seattle area. But Katherine, a two-time All-Big South Conference first-team selection, soon left for South Carolina to prepare for her senior season. Shortly thereafter, Spencer, after missing about a week of training camp, reached a contract agreement and reported to Cheney.
"She just finished her last two-a-day and she's just exhausted," Spencer said near the end of Seahawks training camp. "It helps a lot that we're both athletes. You come home and say, 'I'm sore, I'm tired,' and she understands because she's been through it. It's not, 'Let's go do this or go do that.' "
Spencer said there's one good thing about their busy schedules: low cell phone bills. "There's not enough time to call each other," he said.
The two met at the University of Mississippi. Katherine, who is from Vancouver, B.C., was on a volleyball scholarship and Chris was on the football team.
"She played at (Ole Miss) for a year and ended up transferring," Spencer said. "I met her in the spring and we really hit it off and we stayed in touch."
They planned on getting married in February after both finished college. Spencer, who opted to forego his senior season at Mississippi and was selected by the Seahawks in the first round, took one look at the rental market in Seattle and the couple decided to push the wedding date up to July.
"She'll be done with school in December and when she comes to Seattle it'll just be her and I and we can enjoy it," Spencer said.
Spencer, who will probably backup Robbie Tobeck this season, can't wait for the holidays.
"We'll have our first Christmas as husband and wife," Spencer said. "We're going to have our families come down and we'll have Christmas at our house. It's going to be exciting."
Local journalism is essential.
Give directly to The Spokesman-Review's Northwest Passages community forums series -- which helps to offset the costs of several reporter and editor positions at the newspaper -- by using the easy options below. Gifts processed in this system are not tax deductible, but are predominately used to help meet the local financial requirements needed to receive national matching-grant funds.
Subscribe to the sports newsletter
Get the day's top sports headlines and breaking news delivered to your inbox by subscribing here.
---