Sports
Vandal receiver learning how to juggle balls
Thu., Sept. 1, 2005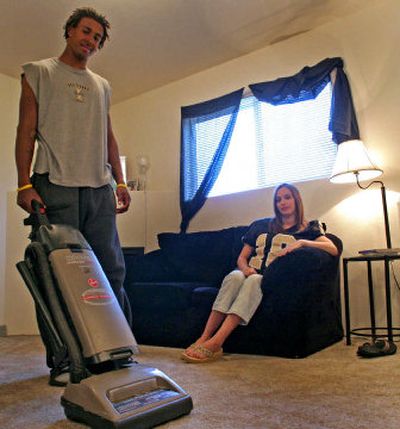 University of Idaho sophomore wide receiver Christan Populis hears players talking in the locker room about the stress in their lives and wonders what life would be like in their shoes.
"It is kind of funny," Populis says. "They complain about little problems and everything."
If Populis were to take one of those stress tests, he'd have ample reason to score off the charts. He's a couple thousand miles from his Louisiana home. He has football, where he played sparingly as a true freshman. He has classes and homework. He's a newlywed. And he's a father, with wife Mandy giving birth to a boy, Camdyn, on Aug. 22. Camdyn's name is a combination of the first letter in Christan and the letters in Mandy's name.
"I'm anxious and excited," the 19-year-old Populis said, "but it's going to be pretty hard with class, football practice, school work and taking care of the baby."
But it's also right where he wants to be.
"Every time he would look at my stomach, he started laughing and talking to the baby," Mandy said. "And he started making little baby sounds."
The two dated for 2½ years while attending Hahnville High School near New Orleans. Populis proposed on a senior trip to Panama City, Fla. He went the whole nine yards, dropping to one knee on the beach in fading sunlight.
"I was crying the whole trip because I was thinking about him leaving for Idaho and I was going to be stuck in Louisiana," Mandy said. "It totally shocked me."
Initially, Mandy's dad was skeptical but he's since become supportive. In fact, the support of both their families will be important the next few months. Mandy's mom was on hand in mid-August and Populis' parents are coming in early September.
"My mom has been buying up everything," said Populis, who was referred to UI coaches by former Vandal quarterback Doug Nussmeier, now on John L. Smith's staff at Michigan State.
Mandy said she expects to take care of Camdyn full time during the football season. "I'm ready and excited and I can handle it," said Mandy, who hopes to begin taking classes at UI next year. "I know Christan wants to help but he'll need to get his rest and he's really dedicated to football."
Local journalism is essential.
Give directly to The Spokesman-Review's Northwest Passages community forums series -- which helps to offset the costs of several reporter and editor positions at the newspaper -- by using the easy options below. Gifts processed in this system are not tax deductible, but are predominately used to help meet the local financial requirements needed to receive national matching-grant funds.
Subscribe to the sports newsletter
Get the day's top sports headlines and breaking news delivered to your inbox by subscribing here.
---