News > Business
World gets bullish on India
Thu., Sept. 1, 2005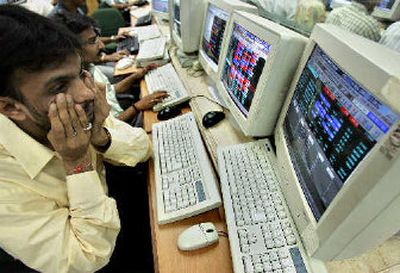 NEW DELHI — India's stock market is scaling new heights, driven by foreign investors — particularly Americans — eager to seize opportunities in one of the world's fastest growing economies.
The market's surge cuts across all sectors, from cement, steel and banking, which have been driven up by a housing boom, to the stocks of hotel chains that are putting up more tourists.
So far this year, foreigners have pumped $7.4 billion into Indian equities, up 61 percent from the same period last year, according to Securities and Exchange Board of India, which regulates the stock market.
The foreign investors are lured by India's booming economy and its companies, whose earnings have been steadily rising.
"India's emergence as a new global economic poster boy" is helping the stock market, said Rajeev Malik, a senior economist with J.P. Morgan Chase & Co. in Singapore.
The country's "economic growth outlook for the next two to three years is pretty attractive, and the equity market offers enough depth and breadth for investors to capitalize on this growth," he said.
Until recently, many overseas investors had avoided India because it was viewed as backward, opaque and poor — a risky bet. Frosty ties between New Delhi and Washington kept some U.S. investors away.
But India is in the throes of economic transformation. Its economy has grown 6 percent a year the last decade, and officials expect it to grow 7 percent this year — the results of more than a decade of government moves to liberalize the economy.
Bringing money in and out of the country, once a highly bureaucratic endeavor, is now relatively simple. Rules on how large a stake in Indian firms foreigners could own have been eased. And Indian business have become more transparent, complying with disclosure rules that were often ignored in the past.
"The liberalization process initiated in the '90s has improved the business environment and this along with a robust economy, have helped corporate India deliver a good performance," said K.N. Sivasubramanian of Franklin Templeton Investments, based in San Mateo, Calif.
"The rally has been underpinned by strong fundamentals on both corporate and economic fronts," said Sivasubramanian, whose firm currently manages $3.7 billion worth of Indian stocks and bonds.
Foreign investors are expected to sink more than $10 billion into Indian stocks by December, the Confederation of Indian Industry said in a forecast.
With the U.S.-based Institute of International Finance predicting foreign investors will pump about $34 billion into Asian stocks outside Japan this year, that means India should account for nearly a third of all money flowing into Asian markets from outside the region.
All these factors have contributed to a 24 percent gain in the benchmark index of the Bombay Stock Exchange, the Sensex, since late April — causing some to wonder if a bubble is in the making. The Sensex touched an all-time high of 7,921 on Aug. 18, although it lost some ground recently as investors booked some of their profits.
"The equity indices have gone up too much too fast," said J.P. Morgan's Malik, adding that rising oil prices also posed a big risk.
Market regulators also are concerned and have advised investors to be cautious.
"Do not be misled by market rumors, luring advertisements or hot tips of the day," the National Stock Exchange said in a newspaper advertisement earlier this month. "Be cautious about stocks which show a sudden spurt in price or trading activity."
But Finance Minister P. Chidambaram has dismissed talk of a bubble, and says soaring share prices reflect investor confidence in India's economy.
"Putting money into equity is investing in the economy's growth," said Vijay Gaba, a New Delhi-based investor, who has bought into cement, sugar, technology and hotel stocks over the past several months.
Gaba said he is still buying, although cautiously and selectively, because he believes the Indian economy will grow 7 percent annually in the next three years. "That means the stock market will continue to do well."
While poverty still shackles a huge chunk of the population, a growing middle class that some estimate at about 300 million of India's 1 billion people is driving demand for new houses and shopping malls.
The construction sector expanded 12 percent, going from about $35.8 billion to about $40 billion in the last fiscal year, which ended in March. That's boosted demand for shares of cement and steel companies, such as Larsen & Toubro Ltd. and Grasim Cement Ltd.
Local journalism is essential.
Give directly to The Spokesman-Review's Northwest Passages community forums series -- which helps to offset the costs of several reporter and editor positions at the newspaper -- by using the easy options below. Gifts processed in this system are not tax deductible, but are predominately used to help meet the local financial requirements needed to receive national matching-grant funds.
Subscribe to the Coronavirus newsletter
Get the day's latest Coronavirus news delivered to your inbox by subscribing to our newsletter.
---