News > Features
For DeGeneres, Katrina won't be easy to talk about
Fri., Sept. 2, 2005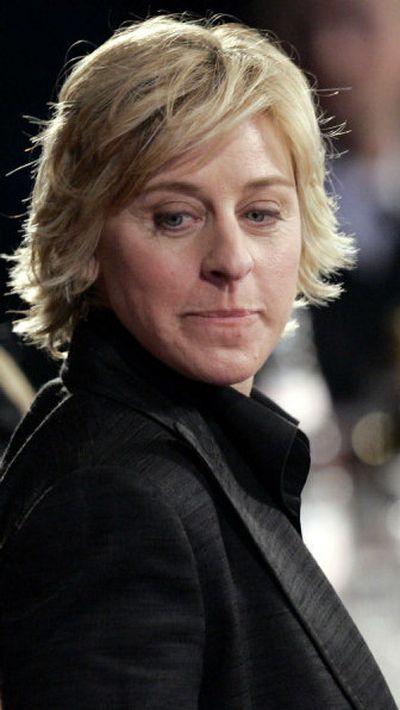 Ellen DeGeneres has been glued to her television this week, worried about friends and family in the hurricane-ravaged areas of Mississippi and New Orleans.
"New Orleans is my hometown, and it's gone," she said. "For me, it's pretty heavy."
DeGeneres said her 82-year-old aunt, who lives in Mississippi, was able to grab four paintings before leaving her home. Her cousins in the same area also got out safely, but lost everything they owned, including their homes.
"I literally watched CNN and sobbed all night long, and (Wednesday) I cried again. Now I'm not crying," she said.
DeGeneres said she's not sure how she's going to handle the situation when her syndicated talk show returns to the air on Tuesday.
She's talking with the head of the company that produces her show, who is also from New Orleans, about setting up a benefit.
"There are a million people who are refugees," DeGeneres said. "Life goes on, and if it didn't impact you directly, you may not realize how devastating this is."
Domino missing in Katrina's wake
New Orleans legend Fats Domino was still missing Thursday, according to his longtime agent.
The 77-year-old R&B singer told agent Al Embry on Sunday that he planned to stay at his house in the city's low-lying 9th ward with his wife and their daughter.
"I hope somebody turns him up, but as of right now, we haven't got anybody that knows where he's at," Embry said Thursday.
Domino is best known for the hits "Blueberry Hill" and "Ain't That a Shame."
Connick confident about Big Easy's future
Harry Connick Jr., who grew up in New Orleans, says he fully expects the city to rebuild.
In an interview Thursday on NBC's "Today" show, the jazz musician compared the situation to the rejuvenating spirit of New Yorkers after the Sept. 11 terror attacks.
"One thing about New Orleans, these people are freakishly strong and passionate about this city," said Connick, who performs on NBC's "A Concert for Hurricane Relief" tonight at 8.
"New Orleans is my essence, my soul, my muse, and I can only dream that one day she will recapture her glory," he added.
Nick, Jessica kick off NFL season
Jessica Simpson and Nick Lachey will sing "America the Beautiful" as part of a National Football League tribute marking the fourth anniversary of the Sept. 11 attacks.
Their performance at FedEx Field in Landover, Md., where the Washington Redskins play the Chicago Bears, will be televised by CBS and Fox before the nine regular-season opening games that Sunday.
Meanwhile, sports fan Lachey will provide features as a regular contributor on ESPN's "College GameDay" football shows on Saturdays this season.
Stones to be true superstars
The Rolling Stones will be the featured halftime performer at the 40th anniversary Super Bowl in Detroit on Feb. 5, according to sources close to the band.
Frontman Mick Jagger confirmed last week that the band was asked by the National Football League to play at the game, but said no decision was set.
The Stones signed on last month to do a season-long promotional campaign with the NFL, which will include use of their songs and images during football broadcasts.
The birthday bunch
Actor Mark Harmon is 54. Actress Linda Purl is 50. Actor Keanu Reeves is 41. Actress Salma Hayek is 39. Actress Cynthia Watros ("Titus") is 37. Singer K-Ci (K-Ci and JoJo) is 36. Bassist Sam Rivers (Limp Bizkit) is 28.
Local journalism is essential.
Give directly to The Spokesman-Review's Northwest Passages community forums series -- which helps to offset the costs of several reporter and editor positions at the newspaper -- by using the easy options below. Gifts processed in this system are not tax deductible, but are predominately used to help meet the local financial requirements needed to receive national matching-grant funds.
Subscribe now to get breaking news alerts in your email inbox
Get breaking news delivered to your inbox as it happens.
---