News > Nation/World
Mourners go to bury dead
Fri., Sept. 2, 2005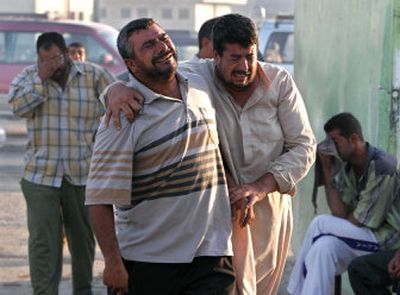 NAJAF, Iraq – Thousands of mourners flooded the southern holy city of Najaf on Thursday to bury victims of a devastating stampede that killed about 1,000 Shiite Muslims and stirred criticism that the Iraqi government had failed to protect its people.
Iraqi Prime Minister Ibrahim al-Jaafari, visiting the wounded in a Baghdad hospital, blamed insurgents for the tragedy and pledged "a very harsh hit." Jaafari's government on Thursday also carried out the first death sentences since the fall of Saddam Hussein's regime, hanging three Iraqi men convicted of murder.
News of the executions was all but lost as local TV stations broadcast nonstop images of mass funerals in Najaf and Baghdad. The footage showed orphaned children, weeping relatives and rows of bodies.
Grieving and angry Iraqis debated who was responsible for the single biggest loss of life since the war began.
The stampede occurred Wednesday when thousands of Shiites in a religious procession panicked after hearing a rumor of a suicide bomber on a bridge.
Some angry mourners said the government didn't provide enough crowd control and complained that Baghdad's dilapidated medical infrastructure wasn't prepared to cope with a disaster of this magnitude. Many blamed insurgents for creating a climate of fear in the capital; others said the U.S. military is ultimately responsible for Iraq's security.
"The Americans are responsible," said Abbas Kadhim, 39, whose mother died on the bridge and was buried in Najaf. "Their planes were monitoring the event and yet they stay away because they're afraid of these ceremonies."
But the harshest criticism was reserved for Jaafari's government, especially among impoverished Shiites who traveled from the Baghdad slum of Sadr City to Najaf to bury hundreds of victims. Many Sadr City residents are loyal to the rebel cleric Muqtada al-Sadr, whose lieutenants made televised calls for the resignations of Iraq's interior, defense and health ministers. Al-Sadr also dispatched about 400 of his militiamen to assist with burials in Najaf.
"The Jaafari administration has totally failed in providing security and every other basic service," said Hameed Mohammed, 33, a Sadr City resident who buried his brother in Najaf.
No violence was reported during the funerals. All main roads were blocked leading to Najaf's Old City, where the sprawling Valley of Peace cemetery is located. Iraqi security forces fanned out across the city.
Because of a ban on cars near Old City, Iraqis were forced to carry their dead or place coffins on donkey carts. Provincial officials set aside a swath of the cemetery so that victims of the stampede could be buried together, and they promised to build a national memorial.
The United Nations and international human rights organizations expressed concern over the Iraqi government's first executions, demanding that capital punishment be abolished or put on hold until the country is more stable.
The three men, a Kurd and two Sunni Arabs, were hanged Thursday morning, said government spokesman Laith Kubba. They were suspected members of the al-Qaida-linked Ansar al-Sunnah militant group and were sentenced in May for killing and kidnapping Iraqi policemen and raping Iraqi women.
The executions will help deter crime, Kubba said.
Aziz Jabr Shiyal, of the Baghdad Center for Human Rights Studies, which opposes capital punishment, said he fears that violence-weary Iraqis' demand for severe punishment of insurgents will compel Iraqi leaders to impose death sentences with little transparency and without a proper appeals process for the accused.
Saddam's regime was notorious for imposing death sentences against dissidents and military deserters.
Abolished after the U.S.-led invasion of Iraq in 2003, capital punishment was reinstated by the new Iraqi leaders.
President Jalal Talabani, a critic of capital punishment, refused to sign the execution papers. His deputy gave the official approval.
Local journalism is essential.
Give directly to The Spokesman-Review's Northwest Passages community forums series -- which helps to offset the costs of several reporter and editor positions at the newspaper -- by using the easy options below. Gifts processed in this system are not tax deductible, but are predominately used to help meet the local financial requirements needed to receive national matching-grant funds.
Subscribe now to get breaking news alerts in your email inbox
Get breaking news delivered to your inbox as it happens.
---