Sports
Rebuilding guru Tomey finds way to San Jose
Fri., Sept. 2, 2005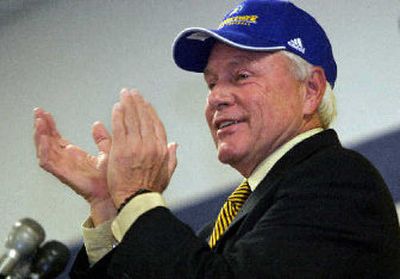 While spanking the San Jose State University football team as one of the worst in the country, most college football analysts are quick to add that new coach Dick Tomey should turn around the program.
There is good reason for optimism in Silicon Valley.
In 24 years as a head coach at Hawaii and Arizona, Tomey produced a career record of 158-110-7. He is sixth among active coaches in wins and sixth in longevity (275 games).
In the process, Tomey proved he can rebuild a miserable program (Hawaii) and maintain a good one (Arizona).
Before Tomey, Hawaii went 3-8 in Larry Price's third and final season, closing with losses of 59-0 and 63-3. Tomey went 63-46-3 in 10 years. He followed Larry Smith's six-year run of 48-28-3 at Arizona with a 95-64-4 mark in 14 seasons.
That makes Tomey – who spent last year on the staff at 11-1 Texas and the year before that with the San Francisco 49ers – the third to be the career leader in wins at two major programs. Bear Bryant (Kentucky and Alabama) and George Welsh (Navy and Virginia) are the others.
So where does SJSU fit in?
The Spartans, who have some golden eras under the likes of Darryl Rogers, Jack Elway and John Ralston, are bad.
They were 14-33 in Fitz Hill's four seasons, including 2-9 last year, when the average attendance of 6,479 was last in the country. Overall, SJSU has had one winning season in the last 13 years – 7-5 in 2000 – and it's been 15 years since the last bowl game.
That's why so many pundits are predicting Eastern Washington University to defeat SJSU on Saturday afternoon.
EWU coach Paul Wulff isn't buying that.
Tomey's first Hawaii team went 5-6 under far more difficult circumstances. The Rainbows then ran off five consecutive winning seasons.
"We expect a much more disciplined team than they've been," Wulff said of SJSU. "They've got a lot of seniors playing. They're not a young football team."
Despite last year's record, the Spartans took Western Athletic Conference power Boise State to double overtime in their ninth game. In their fourth game, they got into a record-breaking 70-63 shootout with Rice, their only win against a Division I-A school.
Tomey inherits some offensive talent among the 40 returning lettermen. Although the defense was horrible in allowing 42.6 points a game, the veteran unit should benefit from a switch to Tomey's flex defense that became known as Desert Swarm at UA.
"There's always a sense of the unknown," said Tomey, 67. "When I first went to Hawaii, I'd only been there a month. I was still making introductions going into the first game. I feel very peaceful about this, very excited. I can't remember being more excited, or even as excited, because our players have given us so much in terms of their effort, starting way back in January, and I'm just anxious to watch them compete.
"I think we're really going to like what we see in terms of their intentions, and the way they fight and the way they compete and their desire to win. And I'm real fired up about getting this thing started."
Which is why the Eagles can expect to see 30,456-seat Spartan Stadium at least half full on Saturday as fans buy into the new slogan: "It's a new day in San Jose."
Local journalism is essential.
Give directly to The Spokesman-Review's Northwest Passages community forums series -- which helps to offset the costs of several reporter and editor positions at the newspaper -- by using the easy options below. Gifts processed in this system are not tax deductible, but are predominately used to help meet the local financial requirements needed to receive national matching-grant funds.
Subscribe to the sports newsletter
Get the day's top sports headlines and breaking news delivered to your inbox by subscribing here.
---