News > Idaho
Rolling up our sleeves for hurricane victims
Fri., Sept. 2, 2005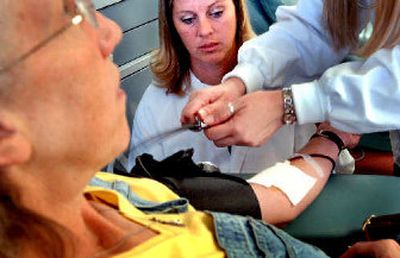 As she reclined on a chair, squeezing a ball, Maryglen explained why she was at the Inland Northwest Blood Center in Coeur d'Alene: "I don't have enough money to send so I gave what I could."
Maryglen, who's 79 and goes by only one name, was among people donating blood Thursday at the center, where televisions showed scenes of the havoc wreaked by Hurricane Katrina. The number of donors this week is about five a day higher than average, said Lisa Turpin, recruitment coordinator.
"People feel compelled to do something," Turpin said. The center has been asked to be ready to send blood to areas affected by the hurricane, Turpin added, but it wouldn't currently be able to do that. The inventory is 100 pints – 100 donors – short of where the center likes it to be, so the supply would need to be filled before local blood could be distributed elsewhere.
Though he doesn't wait for disasters to donate, John Reynolds said they remind him of the importance of giving blood.
"It's such an easy experience that people who are qualified should be a part of this," said Reynolds, a Post Falls resident who visits the center every eight weeks.
•Spokane government and business officials will host a fund-raiser for hurricane victims next Tuesday.
The Spokane Chamber of Commerce announced the event, which will raise money for the American Red Cross. The Inland Northwest Blood Bank will also have a mobile unit nearby.
The fund-raiser will start at 4 p.m. at an appropriately named location – the Big Easy Concert House, 919 W. Sprague Ave.
•The company that operates Deaconess Medical Center and Valley Hospital and Medical Center is donating $500,000 to help provide emergency assistance in areas devastated by the hurricane, and raising money in its facilities for the Red Cross.
Empire Health Services allocated the $500,000 Thursday to the American Hospital Association relief effort aimed at medical facilities in the gulf region, spokeswoman Becky Swanson said.
The hospital association is working with state and national health associations to coordinate medical relief efforts with the U.S. Health and Human Services Department.
The hospitals could send staff, supplies and equipment into the hurricane-damaged regions, Swanson said. Some staff members have expressed interest in going, but the association is still trying to determine what's needed.
"We don't have a good list yet," she said. "We think that they're going to be needing things over the next year."
Empire Health also set aside $100,000 to match donations that staff, patients and visitors contribute in the Red Cross boxes set up in the lobbies of Deaconess and Valley medical centers and the four urgent care facilities in the community.
•Five trucks loaded with food and water are being sent from Spokane.
Second Harvest Inland Northwest, based in Spokane, is providing the relief and coordinating delivery through America's Second Harvest, the national coordinator for food bank delivery and distribution.
Items on the trucks include water, juice drinks and single-serve snack items, according to spokeswoman Ann Price of Second Harvest. The items will be delivered to food banks in the disaster areas.
Second Harvest also is accepting donations for the relief, and all of the donations will be routed to help victims affected by the storm. It is estimated that America's Second Harvest will need $2 million to meet expenses directly related to the hurricane.
Officials said that cash donations are preferred over food donations because of the logistical challenges of sorting, shipping and distributing donated food items. Already, more than 1 million pounds of food has been donated nationwide, mostly through major companies.
The donations being shipped from Spokane could put a dent in local food bank supplies, so continued donations for local food relief are still needed, Price said.
Local journalism is essential.
Give directly to The Spokesman-Review's Northwest Passages community forums series -- which helps to offset the costs of several reporter and editor positions at the newspaper -- by using the easy options below. Gifts processed in this system are not tax deductible, but are predominately used to help meet the local financial requirements needed to receive national matching-grant funds.
Subscribe now to get breaking news alerts in your email inbox
Get breaking news delivered to your inbox as it happens.
---