News > Nation/World
Same-sex marriage measure advances in California Legislature
Fri., Sept. 2, 2005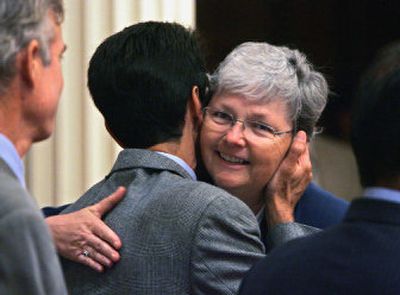 SACRAMENTO, Calif. — The state Senate approved legislation Thursday that would legalize same-sex marriage in California, a vote that makes the chamber the first legislative body in the country to approve a gay marriage bill.
The 21-15 vote sets the stage for a showdown next week in the California Assembly, which narrowly rejected a gay marriage bill in June.
"Equality is equality, period," said one of the bill's supporters, Democratic Sen. Liz Figueroa.
"When I leave this Legislature, I want to be able to tell my grandchildren I stood up for dignity and rights for all."
Massachusetts became the first state to recognize gay marriages when the state Supreme Court legalized same-sex weddings there in 2003. That prompted a number of states across the nation to pass constitutional amendments banning gay marriage. Other states offer civil unions, which provide many of the same legal benefits without the status of marriage.
Gov. Arnold Schwarzenegger's office had no comment Thursday on how the governor would respond if the bill reached his desk, spokeswoman Margita Thompson said.
"The governor believes that the people spoke when they passed Proposition 22, and now it went to the courts and that's where it should be," she said. "The governor will abide by what the courts rule."
Proposition 22, approved by California voters in 2000, barred the state from recognizing gay marriages performed elsewhere.
Thompson said Schwarzenegger does support domestic partnerships.
The bill's author, Democratic Assemblyman Mark Leno, said he expected a vote in the Assembly on Tuesday.
"We are so very close," he said.
Sen. Dennis Hollingsworth, a Republican, suggested a "higher power" was opposed to the legislation.
"This is not the right thing to do," he said. "We should protect traditional marriage and uphold all of those values and institutions that have made our society and keep our society together today."
California already confers many of the rights and duties of marriage on gay couples, who can register as domestic partners.
Sen. Tom McClintock, a Republican, agreed that gay couples should be entitled to certain rights but not the right to marry.
"Can't you see that marriage is a fundamentally different institution?" he said. "Marriage is the institution by which we propagate our species and inculcate our young."
Local journalism is essential.
Give directly to The Spokesman-Review's Northwest Passages community forums series -- which helps to offset the costs of several reporter and editor positions at the newspaper -- by using the easy options below. Gifts processed in this system are not tax deductible, but are predominately used to help meet the local financial requirements needed to receive national matching-grant funds.
Subscribe now to get breaking news alerts in your email inbox
Get breaking news delivered to your inbox as it happens.
---