News > Spokane
With family safe, he keeps cookin'
Fri., Sept. 2, 2005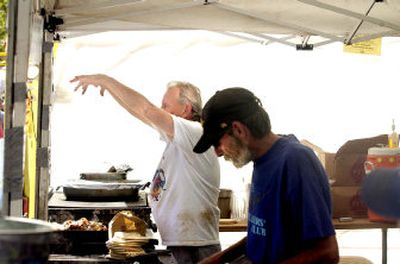 What if you lost everything in a natural disaster 2,000 miles away? Your home is gone, your family is fine – already on their way to meet you. But your source for alligator meat and crawfish etouffee is nowhere to be found. What would you do?
For Robert St. Thomas, 58, a Big Easy area resident since 1969 and owner of the New Orleans Cookery booth at the 2005 Pig Out in the Park, the response was to get back to business as usual. He put a bucket on his counter for donations, started cooking and even forced a few jokes about his scarce ingredients.
"Alligators are busy chasing people now," he said, as he stirred seasoned onions on a steaming grill.
St. Thomas tours a circuit of special events with his crew of cooks, bringing Cajun cuisine around the country. At 9 a.m. Thursday his wife called from Texas to ask for some money – it was the first time she had been able to get through since Sunday.
"I was more than happy to do that," he said.
Usually he works his way back to Louisiana after traveling during the warm months, but the hurricane has modified his plans. He's not sure what he will do, but was happy his family is safe.
As the 26th annual Spokane food fest in Riverfront Park started Thursday, St. Thomas was handing out bowls of andouille sausage and rice. He said he was lucky to have a reserve of the smoked Cajun links to serve.
Pig Out founder and organizer Bill Burke has had St. Thomas and his Cajun cooking at the event for six years.
"He came over and did alligator, and now he's got this great jambalaya and gumbo," he said. "Robert's a wonderful man. You can see that he's physically shaken by his concern for his family."
Burke called St. Thomas a true traveling vendor and said he would pick up a lot of business over the course of the five-day event.
Vendors have come from as far as Florida and Hawaii. Although 33 of the 45 vendors are local, Burke said it makes financial sense for cooks who make the investment to bring their restaurants outdoors to travel to as many events as possible.
"We'll see about 85,000 people walk through here in five days – that's a good crowd in Spokane," Burke said.
He said the community of vendors and sponsors had already started to rally for those affected by Katrina. He said singer John Cleary, who is performing Thursday evening, was also from New Orleans.
This year Burke has promoted the live entertainment, which he said makes Pig Out the city's biggest outdoor event, even though food remains main focus.
Desiree Burke has been running the event with her husband since Pig Out premiered 27 years ago, when smoky, noisy gas generators provided the power. Back then the food-centric festival didn't have its now-familiar porcine pseudonym, and Azar's Express – now one of the most popular vendors – cooked with only a single toaster, she said.Today the event boasts 45 food booths with more than 250 menu items and 56 entertainment acts spread over the festival. The spectacle, which Bill Burke said serves 140,000 to 150,000 plates of food, has become well-known outside the city.
"When I meet people, not even from Spokane, and say 'My husband puts on Pig Out in the Park,' people say, 'Oh my gosh, I love that,' " she said.
Local journalism is essential.
Give directly to The Spokesman-Review's Northwest Passages community forums series -- which helps to offset the costs of several reporter and editor positions at the newspaper -- by using the easy options below. Gifts processed in this system are not tax deductible, but are predominately used to help meet the local financial requirements needed to receive national matching-grant funds.
Subscribe now to get breaking news alerts in your email inbox
Get breaking news delivered to your inbox as it happens.
---