Sports
Ah-Hi opens Knights' eyes
Sat., Sept. 3, 2005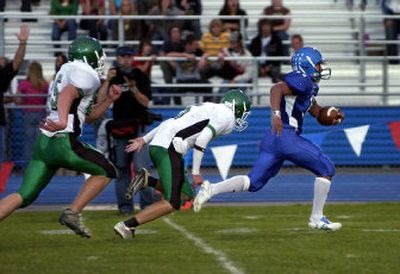 Funny how a fumble on the game's first play can light a fire under a running back.
East Valley stripped the ball from Coeur d'Alene senior Kevin Ah-Hi seconds into the game Friday, and the Knights turned the miscue into a quick 7-0 lead.
But for Ah-Hi and the Vikings, it was like running downhill thereafter. The native New Zealander busted three touchdown runs of 55, 58 and 56 yards as Coeur d'Alene held off visiting East Valley 34-20 in the Knights' season opener and the second annual Clements Cup.
Ah-Hi finished with 262 yards on 14 carries in less than three quarters. He bruised his right knee with 1:15 remaining in the third quarter and iced it the final period.
"I could have come back in, but we were just being cautious," Ah-Hi said. "I was a little (ticked) off after the fumble. I wasn't holding it tight and they just stripped it. You just have to put it behind you. That's when I realized I've got to pick it up."
Ah-Hi did more than put it behind him. He had the Knights chasing him from behind most of the game – after the Viking broke several tackles along the way. He had 196 on 10 carries in the first half.
Still, EV used a 27-yard field goal from Josh Polello for a 10-6 lead with 6:48 left in the second quarter.
Moments later, Ah-Hi gave CdA the lead for good when he dashed 58 yards on a cutback run that seemed to go as far east and west as it did north and south. The score put the Viks ahead 13-10 with 4:21 to go before halftime.
CdA (2-0) extended the lead to 20-10 on its next possession when quarterback Jake Hall found Nate Bligh on a 47-yard catch and run TD with 1:30 to go before intermission.
EV pulled within 20-17 early in the third quarter on a 13-yard TD run by Ryan Campbell.
But Ah-Hi answered with his third TD scamper, for 56 yards, for a 27-17 lead.
CdA, which had a big advantage over EV after having played a game last week, saw much improvement over its opener.
"We certainly know we have some character on this team," CdA coach Shawn Amos said of his team digging an early hole. "We'll watch film and see how pleased I am. East Valley's a very good football team and to go down two fumbles and (7-0) right away, that shows a lot for what we have."
EV coach Adam Fisher thought his team had a good effort despite being a week behind CdA.
"It'll be easier for us to find out (today) after we watch videos to really assess where we are as a team," Fisher said. "They've had double-digit practices more than us and they played a game more than us. You make the most progress from week one to week two. They made a lot of progress and we need to do the same next week."
Campbell led EV with 136 yards on 26 carries.
The game honors the memory of late coach Jim Clements, who coached CdA to a state title in 1985 in his lone year at the Lake City school and finished his career at EV. CdA also honored the '85 team at halftime Friday.
Local journalism is essential.
Give directly to The Spokesman-Review's Northwest Passages community forums series -- which helps to offset the costs of several reporter and editor positions at the newspaper -- by using the easy options below. Gifts processed in this system are not tax deductible, but are predominately used to help meet the local financial requirements needed to receive national matching-grant funds.
Subscribe to the sports newsletter
Get the day's top sports headlines and breaking news delivered to your inbox by subscribing here.
---