News > Idaho
Therapist says massage can help smooth the skin
Sat., Sept. 3, 2005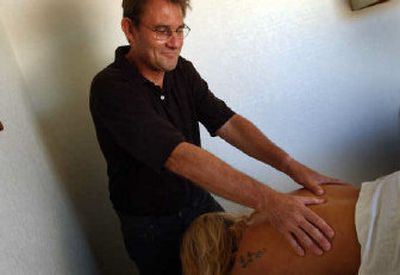 American women spend hundreds of millions of dollars each year trying to get rid of cellulite – that orange-peel look to skin that creeps in primarily on the thighs and buttocks. "People use honey, people use dried fruit, all sorts of stuff," says certified massage therapist Matt Thurley, who has been a massage therapist for 12 years. "What happens with these treatments, gels and body stockings, massage treatments with machinery … cost a fortune," he says
Thurley believes cellulite can be reduced through simple – and much less expensive – massage therapy.
"Obviously people with a vested interest in selling machines and ointments and treatments are going to disagree with me," said Thurley, who has extensive experience with body treatments such as hydro-therapy and body wraps, with "100 different permutations."
Thurley, who is originally from Port Elizabeth, South Africa, has just set up shop at Tamara's Hair Studio in Hayden. He moved here a year ago after spending seven years in Atlanta working in an office with chiropractors and plastic surgeons.
"There are a lot more benefits to the massage than just reducing cellulite," said Thurley. "Apart from the cost factor – it's a lot more cost efficient – the benefits that accrue from massage are cleaning out the lymphatic system, relaxing and stretching muscle tissue and reducing tension."
When he speaks of machines, Thurley is talking primarily about Endermologie. According to the Web site www.celluliteexpert.com, the FDA-approved system is nonsurgical and noninvasive, and involves the use of a motorized device with two adjustable rollers and controlled suction, which creates a symmetrical skin-fold.
However, just the beginning sessions can cost around $500, and that doesn't include ongoing maintenance.
"I've known women who have spent $1,500 for 10 treatments," Thurley said. He charges $50 for a one-hour deep-tissue massage. He said that maybe eight to 10 treatments initially could get the cellulite under control. Upkeep will depend on the individual.
Thurley said there is no magic here – it's just that people are not aware that massage therapy can reduce cellulite.
"The simplicity is what works," he said.
Tight fiber bands connect muscle through the fat to the skin, but where the bands aren't attached, the fat bulges up, creating the rippling effect that makes women cringe. Men can get cellulite, too, Thurley said. However it is not as distinct because their fibers crisscross and the fat doesn't bulge through as easily.
Estrogen in women plays a role, but the existence of cellulite has little to do with lifestyle or metabolism. Thurley said he has worked with extremely fit athletes who have cellulite.
Thurley believes the claims of the manufacturers of many of the products sold as cellulite-reducers are misleading.
Some of these include special shoes that cost $235 that are supposed to increase muscle activity and circulation, which the manufacturer claims can reduce cellulite. The latest in high-tech cellulite busting is triactive laser dermology, which uses both lasers and massage.
"Those who sell all those lotions and potions and machines have a vested interest in making you aware of cellulite and making every woman that ever puts on a bathing suit aware of their cellulite," Thurley said. "It's all part of the whole deal. It's an integrated marketing plan."
Simple massage, however, can offer immediate benefits.
"Massage, done in a professional, healthy way, is a wonderful feeling," Thurley said. "The endorphins in your body respond."
Thurley has worked with patients who have dementia and in hospices just helping people feel better and respond. He has worked with Safe Touch, a program in Atlanta designed in conjunction with a psychologist who worked with abused women, to reintegrate the women into trusting again.
"It was a gentle, safe, touch program, for them to feel safe being touched by, initially a stranger," Thurley said. "The benefits were not just to reintegrate her emotionally, but to have all the normal physiological benefits of a massage. Perhaps cellulite reduction would be a part of that."
Local journalism is essential.
Give directly to The Spokesman-Review's Northwest Passages community forums series -- which helps to offset the costs of several reporter and editor positions at the newspaper -- by using the easy options below. Gifts processed in this system are not tax deductible, but are predominately used to help meet the local financial requirements needed to receive national matching-grant funds.
Subscribe now to get breaking news alerts in your email inbox
Get breaking news delivered to your inbox as it happens.
---